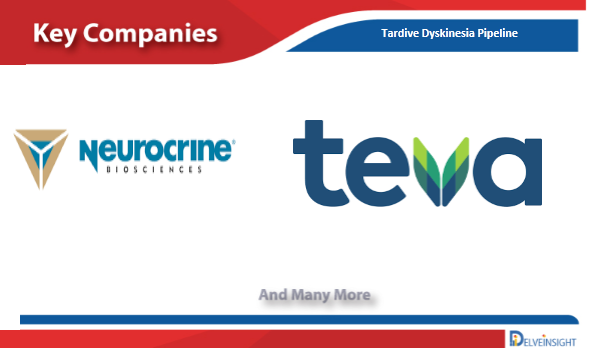 "Tardive Dyskinesia Pipeline" report has been added to DelveInsight
Tardive Dyskinesia Pipeline analysis across different stages of development (Phase III & Phase II), different emerging trends and comparative analysis of Tardive Dyskinesia pipeline products with detailed clinical profiles, key cross-competition, launch date along with product development activities
Download free sample copy here- https://www.delveinsight.com/sample-request/tardive-dyskinesia-pipeline-insight
Tardive Dyskinesia Pipeline- Overview
Tardive dyskinesia (TD) is an involuntary neurological movement disorder caused by the use of dopamine receptor blocking drugs that are prescribed to treat certain psychiatric or gastrointestinal conditions. Long-term use of these drugs may produce biochemical abnormalities in the area of the brain known as the striatum. The reasons that some people who take these drugs may get tardive dyskinesia, and some people do not, is unknown. Tardive dystonia is a more severe form of tardive dyskinesia in which slower twisting movements of the neck and trunk muscles are prominent.
Tardive Dyskinesia Pipeline Report
TD is characterized by involuntary and abnormal movements of the jaw, lips and tongue. Typical symptoms include facial grimacing, sticking out the tongue, sucking or fish-like movements of the mouth. In some cases, patients also have irregular movement of the trunk and limbs. These movements are typically choreiform or choreoathetoid in type; although, athetosis of the extremities and axial and limb dystonia are often listed as part of the syndrome, as are gait and trunk posture abnormalities, such as rocking or rotary pelvic movements.
Treatment of tardive dyskinesia initially consists of discontinuing the neuroleptic drug as soon as involuntary facial, neck, trunk, or extremity movements are identified in people taking neuroleptic drugs if this is felt to be safe psychiatrically.
Tardive Dyskinesia Diagnosis
Tardive dyskinesia is a clinical diagnosis, meaning that there are no blood tests, X-rays, or other objective assessments which can confirm this condition. Physicians often use the Abnormal Involuntary Movement Scale (AIMS) to quantify movements, which appear to be tardive dyskinesia. This scale is a numeric score that grades involuntary movements from 0-4 in 10 different areas, including muscles of facial expression, lips/perioral area, jaw, tongue, upper extremities, lower extremities, neck, shoulders, hips, severity of overall movements, and patient awareness of the movements.
Tardive Dyskinesia Causes
In many patients, TD is irreversible and can persist long after the medications that may be causing the symptoms are stopped. Of course, patients need to take the medications that are causing the unwanted side effect of TD; therefore, stopping the medication can be dangerous and may even induce further complications.
Tardive Dyskinesia Report Highlights
Once TD develops, some effects may be permanent or take a long time to go away. Known factors that increase risk of developing TD are age, duration of dopamine receptor blocker (DRB), and history of drug or alcohol use.
Some studies suggest that between 30 to 50% of people taking these medications will develop TD over the course of their treatment.
Tardive Dyskinesia Emerging Therapy Assessment
The pipeline of TD is very narrow which reflects that there is a high medical unmet need for potential treatment options for the patients. The dynamics of TD market is anticipated to change in the coming years owing to the improvement in the research and development activities so that market will comprise of efficient treatment regimens.
Following is the TOC of Tardive Dyskinesia pipeline report
1. Report Introduction
2. Tardive Dyskinesia
3. Tardive Dyskinesia Current Treatment Patterns
4. Tardive Dyskinesia – DelveInsight's Analytical Perspective
5. Therapeutic Assessment
6. Tardive Dyskinesia Late Stage Products (Phase-III)
7. Tardive Dyskinesia Mid Stage Products (Phase-II)
8. Early Stage Products (Phase-I)
9. Pre-clinical Products and Discovery Stage Products
10. Inactive Products
11. Dormant Products
12. Tardive Dyskinesia Discontinued Products
13. Tardive Dyskinesia Product Profiles
14. Tardive Dyskinesia Key Companies
15. Tardive Dyskinesia Key Products
16. Dormant and Discontinued Products
17. Tardive Dyskinesia Unmet Needs
18. Tardive Dyskinesia Future Perspectives
19. Tardive Dyskinesia Analyst Review
20. Appendix
21. Report Methodology
What are the key questions of the report?
What are the current options for Tardive Dyskinesia treatment?
How many companies are developing therapies for the treatment of Tardive Dyskinesia?
What are the principal therapies developed by these companies in the industry?
How many therapies are developed by each company for the treatment of Tardive Dyskinesia?
How many Tardive Dyskinesia emerging therapies are in early-stage, mid-stage, and late stage of development for the treatment of Tardive Dyskinesia?
Out of total pipeline products, how many therapies are given as a monotherapy and in combination with other therapies?
What are the key collaborations (Industry-Industry, Industry-Academia), Mergers and acquisitions, and major licensing activities that will impact Tardive Dyskinesia market?
Which are the dormant and discontinued products and the reasons for the same?
What is the unmet need for current therapies for the treatment of Tardive Dyskinesia?
What are the recent novel therapies, targets, mechanisms of action and technologies developed to overcome the limitation of existing Tardive Dyskinesia therapies?
What are the clinical studies going on for Tardive Dyskinesia and their status?
What are the results of the clinical studies and their safety and efficacy?
What are the key designations that have been granted for the emerging therapies for Tardive Dyskinesia?
How many patents are granted and pending for the emerging therapies for the treatment of Tardive Dyskinesia?
View Latest Reports
1. Bronchopulmonary Dysplasia Epidemiology
DelveInsight's Bronchopulmonary Dysplasia – Epidemiology Forecast 2030 report delivers an in-depth understanding of the disease, historical, and forecasted epidemiology of Bronchopulmonary Dysplasia in the United States, EU5 (Germany, France, Italy, Spain, and the United Kingdom), and Japan.
2. Tardive Dyskinesia Epidemiology
DelveInsight's Tardive Dyskinesia – Epidemiology Forecast 2030 report delivers an in-depth understanding of the disease, historical, and forecasted epidemiology of Tardive Dyskinesia in the United States, EU5 (Germany, France, Italy, Spain, and the United Kingdom), and Japan.
About Us
DelveInsight is a Business Consulting and Market research company, providing expert business solutions for life science vertical and offering quintessential advisory services in the areas of R&D, Strategy Formulation, Operations, Competitive Intelligence, Competitive Landscaping, and Mergers & Acquisitions.
Contact Us
Shruti Thakur
info@delveinsight.com
https://www.delveinsight.com/
Media Contact
Company Name: DelveInsight Business Research LLP
Contact Person: Vinita Rakheja
Email: Send Email
Phone: 9193216187
Address:304 S. Jones Blvd #2432
City: Albany
State: New York
Country: United States
Website: www.delveinsight.com/