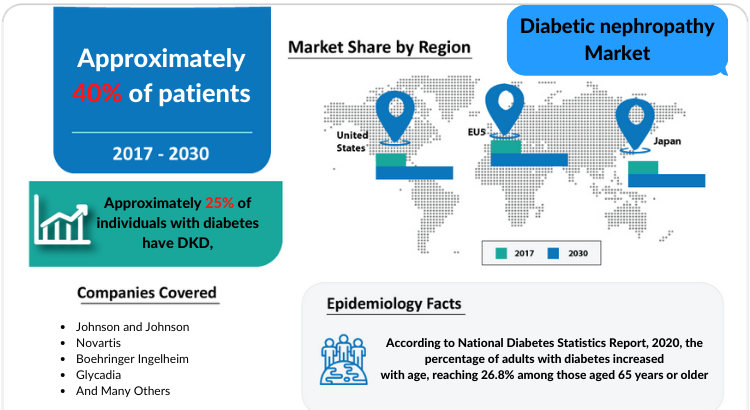 "Diabetic nephropathy Market" report has been added to DelveInsight
The Diabetic nephropathy market report provides an edge while developing business strategies, by understanding trends shaping and driving the global Diabetic nephropathy Market
Download free sample copy here- https://www.delveinsight.com/sample-request/diabetic-nephropathy-market
Diabetic nephropathy Disease: Overview
Diabetic nephropathy is a long-term kidney disease that can affect people with diabetes. It is also known as Diabetic Kidney Disease (DKD). It happens when a person's kidneys are damaged by elevated blood glucose levels. Diabetic nephropathy is a leading cause of chronic kidney disease and end-stage renal disease (ESRD). The kidneys in ESRD are no longer able to satisfy the demands of everyday life. Kidney failure can occur as a result of ESRD, which can be life-threatening.
Diabetic nephropathy Disease: Geography Covered
The United States
EU5 (Germany, France, Italy, Spain, and the United Kingdom)
Japan
Diabetic nephropathy Key Players
Johnson and Johnson
Novartis
Boehringer Ingelheim
Glycadia
Diabetic nephropathy Drugs
Invokana
LMB763
BI 685509
GLY-230
Diabetic nephropathy Risk Factors
The risk factors for diabetic nephropathy incorporate smoking, comorbidities and is more prevalent in people who are more than 62-65 years old. An individual with diabetic nephropathy may not experience any symptoms in the early stages. Changes in blood pressure and fluid equilibrium in the body, on the other hand, may already be present. Waste products can accumulate in the blood over time, causing symptoms. Swollen feet and ankles, darker urine, shortness of breath are some of the symptoms presented in the later stages.
Diabetic nephropathy Causes
Depending on a low glomerular filtration rate, (GFR), which also represents the percentage of successful kidney function, a doctor may divide kidney disease into stages, which range from stage 1 to 5.
Certain blood tests along with urine tests are advised to attain a diagnosis for diabetic nephropathy. Urine analysis and correct recording of the history of supine or erect blood pressure must be done. Albumin is also measured as the earliest clinically detectable evidence of the said condition.
Diabetic nephropathy Treatment
The first step in treating diabetic nephropathy is to monitor and manage diabetes, as well as high blood pressure if necessary (hypertension). Kidney disease and other complications may be avoided or delayed with proper blood sugar and hypertension treatment. Angiotensin-converting enzyme inhibitors (ACEIs) and angiotensin receptor blockers (ARBs) can help to lower blood pressure, protect kidney function, and prevent
Diabetic nephropathy Market Insights
Treatment of patients with diabetic nephropathy can be divided into four major areas: cardiovascular risk reduction, glycemic control, blood pressure control, and inhibition of the renin-angiotensin system (RAS). Recommendations for therapy include targeting a hemoglobin A1c concentration < 7% and blood pressure < 140/90 mm Hg with therapy anchored around the use of a RAS-blocking agent.
Diabetic nephropathy Market Outlook
The single best evidence-based therapy for diabetic nephropathy is therapy with a RAS-blocking medication. The first step in treating diabetic nephropathy is to treat and control diabetes and, if needed, high blood pressure (hypertension). With good management of blood sugar and hypertension, one can prevent or delay kidney dysfunction and other complications.
Diabetic nephropathy: Report Highlights
In the coming years, Diabetic Nephropathy market is set to change due to the rising awareness of the disease, and incremental healthcare spending across the world; which would expand the size of the market to enable the drug manufacturers to penetrate more into the market
The companies and academics are working to assess challenges and seek opportunities that could influence Diabetic Nephropathy R&D. The therapies under development are focused on novel approaches to treat/improve the disease condition
Major players are involved in developing therapies for Diabetic Nephropathy. Launch of emerging therapies will significantly impact the Diabetic Nephropathy market
A better understanding of disease pathogenesis will also contribute to the development of novel therapeutics for Diabetic Nephropathy
Our in-depth analysis of the pipeline assets across different stages of development (Phase III and Phase II), different emerging trends and comparative analysis of pipeline products with detailed clinical profiles, key cross-competition, launch date along with product development activities will support the clients in the decision-making process regarding their therapeutic portfolio by identifying the overall scenario of the research and development activities
Following is the TOC of Diabetic Nephropathy market report
1. Key Insights
2. Executive Summary of Diabetic Nephropathy
3. Competitive Intelligence Analysis for Diabetic Nephropathy
4. Diabetic Nephropathy: Market Overview at a Glance
5. Diabetic Nephropathy: Disease Background and Overview
6. Patient Journey
7. Diabetic Nephropathy Epidemiology and Patient Population
8. Treatment Algorithm, Current Treatment, and Medical Practices
9. Unmet Needs
10. Key Endpoints of Diabetic Nephropathy Treatment
11. Marketed Products
12. Emerging Therapies
13. Diabetic Nephropathy: Seven Major Market Analysis
14. Attribute analysis
15. 7MM: Market Outlook
16. Access and Reimbursement Overview of Diabetic Nephropathy
17. KOL Views
18. Market Drivers
19. Market Barriers
20. Appendix
21. DelveInsight Capabilities
22. Disclaimer
23. About DelveInsight
Reasons to buy this report
The report will help in developing business strategies by understanding trends shaping and driving the Diabetic Nephropathy market
To understand the future market competition in the Diabetic Nephropathy market and Insightful review of the key market drivers and barriers
Organize sales and marketing efforts by identifying the best opportunities for Diabetic Nephropathy in the US, Europe (Germany, Spain, Italy, France, and the United Kingdom) and Japan
Identification of strong upcoming players in the market will help in devising strategies that will help in getting ahead of competitors
Organize sales and marketing efforts by identifying the best opportunities for Diabetic Nephropathy market
To understand the future market competition in the Diabetic Nephropathy market
Contact Us
Shruti Thakur
info@delveinsight.com
USA: – +1(919)321-6187
India:- +91-11-45689769, +91-9650213330
Media Contact
Company Name: DelveInsight Business Research LLP
Contact Person: Vinita Rakheja
Email: Send Email
Phone: 9193216187
Address:304 S. Jones Blvd #2432
City: Albany
State: New York
Country: United States
Website: www.delveinsight.com/