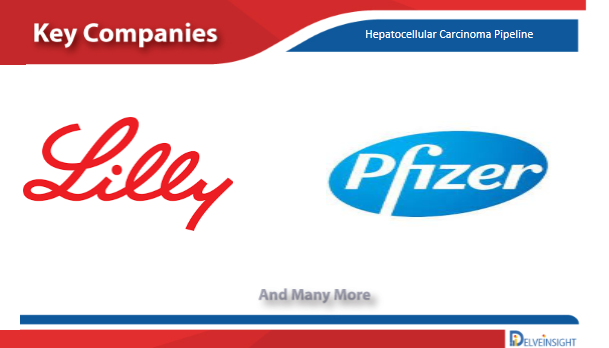 "Hepatocellular Carcinoma Pipeline" report has been added to DelveInsight
Hepatocellular Carcinoma Pipeline analysis across different stages of development (Phase III & Phase II), different emerging trends and comparative analysis of Hepatocellular Carcinoma pipeline products with detailed clinical profiles, key cross-competition, launch date along with product development activities
Download free sample copy here- https://www.delveinsight.com/sample-request/hepatocellular-carcinoma-pipeline-insight
Hepatocellular Carcinoma: Overview
Hepatocellular Carcinoma (HCC) is the most common type of primary liver cancer. It is a malignant tumor of hepatocytes, which may exhibit any or all of the cytologic and/or architectural characteristics of hepatocellular differentiation, along with features of malignancy.
Hepatocellular Carcinoma Treatment
The treatment is generally recommended at early-stage HCC and may not be recommended to treat patients with later stages of the disease. These treatments are surgery, radiofrequency ablation, percutaneous ethanol injection, radiation therapy and tyrosine-kinase inhibitors, and recently approved (PD 1)-blocking antibody and monoclonal antibodies.
Hepatocellular Carcinoma Key Players
Bayer HealthCare
Sumitomo Dainippon Pharma
Bristol-Myers Squibb
Merck and Co.
Eli Lilly and Co.
Ipsen/Exelixis Inc./Takeda
Merck/Eisai
Can-Fite BioPharma
Eli Lilly and Co.
Pfizer
CASI Pharmaceuticals
Tera Bio-Pharma
And many others
Hepatocellular Carcinoma Drugs
Nexavar
Miripla
Opdivo
Pembrolizumab (Keytruda)
Stivarga
Ramucirumab (Cyramza)
Cabometyx
Lenvima
And many others
Hepatocellular Carcinoma Pipeline Report
As per DelveInsight estimation, combination therapies are expected to take a major market share by the end of the forecasting period [2020–2030]. Flaws in the designing clinical trial, liver toxicity, lack of significant antitumor potency of tested drugs, etc. have led to failures of clinical trials.
Hepatocellular Carcinoma Treatment
Generally, the treatment to Hepatocellular Carcinoma patients is recommended at early-stage HCC and may not be recommended to treat patients with later stages of the disease. Currently, the major treatment options of Hepatocellular Carcinoma are:
Hepatic Resection is the treatment of choice for hepatocellular carcinoma in patients without cirrhosis, in whom major resections could be done without life-threatening complications. In patients with decompensated cirrhosis, hepatic resection is formally contraindicated, and liver transplantation should be considered. Patients with compensated cirrhosis should be carefully evaluated to avoid treatment-related complications and achieve long-term survival.
Theoretically, liver transplantation is the best treatment option since it might simultaneously cure the tumor and the underlying cirrhosis. The likelihood of patient survival after transplantation remains the essential criterion to indicate this treatment for hepatocellular carcinoma. Other than this, Image-guided transcatheter tumor therapies aim to induce tumor necrosis and are based predominantly on the arterial vascularization of hepatocellular carcinoma compared with the surrounding liver parenchyma.
Hepatocellular Carcinoma Emerging Therapies
Tislelizumab (BGB-A317) (Beigene)
Milciclib (Tiziana Life Sciences)
Durvalumab (Imfinzi) (Astra Zeneca)
Tecentriq + Avastin (Hoffmann-La Roche)
Download free sample copy here- https://www.delveinsight.com/sample-request/hepatocellular-carcinoma-pipeline-insight
Following is the TOC of Hepatocellular Carcinoma pipeline report
1. Report Introduction
2. Hepatocellular Carcinoma
3. Hepatocellular Carcinoma Current Treatment Patterns
4. Hepatocellular Carcinoma – DelveInsight's Analytical Perspective
5. Therapeutic Assessment
6. Hepatocellular Carcinoma Late Stage Products (Phase-III)
7. Hepatocellular Carcinoma Mid Stage Products (Phase-II)
8. Early Stage Products (Phase-I)
9. Pre-clinical Products and Discovery Stage Products
10. Inactive Products
11. Dormant Products
12. Hepatocellular Carcinoma Discontinued Products
13. Hepatocellular Carcinoma Product Profiles
14. Hepatocellular Carcinoma Key Companies
15. Hepatocellular Carcinoma Key Products
16. Dormant and Discontinued Products
17. Hepatocellular Carcinoma Unmet Needs
18. Hepatocellular Carcinoma Future Perspectives
19. Hepatocellular Carcinoma Analyst Review
20. Appendix
21. Report Methodology
Hepatocellular Carcinoma Report Highlights
A better understanding of disease pathogenesis contributing to the development of novel therapeutics for Hepatocellular Carcinoma.
In the coming years, the Hepatocellular Carcinoma market is set to change due to the rising awareness of the disease, and incremental healthcare spending across the world; which would expand the size of the market to enable the drug manufacturers to penetrate more into the market.
The companies and academics that are working to assess challenges and seek opportunities that could influence Hepatocellular Carcinoma R&D. The therapies under development are focused on novel approaches to treat/improve the disease condition.
A detailed portfolio of major pharma players who are involved in fueling the Hepatocellular Carcinoma treatment market. Several potential therapies for Hepatocellular Carcinoma are under investigation. With the expected launch of these emerging therapies, it is expected that there will be a significant impact on the Hepatocellular Carcinoma market size in the coming years.
Our in-depth analysis of the pipeline assets (in early-stage, mid-stage and late stage of development for the treatment of Hepatocellular Carcinoma) includes therapeutic assessment and comparative analysis. This will support the clients in the decision-making process regarding their therapeutic portfolio by identifying the overall scenario of the research and development activities.
Media Contact
Company Name: DelveInsight Business Research LLP
Contact Person: Vinita Rakheja
Email: Send Email
Phone: 9193216187
Address:304 S. Jones Blvd #2432
City: Albany
State: New York
Country: United States
Website: www.delveinsight.com/