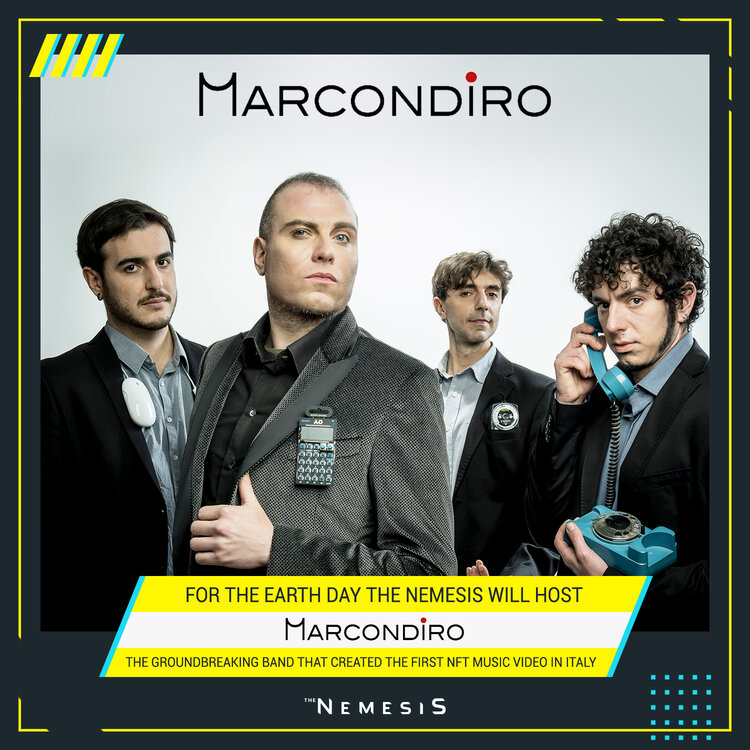 An exciting live-streamed event with a focus on great music, celebrating Earth Day, and exploring the potential of NFTs.
April 19, 2021 – The current COVID 19 pandemic has undoubtedly brought the world to its knees. Most people have been feeling shut in and alone, unable to connect with others and experience the positive effects of socializing to their fullest.
However, this crisis isn't all bleak skies. It has awoken the best in artists, innovators, creatives, and promoters, who show their willingness to fight and keep pursuing what they believe in.
This is definitely the case with The Nemesis, a platform with a focus on gaming, with an innovative approach. Its video game features enable players to pick their avatar and interact with various items in the game world. From Battle Royale modes to racing and escape room puzzles, anything goes. While the games are incredibly fun and addictive, what makes The Nemesis special is the ability to attend live-streamed events while in-game.
The Nemesis recently launched a fantastic initiative, allowing musical artists and other creators to use their platform as a virtual stage. Italian artist and songwriter Marcondiro is going to be the featured guest on The Nemesis' next live streaming event.
Led by singer and songwriter Marco Borrelli, Marcondiro specializes in whimsical, clever, and catchy songwriting. The band consists of Marco (vocals, guitars, piano, synthesizers) as well as Frank Ranieri (bass, percussion, backing vocals), Peppe Sacchi (keys, accordion, programming). Last but not least, Dario Segneghi provides the groove sitting behind the drum kit!
The group's formula is very kaleidoscopic, highlighting Marco's mercurial songwriting skills. From electronic indie to alternative rock and Italian "cantautorato," anything goes! The upcoming live stream on The Nemesis will undoubtedly be a perfect opportunity for two worlds to collide beautifully, bringing sonic and digital artistry to the table in a unique fashion.
Experiencing live events through The Nemesis universe adds yet another layer and brings a new level of enjoyment to the audience.
As opposed to being passive observers, viewers can select an avatar. By controlling it, they can interact with other attendees and the surrounding digital environment. This is a fresh way to break the monotony of the screen and breathe new life into various events, talks, virtual gigs, and other happenings.
The event is scheduled to be happening on a particularly special day: Earth Day. This is an opportunity for people to look back on our footprint on the environment and reflect on our place in the world and how we can contribute to making it better. It's also the perfect venue to address the growing importance of digital art, and how to value the work of artists who put so much work, talent, and creativity in what they do, pushing the envelope and rethinking traditional artistic constraints to suit the fast-paced digital age.
In addition to Marcondiro's musical performance, attendees will enjoy some exciting virtual artifacts displayed in the virtual world. The Nemesis runs a contest for visual artists, who will get an opportunity to participate with their NFT – Non-Fungible Tokens.
NFTs are generating quite a buzz in the art world, with many industry experts saying that they're revolutionizing digital arts with a newfound way to give it the value it deserves. Marcondiro was actually the first Italian band to launch a music video as an NTF, tying in with the concept and showcasing the versatility of these digital tokens.
Find out more about The Nemesis, and clear your schedule for Marcondi-ro's live stream on April 22!
Find out more about The Nemesis: https://thenemesis.io/
Check out Marcondiro: https://www.marcondiro.it/
Media Contact
Company Name: The Nemesis
Contact Person: Deborah Martino – COO & NFTs Ambassador
Email: Send Email
Address:Via Maggio 1
City: 6900 LUGANO /CH
Country: Switzerland
Website: https://thenemesis.io/