(Albany, US) Traditional method of toxicity and drug safety studies is expensive, has a low success rate, and is resource- and time-consuming. To overcome these challenges, pharmaceutical companies are increasingly adopting high-content screening (HCS) cell-based assays for identifying the effects of toxicity in drug development studies (cell-based imaging enables the monitoring of drug toxicity mechanisms, such as oxidative stress, micronuclei, mitochondrial dysfunction, steatosis, and apoptosis).
DelveInsight is the world's leading independent provider of strategic market intelligence solutions. Our market intelligence services are designed to connect your organization's goals with global opportunities.
RFP to know more about DelveInsight's competitive intelligence for pharma companies.
Business Problem:
A large Asian conglomerate was working to develop their asset portfolio in Cell Imaging and Analysis, and was interested to assess the market scenario of software based devices in the Cell Analysis and Cell Observation segment, such as HCS, Cell Analyzers, Flow Cytometers etc., to understand the past and forecasted market, to assess decision of possible market entry and potential future commercial success. The client requested evidence-based market estimation, segmented by type, end users, and application in US, EU, and some select APAC nations.
Download Case Study: https://www.delveinsight.com/case-study/market-&-competitive-assessment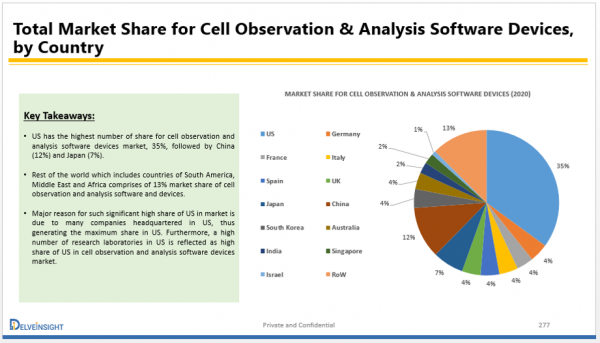 Want comprehensive insights into the market drivers, challenges, key industry players, and more in the pharma neonatal MSCs Opportunity Assessment? Request a free proposal
Our Approach
Understanding Competition in the market, assess product portfolios and geographical reach to assess the landscape.
Evaluating historical country- and company- based revenue and assessing relevant market segmentation.
Deep-dive assessments into the device price and overall Market Size Assessment and Forecast and Outcome reporting.
DelveInsight is well versed in a multitude of qualitative and quantitative solutions to address your competitive intelligence needs. Learn more about our services portfolio for pharmaceutical companies. Request for more information.
Results:
Led to changes in KPI targeting through understanding region-centric market differences
Helped assess points of improvement in sales plan through understanding user perspectives
Improved resource allocation for achieving higher sales target
Learn more about our services portfolio for pharmaceutical companies. Request for more information.
DelveInsight's Consulting Services include but not restricted to the following:
Competitive Intelligence Services: CI Services that are centered on DelveInsight's competitive model, help clients identify tenable market threats and strategize to yield maximum ROI.
Licensing Services: Providing customized solutions to help clients manage assets and strategize developmental needs for maximum output through DelveInsight's licensing services.
Portfolio Management Services: By assessing trends, analyzing returns and gathering insight on best opportunities, DelveInsight provides high-value guidance for managing clients' portfolio.
Mergers and Acquisitions: Identify emerging markets trends and gain insight on untapped opportunities to expand and grow in the market with DelveInsight.
Healthcare Due Diligence: DelveInsight identifies financial risks, profits, and synergies and help clients make sound business decisions.
About DelveInsight
DelveInsight is a leading Life Science market research and business consulting company recognised for its off-the-shelf syndicated market research reports as well as customised solutions to firms in the healthcare sector.
Solutions from the Pre-clinical phase till commercialisation
Expand your business to different geographies round the world
Unfold a 360° panoramic view of the market
Media Contact
Company Name: DelveInsight Business Research LLP
Contact Person: Ankit Nigam
Email: Send Email
Phone: +19193216187
Address:304 S. Jones Blvd #2432
City: Albany
State: New York
Country: United States
Website: https://www.delveinsight.com/case-study/market-&-competitive-assessment