BALTIMORE, MD – Edward R. Williams, Author, of best-selling books Wealth Building For Beginners and Ten Steps to Wealth, will be holding a wealth-building workshop for those exiting the prison system to give back to the community.

People released from prison remain largely uneducated most often and their family support system is not a fallback option. One of the many challenges faced by men and women returning to society after being jailed is their unfamiliarity with the many financial tools and wealth building concepts that are available. Simple things like opening a banking account, using a credit card, or saving money can be overwhelming and intimidating when starting out after being incarcerated.
Author of the best-selling book, Wealth Building For Beginners, Edward R. Williams, hopes to educate and inspire those who are exiting the prison system for a better life for themselves and their families. Recent estimates show that 2.7 million US children have a parent who is incarcerated and more than 5 million children—7 percent of all US children—have had a parent in prison or jail at some point. (Hairston 2007) Their numbers swelled by 79 percent between 1991 and 2007, according to U.S. Bureau of Justice Statistics (BJS) figures, largely driven by tough drug laws and mandatory sentencing. So, not only will the financial education help those exiting the prison system, but it will help the many children who have parents who have had to start over after being jailed for so long.
Attendees will learn where to start and how to navigate the complex world of building wealth. The challenge is to channel any negative addictions and bad habits and turn them into positive addictions and good sustainable habits that bring them wealth beyond just monetary wealth, but also spiritually and intellectually with a stronger sense of purpose. They will also get access to Author/Financial Planner, Edward R. William's growing library of online wealth resources.

About Edward R. Williams: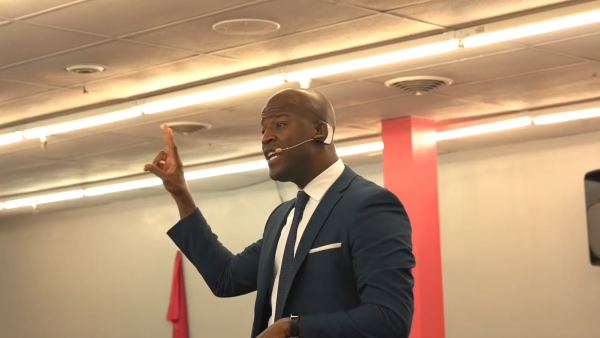 Edward R. Williams is an accomplished author/financial planner, 23-year veteran of the financial services industry, and a popular speaker widely known for his expertise in financial services and wealth building strategies. For decades, he has served as a mentor to his clients, youth, and church congregations throughout the United States. Each year he speaks to thousands of people in churches, as well as financial education seminars/podcasts. He is a dynamic speaker who captivates his audiences from start to finish.
Edward attended undergraduate at Howard University, Business School at the University of Maryland, and led investment competitions at Oxford University. He is an accomplished author and registered representative who works with investment products, annuities, mutual funds, life insurance, estate planning, and retirement strategies to help individuals and families grow their wealth.

His expertise in international business and finance has led to being featured in top publications in Rome, Italy, such as La Repubblica. Being fluent in the Italian language has also welcomed international clients to his financial practice. Edward was announced as a Million Dollar Round Table Member in 2018.

After working as an investment banker on Wall Street in New York, as well as London, England, Edward decided to start his own financial services company, Williams Financial Group, LLC. The Williams Financial Group is currently known for working with faith-based communities and instituting their cutting-edge process of a financial wedge to help congregation members achieve wealth. As quoted by Edward, "In my opinion, The Wedge™ is the only engine that separates the haves and the have-nots. If it's properly built, then a financial need or concern doesn't exist."
Visit: http://www.EdwardRWilliams.com
Media Contact
Company Name: Williams Financial Group, LLC
Contact Person: Edward R. Williams
Email: Send Email
Country: United States
Website: www.EdwardRWilliams.com/connect