Freeflight Productions produces a short film to bring awareness to Mental Health Awareness Month in May. Innocent minds written by Kedaer Parks directed by Kevin Paige which mission is to continue to bring awareness to mental health and to assist in getting rid of the negative stigma surrounding mental health.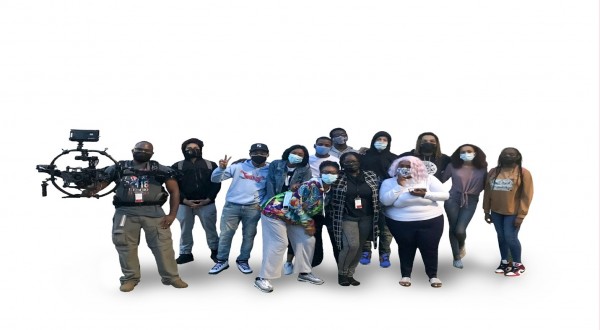 BACK ROW L-R: KEVIN PAIGE, DEVON WILSON, JERRELL JONES, ALANA MORRISON, COBEY JONES II, CAMERON JONES, DARNELL WILSON, TYRONE SIMMONS, DEANNA WILSON AND AMIRA IBRAHIM. FRONT ROW L-R: SHAKEYA JONES, KEDAER PARKS AND SHANIA ROBINSON
About Innocent Minds
JaQuan is a seventeen-year-old male living in the inner city. He's on the path to becoming the first person in his family to graduate high school and the possibility for college is within his grasp when an unexpected tragedy takes him down a dark path. JaQuan tries hard to escape the darkness, but no matter how hard he fights his innocent mind can't escape. It's going to take a village to help him through the darkness.
The short film will be released May 1, 2021, which marks Mental Health Awareness Month can be seen on https://freeflightproductions.com.
In addition to aid in this time of darkness for our young people Freeflight used E1T1 (Each one Teach One) model program and matched students up in the community having them work alongside of professionals in the film industry to produce short film. E1T1 (Each One Teach One) was created by Bryanna Jones in 2010 when she was eight years old. Bryanna started by saving her allowance to purchase toys for the children at local hospitals for Christmas. It evolved in 2013 when Bryanna approached PMG International and The James Brown Family Foundation and asked if they would partner with her in hopes of reaching more children. Through Bryanna's efforts and watching mentor and model program, Deanna Brown-Thomas -James Brown Family Foundation's (toy give away) she able to give toys to not only Vassar Hospital, but some of the local women's shelters. After seeing what Deanna Brown was doing with her music program and how adults were mentoring adult Bryanna begin working and Freeflight Productions to create a mentorship program for local teenagers.
The short film will be released May 1, 2021 which marks Mental Health Awareness Month viewed: https://freeflightproductions.com
Media Contact
Company Name: PMG Intl Inc
Contact Person: Media Relations
Email: Send Email
Phone: 845-402-2200
Address:2600 South Road
City: Poughkeepsie
State: NY 12601
Country: United States
Website: https://freeflightproductions.com/