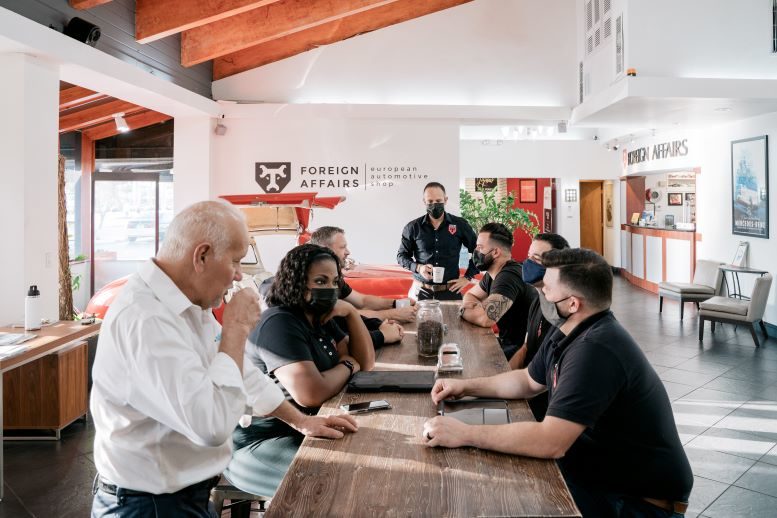 The car industry is consumed with record times, car counts, and KPIs, however, this West Palm Beach, that is self-described as a"hospitality-based" auto repair shop, chooses to focus on its people and customers. Foreign Affairs Auto doesn't just focus on the numbers, when it comes to building a workplace culture worth boasting about.
The team at Foreign Affairs Auto isn't just turning out impressive results, the West Palm Beach shop credits the chemistry of its unique culture and strong staff for its ability to surpass $3 million in annual revenue while maintaining an $1,100-plus ARO.
Everyone is more likely to succeed when the people is put first. This includes giving its employees the space, support, guidance, and recognition that they need. The Foreign Affairs team has found success in this first hand.
"It's easy to get lost in the numbers and lose track of the human behind them," says co-owner Jonathan Ortiz. "Whenever we shift our focus back to the people behind the business, I don't think it's a coincidence we actually start to see those numbers go up."
Draw in Top Talent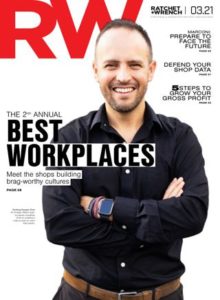 With over 38 years in business, the Foreign Affairs team has not only continued to adapt to industry trends, but their focus on workplace culture is ahead of its time.
"We're in the midst of a tight labor market, but our efforts to create a people-focused culture gave us a head start when it came to attracting quality hires," Ortiz says.
With perks like PTO, parental leave, and opportunities for personal development through paid training and career growth opportunities, Foreign Affairs checks all the boxes applicants are looking for in a new role. On top of that, the shop's local reputation for quality service, creative problem solving, and teamwork have helped deliver a steady stream of qualified candidates.
To ensure new employees are a fit, the shop's hiring process has grown to span a collective 45 days of interviewing, assessments, technical testing, reference checks, and more.
"We have to get to know them before we'll bring them on," Ortiz says. "The process is long, but they're joining a family, and to go through each step with both parties still committed, you know it's about more than a job."
Fresh Ideas Always Welcome:
Knowing the Foreign Affairs team is made up of smart, passionate, and dedicated individuals, the management team makes it a mission to incorporate employee feedback into its workflow.
The shop created a peer evaluation system where each team member is graded by his or her peers to provide objective feedback as the "voice of the entire shop."
"Whether it's the porter or a technician or one of the owners, everyone gets to give a grade to everyone else," says Ortiz. "We average those scores and now that feedback means so much more coming from the team rather than just me. Now it's, 'Hey, here's what everyone is concerned about or proud of you for,' and that shapes how we set goals going forward."
An open door policy also welcomes the team's unique and out-of-the-box ideas, including a Saturday morning yoga session held for customers in the shop's lounge while their cars were being serviced, and the introduction of a five-day work week.
After an employee brought the idea of closing the shop on the weekends (and some key stats and figures to make his case), the Foreign Affairs team crunched the numbers and made the switch.
"We realized it would actually promote efficiency and allow everyone to come back recharged on Mondays, and that lined up with our mission of putting people first in creating a work-life balance," Ortiz says. " I was hesitant at first but it was a slam dunk."
Foreign Affairs Auto: By The Numbers
39 — Average employee age
3 — Paid sick days earned per year
$35,000 — shop's staff training budget
14 — longest staff tenure
2 — employee reviews per year
15 — daily minimum number of minutes to meet as a group
Celebrate the Big and Small
"We know that if our staff feels engaged and part of a strong movement, we'll find the energy and motivation we need to meet our goals, and taking the time to bond and acknowledge the wins is a big part of that," says Ortiz.
Every other year the shop goes all out, closing for a three-day retreat so the entire staff can travel to Worldpac's training conference, making sure to fit in team-bonding experiences like private city tours, celebratory dinners, and even a VIP tour of then-Cowboys Stadium along the way.
The team also meets daily and weekly to gather and connect. Each morning, everyone meets in the shop's customer lounge for "Cars and Coffee," a dedicated moment where the group can bond and start its day together over a cup of joe.
The gathering doubles as a daily production meeting and it's also an ideal time to call out a job well done and acknowledge those going above and beyond. The group also meets for a happy hour each Friday afternoon before the shop closes, to ring in the weekend.
"We may just meet for 20 minutes, but the important thing is being there together," says Ortiz. "We're a family, and it might not be the same as sitting down to dinner, but it's about fellowship and keeping a bond and taking time to acknowledge the hard work."
Foreign Affairs: Schedule an appointment for service. You can find us located at 1681 N Military Trail, West Palm Beach, FL 33409.
Foreign Affairs Auto is proud to being your local trusted automobile repair shop near me specializing in fine European automobiles. We offer residents of South Florida a highly personalized approach to the service and maintenance experience of luxury cars.
Media Contact
Company Name: Foreign Affairs Auto
Contact Person: Jonathan Ortiz
Email: Send Email
Phone: +1 561-513-5693
Address:1681 N. Military Trail
City: West Palm Beach
State: Flordia
Country: United States
Website: https://foreignaffairsauto.com/