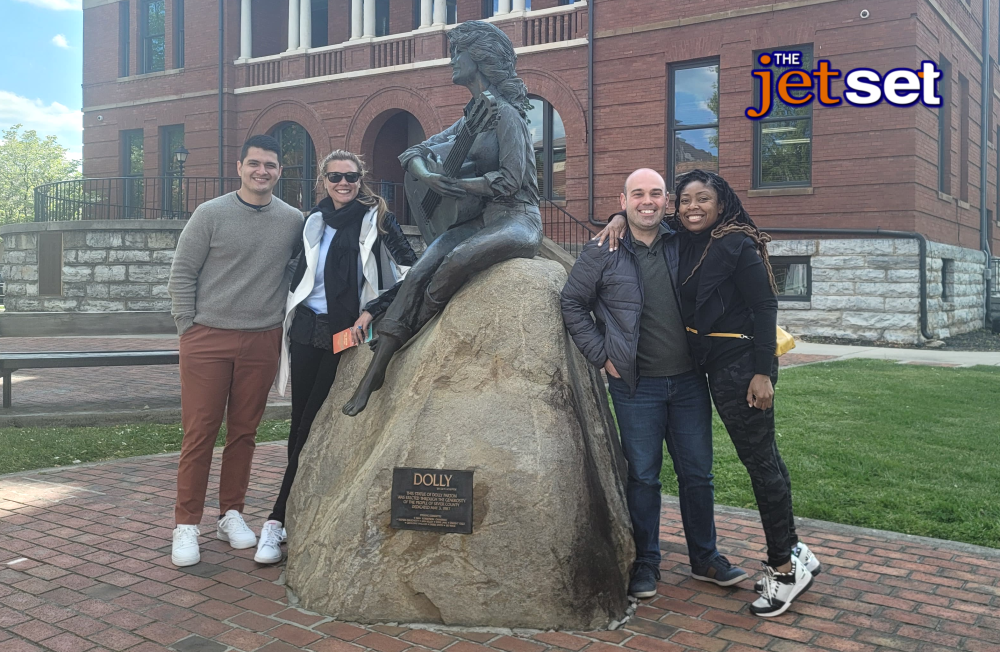 "The Jet Set Cast & Crew pose in front of a statue of Dolly Parton, a Historical landmark in Sevierville, Tennessee"
The hosts of The Jet Set, Bobby Laurie and Nikki Noya, were loving every moment while filming for season six of the national show in Knoxville, Tennessee. The trip also included a day at Dollywood.
At Dollywood the rides, slides, music, food and non-stop fun were on display for the hosts as they toured the park, tried the park's famous cinnamon bread, and boarded a few rollercoasters for some mid-afternoon thrills.
Later in the evening the production for The Jet Set moved to Dolly's Pirates Voyage dinner show in which the hosts were spotted cheering on their crimson team.
Nikki Noya was clearly ecstatic when Salty the Sea Lion made an appearance during the show saying "this is the most fun I've had in a while.. the show was amazing."
In speaking of the park, The Jet Set en Espanol host Juan Albarran stated "this is truly the happiest place, there's something for everyone and a ride for everyone too." Juan Albarran went for a ride on Wild Eagle, his first time on a roller coaster. "I didn't know what to expect… but I loved it! I almost got right back on!"
Before arriving in Dollywood the cast and crew toured Knoxville, Tennessee getting a behind the scenes look at the famed Tennessee Theatre and dining at various local favorites such as Vida, Sweet P's. They also visited Pretentious Beer & Glass Co. for an interview with artist, creator and owner Matthew Cummings.
Bobby Laurie had said he believed this was one of the best trips the show had ever taken. "We had so much fun and food throughout our five day tour of Eastern Tennessee. When we landed Kristen [of Visit Knoxville] told us the back of their visitor's guide had a relocation guide as well, now I know why.. we're already planning our trip back!"
The episode featuring portions of the trip will air at the end of June, with more segments airing later in season six. Check your local listings for time and station or visit TheJetSet.tv
Media Contact
Company Name: The Jet Set TV Show
Contact Person: Executive Producer
Email: Send Email
Phone: 8889191917
Country: United States
Website: http://thejetset.tv