"Marine active cream provides deep hydration and helps restore the protective skin barrier with ceramide."
April 28, 2021 – The Skin House, a leading maker of all-natural skin and beauty products, is pleased to announce that its all-natural product Marine Active Cream is now available for purchase on the Amazon marketplace. The cream is suitable for people that desire well-nourished, hydrated, and moisturized skin.
The Skin House Marine Active Cream is carefully crafted with special natural ingredients, such as Orbignya Oleifera Seed Oil, Hydrogenated Lecithin, Ceramide NP, Honey, Sea Water, Pearl Extract, Ecklonia Cava Extract, and more. This cream offers long-time hydration and helps restore the protective layer of the skin. Unlike others, it absorbs into the skin quickly and keeps the skin fresh without any stickiness.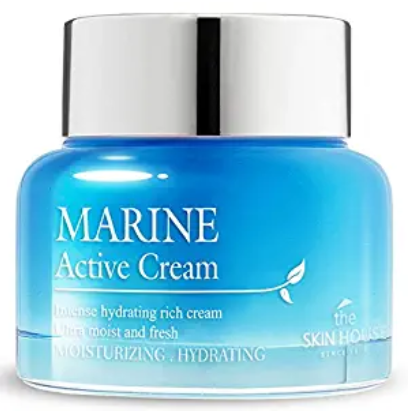 The Skin House Marine Active Cream is a breakthrough in skincare, boasting the highest amount of concentrations of active natural ingredients only found in a small selection of luxury skincare beauty products. Imagine a product made using a premium blend of:
Ceramides – an ingredient that strengthens the skin and plays a vital role in determining how the skin looks.
Hyaluronic acid – deeply hydrates cells and helps retain skin natural moisture.
Aloe vera – promotes faster healing of blemishes giving you spotless skin.
Honey – nourishes and softens the skin, has an anti-inflammatory property too.
Pearl extract – is good for removing old and damaged skin
Beauty products from The Skin House are renowned for their purity and high concentrations of active ingredients, and Marine Active Cream is no exception. This cream offers long-term moisturization compared to serums without sacrificing potency, and its price point is a bargain costing much lower than other similar products.

Since the release of this product on the Amazon store, it has enjoyed lots of patronage and customers can't stop talking about the cream.
A satisfied customer commented, "This is 1.7 ounces of white cream moisturizer in an attractive glass bottle with a screw-top cap. Made in Korea, the product contains ceramides, which allow the moisturizer to work for a longer period, as well as hyaluronic acid.
"A small amount goes a long way and the bottle contains enough to last one person a few months at least. There's a pleasant scent that isn't overpowering and the product can be used by both men and women. This is not a lightweight cream, and even after it dries, you can notice the difference in skin texture, so some might prefer to utilize this as a night cream."
Marine Active Cream provides deep hydration and helps restore the protective skin layer with ceramide.
The Skin House Marine Active Cream is currently available on Amazon with a 100% Customer Satisfaction Warranty to ensure that each purchase is absolutely risk-free.
More information about The Skin House Marine Active Cream can be found on the Amazon product page.
About The The Skin House by NOKSIBCHO
The Skin House is a brand of NOKSIBCHO Group with a vision to provide all-natural skincare products and other beauty products that enhance natural beauty. The Skin House only uses the finest quality ingredients sourced from reputable suppliers and producers from around the world that conform to the highest standards. The company believes in natural products with no fillers, harmful chemicals, or artificial ingredients. The Skin House promises to be in constant search of perfectly natural ingredients to keep customers satisfied.
For more information about The Skin House and NOKSIBCHO, please visit https://theskinhouse.net/ and https://www.noksibcho.com/ respectively.
Media Contact
Company Name: NOKSIBCHO
Contact Person: Andy Hong
Email: Send Email
Phone: 02-1588-9490
Country: South Korea
Website: https://www.noksibcho.com/