African American Women in Cinema's president Terra Renee debuts #1 hit show Talk with Terra on Rudy Radio. Within a month, Talk with Terra has already become a fan favorite. Garnering 3000+ views per episode, viewers tune in weekly to hear Terra Renee speak with cinematic industry experts and entertainment figures on how they overcome obstacles and achieve their goals not only in their personal lives, but also in the entertainment industry.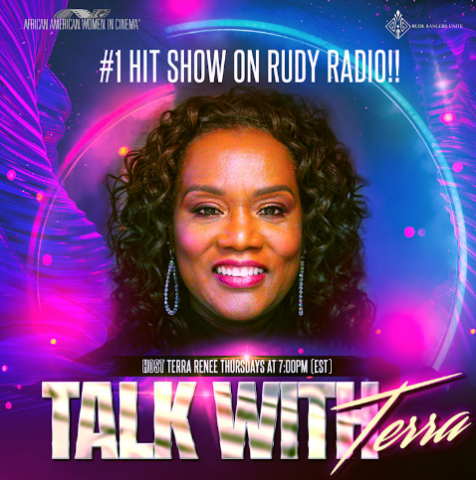 Terra Renee has proven to remain faithful to her vision of helping African Americans in the entertainment field share their stories and industry knowledge, while also creating a platform that has helped content creators expand their brand. Talk with Terra has featured notable guest such as Cinematographer Michelle Clementine, who has worked on Spike Lee's She's Got to Have It and former CNN entertainment producer and reporter Tonia Grady.
Terra Renee hopes her show serves as a valuable platform that will inspire those new to the entertainment industry, as well as, entertainment veterans. Talk with Terra airs Thursday at 7 pm ET on Rudy Radio.
Rudy Radio is a global podcast network available on iHeart Radio, Amazon Alexa, Spotify, Amazon Music, Goggle Play, The App Store and Ruderangers.com. The network offers original content, exclusive experiences and entertainment centered around finance, career, health, wellness, pop culture, celebrity news, fashion, cuisine, music, art & style. Rude Rangers Entertainment prides itself on introducing listeners to shows, characters, personalities & hosts that make them feel good, think critically, laugh often & take steps necessary to live their best possible lives.
Media Contact
Company Name: Legacy 31 PR
Contact Person: Amber Renee Johnson – Publicist
Email: Send Email
Country: United States
Website: www.legacy31pr.com