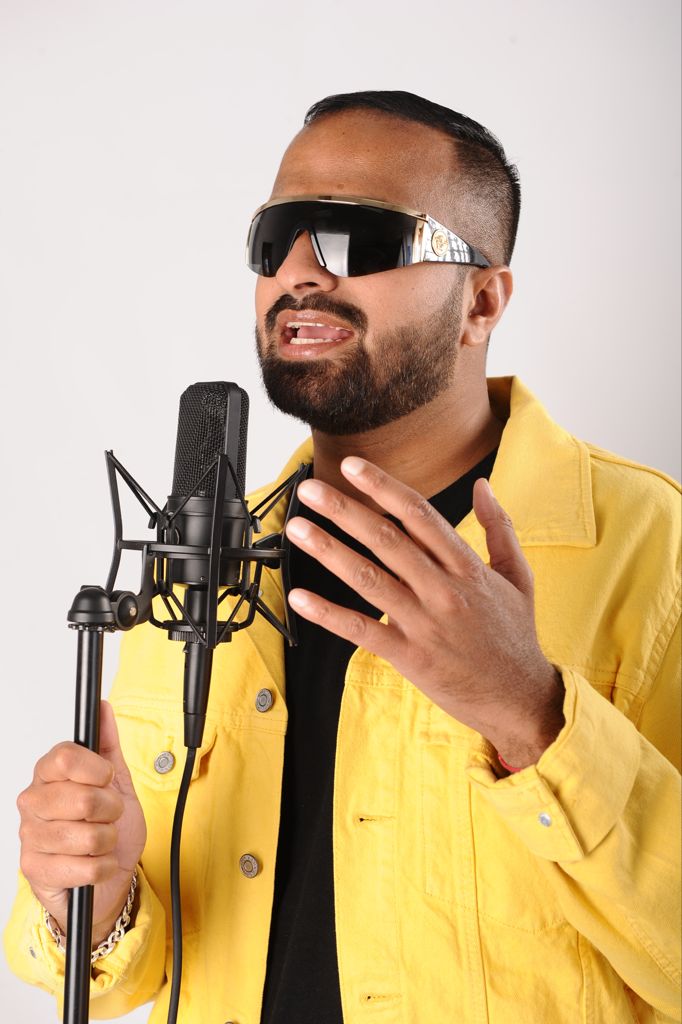 Jugpreet Bajwa inspires and amazes with heartfelt performance.
Vancouver, BC – On April 24, 2021, The Vancouver Canucks were victorious over the Ottawa Senators in an exciting game, but the most spectacular highlight happened before puck drop with a jaw-dropping performance of the Canadian national anthem by Jugpreet Bajwa. The stunning rendition set social media ablaze, with fans delighting in the visually impaired singer's original version. Some on Reddit even compared him to Stevie Wonder and Michael Jackson.
Thomas Drance, senior writer of the Athletic, and Harman Dayal, staff writer of the Athletic, shared their thoughts. "What a beautiful rendition of "O Canada" tonight from Jugpreet Bajwa," the writers exclaimed. "He's also a massive Canucks fan…His rendition of 'O Canada' had Canucks fans gushing, and quite rightly. Probably the best' O Canada' we've heard at Rogers Arena in years."
Long before his work with the Canucks, the 23-year-old's improbable journey began when he lost his sight due to eye cancer at just six months old. While this challenged him, the gifted prodigy found his calling immediately. At only six years old, Jugpreet was already performing on stage.
In 2016, Jugpreet competed on Sa Re Ga Ma Pa, a popular Indian reality tv show with over 1 billion viewers broadcasting in over 165 countries. The charismatic singer beat out more than 100,000 contestants to become the second runner-up receiving a congratulatory message from Prime Minister Justin Trudeau. A true citizen of the world, Jugpreet has also been featured in tv shows, festivals, publications, and videos including an ad campaign for India's famed Raymond Suits.
As much as his talent captivates, his story inspires. In 2010, Jugpreet was awarded BC Community Leadership Award for Courage, in 2013 he was honoured with Queen Elizabeth's II Diamond Jubilee Medal, and in 2016 Jugpreet was named as one of the top 8 most influential South Asians along with the Honourable Defence Minister Mr. Harjit Sajjan.
"Music is a healing force, and I hope my voice and story can bring a little peace and love in times like these. Now's the time to come together in kindness and compassion," says Jugpreet. "Thank you to the NHL, Canucks organization, and the fans for all your support. Go Canucks Go!"
For more on Jugpreet Bajwa, visit https://www.jugpreetbajwa.com/
About Jugpreet Bajwa
After losing his sight due to eye-cancer at six months old, Jugpreet has gone become an award-winning singer with numerous albums, music competitions, distinguished performances, and charitable works. He has won the hearts of millions and continues to inspire as the 23-year old is a passionate motivational speaker. His continued musical journey not only entertains but gives hope as he visits hospitals and schools, spreading his message of happiness, love, peace, and tranquility.
Instagram: https://www.instagram.com/jugpreetbajwa/?hl=en
Twitter: https://twitter.com/JuggyJag?ref_src=twsrc%5Egoogle%7Ctwcamp%5Eserp%7Ctwgr%5Eauthor
Direct Link to video: https://www.youtube.com/watch?v=T3xLPGt9DNM&t=2s
Media Contact
Company Name: Sun Le Music Inc
Contact Person: Jagbir Bajwa
Email: Send Email
Phone: 7785522009
Country: Canada
Website: http://www.sunlemusic.com/