Udemy, Skillshare, and LinkedIn Learning give learners affordable access to new skills
The internet is full of rich opportunities to learn new things, and online learning platforms offer a structured approach to tackle a new subject.
Millions of people have used online learning platforms, or e-learning sites, to access instructor-led courses that can unlock their professional opportunities, boost their confidence, and make them more well-rounded individuals.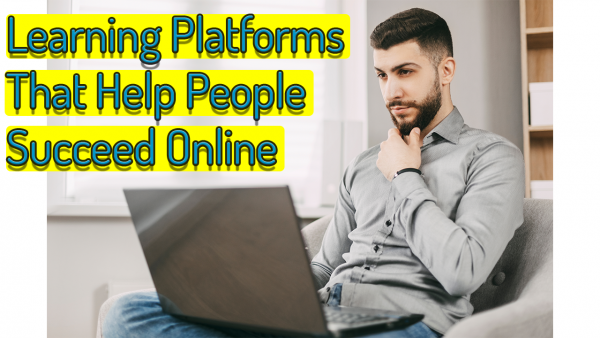 "I see a big wave of new people looking for work online," Vitaliy Lano, IMHO Reviews owner, said. "Unfortunately, many of them fail because the online industry is quickly growing and becoming extremely competitive. Many companies want to hire a professional who already knows the basics of their job and industry, at least. I want to share three amazing online learning platforms that help online professionals sharpen their skills or even learn an entirely new profession for the same price as a few cups of coffee."
Udemy is a massive online learning marketplace that offers more than 155,000 courses to 40 million learners worldwide. Courses get delivered through video, text, and assessment exams. Users cannot download Udemy courses, but the mobile app has a podcast mode so learners can complete their coursework anywhere.
Designed for anyone who has ever been curious about learning a new professional skill or a personal hobby, Udemy provides learning opportunities on a massive range of topics. From computer programming to soap making, Udemy likely has an expertly led course about it. Udemy courses are available in English, French, German, Spanish, Japanese, and Brazilian Portuguese.
Cost: Cost varies depending on the course. Free courses are available, as well as paid courses that are typically less than $160. Anyone who purchases a course through Udemy will have access to the course content for life. Udemy often offers course discounts.
Skillshare is an online learning platform that allows users to take courses at their own pace. Courses get taught by experts in their respective fields, and each lesson includes hands-on projects. Skillshare lessons can be relatively short, taking just a few minutes to complete.
Catered to curious creatives and ambitious entrepreneurs, Skillshare has thousands of courses on topics such as illustration, photography, freelancing, and productivity. It's an ideal solution for people who want to learn a new skill but don't want or need to commit to a formal course through a school or university.
Cost: Free classes are available, but most courses require a membership. A one-year membership plan is $99 billed annually, which equals $8.25 per month. A month-to-month membership is $19 per month. Premium Members have unlimited access to all classes, offline viewing features, and discounts to other online subscription services, including Squarespace, Society 6, Todoist, and Adobe Creative Cloud. Skillshare offers scholarships for students and for users who qualify for financial assistance.
LinkedIn Learning, formerly Lynda.com, is a data-driven learning platform that offers in-demand skills tailored to a LinkedIn user's professional experience and specific goals. Courses focus on both big-picture career knowledge as well as specific skills to help with a job responsibility or professional certification. LinkedIn Learning courses also allow users to ask questions and network with other professionals who have enrolled in the online course.
Perfect for anyone serious about taking their career to the next level, LinkedIn Learning strives to offer relevant content to serve modern workers. LinkedIn Learning divides courses into three broad categories: Business, technology, and creative. Content is available in English, Spanish, German, French, Mandarin, and Brazilian Portuguese. The learning platform is available both for desktop and mobile devices, and material is available offline.
Cost: LinkedIn Premium members automatically have access to LinkedIn Learning. A monthly subscription to LinkedIn Learning is $29.99 per month. An annual subscription is $19.99 per month. Courses can also be purchased individually, with most courses priced around $50 each.
How to choose between the three platforms
Choosing the right online education platform comes down to deciding which option will best suit a learner's specific needs and goals.
Content: Udemy courses offer a deep dive into a specific professional skill or a personal hobby, and content gets presented in multiple formats. Skillshare video courses are more hands-on, and learners can collaborate and share their work with others. LinkedIn Learning courses are focused on professional development.
Price structure: Udemy users pay per course. Skillshare users pay a flat monthly or annual fee. LinkedIn Learning users can either pay a regular, flat fee or purchase courses individually.
Time commitment: Skillshare courses tend to be brief and direct. Udemy courses are at least 30 minutes long. LinkedIn courses vary in length depending on the topic and learning goal.
Online learning platforms offer affordable and flexible access to knowledge that can lead to better professional and personal opportunities.
"It can be easy to stay in one's comfort zone and do the same thing day after day. People don't realize how much potential and motivation awaits them with just a few clicks of a mouse," Lano said.
Video content is available at IMHO Reviews YouTube channel.
Media Contact
Company Name: IMHO Reviews
Contact Person: Vitaliy Lano
Email: Send Email
Phone: 7866647666
Country: United States
Website: https://sites.google.com/site/videoblocksreview/imho-reviews