Los Angeles, CA – April 30, 2021 – Music fans across genres, far and wide, owe a debt of gratitude to the ties that bind. Family ties, that is. And in the case of talented brothers who have graced the airwaves over the decades there is no shortage of legendary talent – from Beach Boys to The Fugees to the Kinks to the Jackson 5, BeeGees, and AC/DC – the list goes on and on. And on again. This time with the world debut of Achley Bachley, fronted by Itai and Niv Ortal, who this week release their mega-hit-in-the-making, Tear My Heart Away. It is now available on all streaming platforms.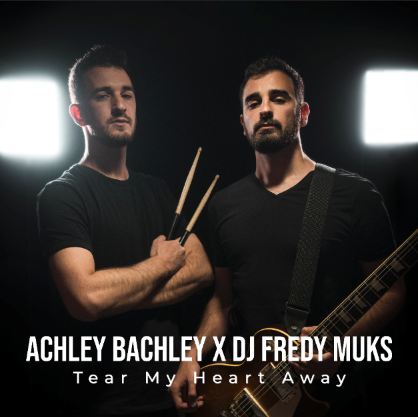 Tear My Heart Away, co-produced with LA-based producer/songwriter DJ Fredy Muks, can best be described as a master work of rock, pop, and blues with entrancing lead and back-up vocals. It starts out with stand-alone piano notes and works up to a pounding beat that takes the listener into the emotional turmoil of an obsessive and destructive romance. And just like many an individual in such a relationship, the listener is sure to keep coming back for more of this addictive tune.
The brothers who founded Achley Bachley hail from a small town in Israel called Kfar Yona, but say they have always dreamed big when it comes to music. Itai, age 24, favors the strings while Niv, age 25, excels in the percussion niche. Both have played since around age nine, but since their late teens have concentrated their talents in the production arena – helping several pop and hip-hop artists in their native Israel to make records. And it shows in their own single.
The pandemic however gave them pause and time to rethink their direction.
"The drastic lifestyle changes forced by the pandemic made us reevaluate where our passions lie and how we want to grow in our careers. We both knew it was time to make our own music," said Niv.
"Yeah, we put it all out there with Heart and we are psyched at how the raw emotion really comes through in the vocals and instruments," added Itai. "Having Fredy as co-producer helped us get to make the vision a reality and we couldn't be happier with the end result."
The siblings promise that even more new music is coming soon and hinted at an EP in the works. Until then, Tear My Heart Away is streaming worldwide.
For more information about Achley Bachley, go to https://www.instagram.com/achley_bachley/.
Media Contact
Company Name: MUKS ENTERTAINMENT
Contact Person: Lari Pasco
Email: Send Email
Country: United States
Website: https://distrokid.com/hyperfollow/achleybachley/tear-my-heart-away-feat-fredy-muks