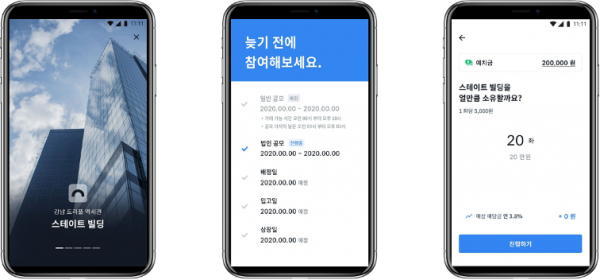 Mobile property investment application (LUCENTBLOCK)
The Financial Services Commission has decided to designate Lucentblock, a fintech startup, as an innovative financial service under a financial regulatory sandbox. The commission made the decision in a regular meeting on April 14. Under a regulatory sandbox, financial service providers can test out new financial services without being hindered by existing regulations. Lucentblock is now allowed to operate its real estate securities trading platform.
Established in 2018, the company's platform was incubated at the Electronics and Telecommunications Research Institute, the largest government-funded research institute in Korea.
"We expect the platform can help expand retail investors' opportunities to indirectly invest in small and medium-sized commercial real estate," the FSC said.
"We are so grateful for the FSC's decision. We hope that consumers can use our service to trade real estate just like stocks safely, transparently, and conveniently. We will do our best to meet the standard and purpose of the regulatory sandbox and bring value to consumers," said Huh Se-young, CEO of Lucentblock.
The company announced that it will soon launch the service. It is working closely with the Korea Securities Depository, the central securities depository in Korea to safely handle securities transfer and settlement. It has also set up a blockchain consortium with its partners to transparently manage information regarding contracts and stock transfer data.
Real estate securities will be issued and certified by banks or real estate trust companies using properties as collateral. Issued securities will be electronically registered and can be traded easily through the platform.
Participants in the platform include DGB Financial Group and BNK Financial Group. as well as investment trust companies including Hana Asset Trust, Hanguk Investment Real Estate Trust, Sinyeong Real Estate Trust, Kyobo Asset Trust, KB Real Estate Trust, and Mugunghwa Trust…
Media Contact
Company Name: LUCENTBLOCK
Contact Person: Jeongsub Kim
Email: Send Email
Phone: +82-010-4056-1553
Country: Korea
Website: https://www.lucentblock.com/