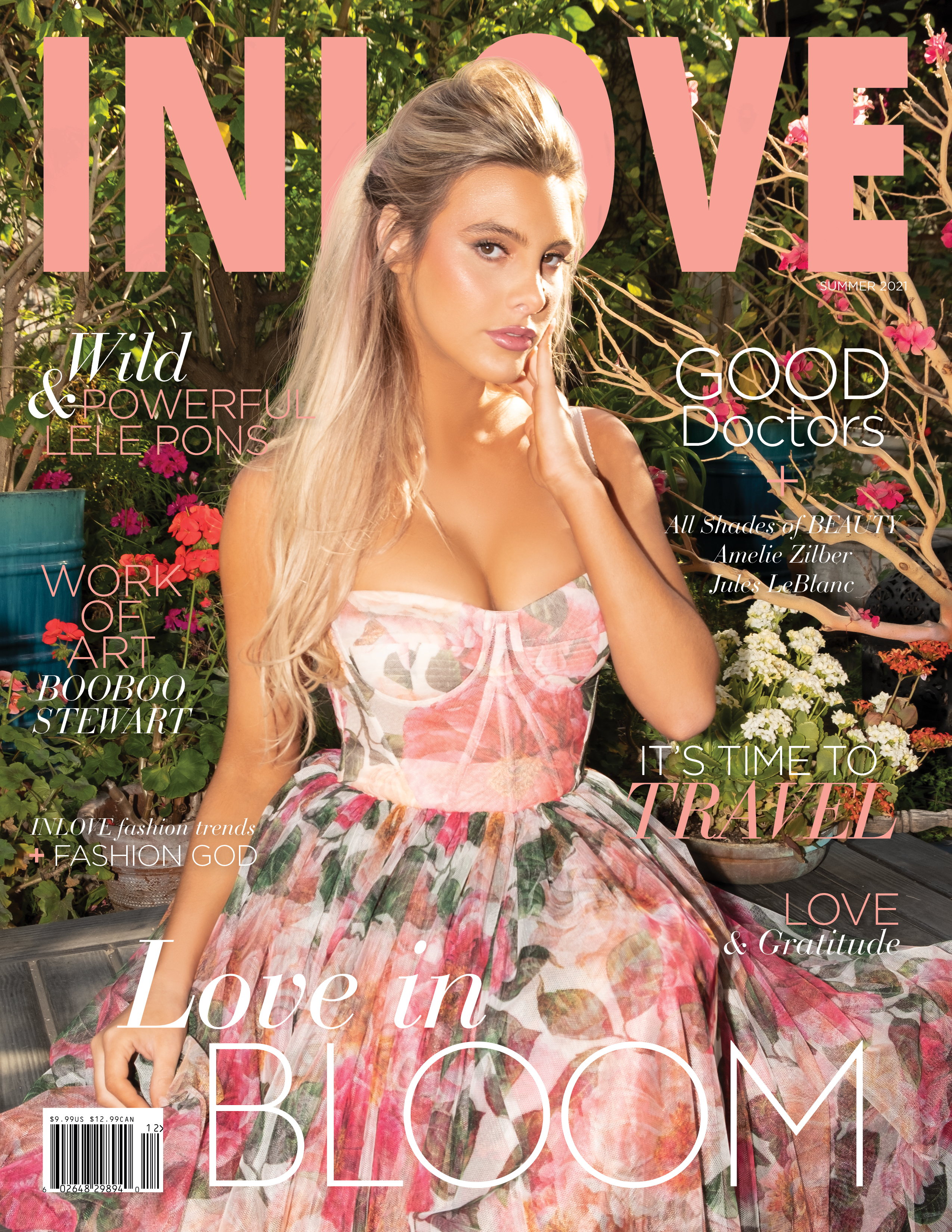 March 10, 2021 – This Spring-Summer, the INLOVE Magazine features covers with digital superstar/recording artist Lele Pons and actor Booboo Stewart. INLOVE Magazine's spring issue presents one-on-ones with today's top talent, and will feature musician Aiden Alexander, YouTuber/Actress Jules LeBlanc, McKell and Viola PretteJohn, and more.
Discover what it means this season to be INLOVE. Readers will discover exclusive interviews and photos, unique destinations and haute cuisine, all selected for them for a delightful experience. The highlight of the issue is the exclusive interview with celebrity star Lele Pons.
Now more than ever, INLOVE strives to empower and entertain while focusing on self-love and community. Coming this spring, digital superstar Lele Pons will grace INLOVE as the cover star. Pons is changing how digital content is made while emphasizing the importance of mental health and authenticity to her 43.6M followers.
Lele Pons has revealed the inside story of what she's up to. Her entire team is working hard and the going is great with some real stuff coming out soon. Lele Pons will be launching a new album this season, apart from many other projects.
"2021 is now in the spring of things, and IN LOVE's mission has stayed constant as we continue to connect, elevate, and inspire while uniting artistic and business circles around common value," says a spokesperson.
Also featured is Jules LeBlanc, who originally got her start on the Bratayley family vlog from 2010-2019. Now a singer and actress, Leblanc is one of the world's most famous teen faces. Currently starring in hit Nickelodeon show, Side Hustle, this is just the beginning for LeBlanc.
Readers should also keep a lookout for McKell and Viola Prettejohn. Mckell signed his first lead in a feature film at the age of 15. You might recognize him from his most recent feature, Guy Richie's "The Gentleman" (Miramax). Viola is another young Hollywood star to keep an eye on, as she has already played roles in The Netflix series "The Witcher" and worked alongside Academy Award Winner J.K. Simmons in the show "Counterpart" (Starz).
Booboo Stewart represents the male-cover in this issue, most commonly recognized as Seth from "The Twilight Saga". Booboo found success at a young age, signing a record deal at 12 years old with Walt Disney records. As he's grown, so has his talent. Now 26, Booboo has played Warpath in "X-Men: Days of Future Past", Willie in the popular Netflix show "Julie and The Phantoms", and more.
It isn't hard to see why we are INLOVE with Aiden Alexander. His new album "The Hills" released in early March and has already become a smash hit. Not only is he a talented musician, but he is also an actor in his own right, with roles working alongside Luke Perry in the film "Red Wing" and Jude Apatow's Netflix series "Love."
INLOVE continuously supports children-orphans in Ukraine through Sublimitas. Donations of all measures fund our work with charitable organization Sublimitas (501(c)(3). We support and help children in Ukraine who need love, care, and education. When you purchase INLOVE magazine, you support the charity.
About
INLOVE is a celebrity fashion lifestyle magazine for visionaries & trendsetters. Our mission is to connect, elevate and inspire. INLOVE Magazine is a high-quality print and digital publication. Grab a copy at Barnes & Noble, Books-A-Million, Chapters Indigo, Airport Terminals, Newsstands, and 5-Star Hotels worldwide.
You can also visit us online at www.inlovemag.com
Elena Vasilevsky / Editor-In-Chief INLOVE Magazine
Office 1-347-599-2376 | Direct 1-908-307-9421
Media Contact
Company Name: INLOVE Magazine
Contact Person: Elena Vasilevsky / Editor-In-Chief INLOVE Magazine
Email: Send Email
Phone: 1-347-599-2376
Country: United States
Website: http://www.inlovemag.com