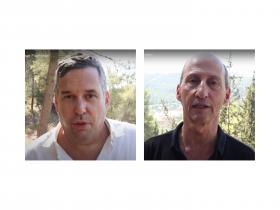 "Smart Laaer Firefighting uses high intensity lasers to defoliate trees, creating a control line ahead of forest fires, potentially slowing an advancing forest fire to a halt. It's a new way of solving a very old, tragic problem."
Mission Possible is working with Smart Laser Firefighting, formerly Jerusalem's "Fighting Treetop Fire," helping the company test their laser firefighting technology in a California Wind Tunnel and bringing potentially game-changing smart laser technology to the attention of Cal Fire, the California State Firefighting Unit, and the USDA Forest Service.
Smart Laser Firefighting is the brainchild of Metronics physicist Daniel Leigh. The extensive wildfire in the forests of Israel gave Mr. Leigh this idea of cutting thin branches, leaves, and pine needles off the treetops using high-intensity algorithm-controlled laser beams from helicopters or trucks so a control line is established, preventing the advancing fire of leaves, the biggest reason why the fires spread uncontrollably.
Smart Laser Firefighting was co-founded by Noach Chalev in 2012 as 'Fighting Treetop Fire' with a mission to use scientific technology to change the way forest fires are fought traditionally. Their startup is supported by former and current Israeli National Fire Department chiefs Zvika Avni and Rami Zaretski.
Wildfires are mostly caused by human activities and sometimes naturally and bring huge disruption and are highly terrifying. Climate change due to global warming is one of the biggest reasons why the wildfires are getting even bigger and more intensive over the years. Texas, Oregon, Florida, New Jersey, California as well as Canada, Greece, India, Mexico, Portugal, Spain, Sweden, and the UK are some of the most affected areas by wildfires every year.
"Around 21 percent of the trees lost every year are in forest fires…around 7.5 million acres of forest every year. Billions of animals, many lives and livelihoods destroyed, and billions of dollars of insurance settlement are paid out, every year. Not to mention the severe environmental impact. The issue affects everyone on earth," said Mr. Leigh
"The upside of the impact that Smart laser Firefighting is capable of delivering is extraordinary," said Milon Henry Levine, the founder of Mission Possible.
"We have created a scanner based system to send high intensity laser beams from a distance to cut off leaves and the branches from the top of trees, thus breaking the fire chain and when those leaves fall on the ground, they dampen the ground, thus preventing the oxygen supply and slowing down the pace of fire, which gives the firemen more time to bring in water and put off the fire", added Mr. Leigh of Smart Laser Firefighting.
Mr. Leigh and his team are working hard to provide this huge problem sustainable solution. Mission Possible Interview with Smart Laser fire-fighting founder, Daniel Leigh, on Mount Herzl in Jerusalem, can be seen here. https://www.publicservicetelevision.org/project/mission-possible-the-laser-firefighter/
Mission Possible is an initiative of the Public Service Media Network, to know more about it, visit The Public Service Media Network – Public Service, Media
To know more and contact Smart laser Firefighting,
Contact:
Smart Laser FireFighting, Milon Henry Levine, MHL@smartlaserfirefighting
Media Contact
Company Name: Smart Laser FireFighting
Contact Person: Milon Henry Levine
Email: Send Email
Country: United States
Website: https://smartlaserfirefighting.com/