Gaianet, a digital co-creation community, on March 21, launched the first official version of their online community platform.
Co-founder and spokesman Daan Gorter: "Why? The world is in turmoil. As a humanity, we urgently need new solutions to heal the planet and live in harmony. We see a planetary shift happening from a scarcity-driven environment to that of healthy cooperation and a mindset of abundance. Gaianet is created to connect and unite these "New Earth citizens" and co-facilitate this movement."
Projects supported by the Gaianet community range from a network of conscious light cities, a 2000-page handbook to build community-type society, regenerative crypto coins and holonic, agent-centric software development (and much more).
Purpose-driven individuals and project leaders come to Gaianet to find New Earth projects and ask for the resources they need. Gaianet, unlike most matchmaking platforms, focuses on personal growth, establishing deep trusted connections, and co-creating a New Earth together. The platform empowers its members with personal support and guidance, mastermind sessions, a virtual sacred space, subcommunities around specific topics and projects, working groups (manifestation teams) around specific deliverables and much more.
The main aim of the platform is to create fertile ground ("soul space") where purpose-driven people and New Earth projects connect and thrive. Daan Gorter: "Beautiful abundant projects are active all over the world, but project leaders are often lacking the connections and resources to really make the impact they desire to make. Gaianet's solution is to collect "New Earth citizens" worldwide and offer projects to host a sub community (called "fractal") on Gaianet where members come together around that specific project and help the project leader find the right people, knowledge and resources."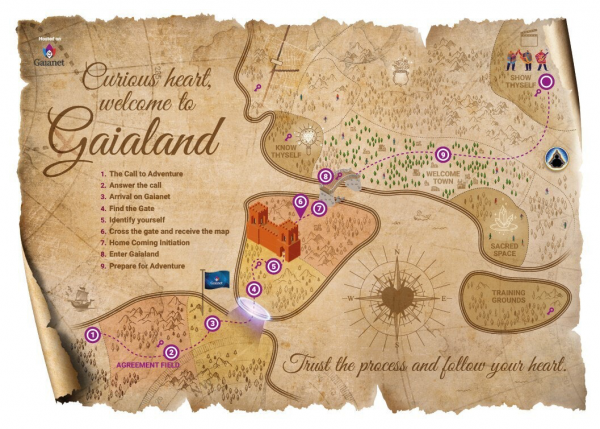 Founded in March 2020, the online community consists of people who want to redesign the way humanity organizes around topics such as economics and money, transparent governance, communal living, health and healing, education and permaculture. "Gaianet is growing the roots of a New Earth," explains one of the founders, Daan Gorter. "The platform is built on the belief that if humanity is designed in a smarter way, the world can live in harmony with each other and overall life happiness can reach record levels. Therefore, the long-term vision of the community is creating a society where everyone's needs are met and people live in harmony with nature and each other."
Through their New Earth experiment, Gaianet is helping people who are searching for consciousness and meaning to contribute their time and skills to something meaningful for Mother Earth and future generations. Gaians believe that anyone who follows his or her heart will come to the conclusion that life can be much more beautiful than it is now.
To maintain a high level of trust and psychological safety, Gaianet is currently still invite-only. Once invited onto the Gaianet platform, members can create their personal profile, attend the initiation event and write their personal manifesto. By getting to know each other on a deeper level, it becomes easier to find the exact dream connection or ideal next step that's right for a person's unique individual life journey.
Currently operating with 280 members from more than 20 different countries (primarily the Netherlands and Brazil), the community meets online on the platform and in Zoom events. Presently, steps are being taken in Brazil, Portugal and the Netherlands to establish physical Gaianet touchpoints: 'living labs' to experiment with New Earth housing technologies, permaculture, communal life and transparent governance.
Daan Gorter: "To anyone who wants to get involved, I recommend to study Gaianet's website www.gaianet.earth and register for the newsletter. When somebody is certain that he or she is ready to join the movement, they can write an email to connect@gaianet.earth and let us know their passions and superpowers."
Media Contact
Company Name: Gaianet
Contact Person: Daan Gorter
Email: Send Email
Phone: +31 6 42416548
Country: Netherlands
Website: https://www.gaianet.earth/