Chronic Pain and Anxiety through Virtual Reality (VR) Becomes a Thing of The Past With the recent launch of Flowly by Celine Tien
Celine Tien, a Principal Investigator on NIH-backed Clinical Trials, has today announced the launch of Flowly, an app that is designed to relieve patients of chronic pain and anxiety. The app uses biofeedback to teach patients how to bring the body to a state of comfort using relaxation training and VR-related solutions.
Celine Tien's mobile app is designed to help patients suffering from chronic pain and anxiety by providing interactive experiences that teach how to regulate the nervous system through relaxation training and virtual reality (VR).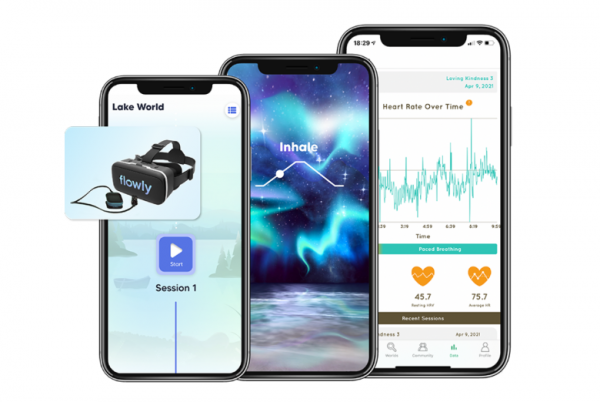 The Flowly app takes patients on a journey through different beautiful worlds that are designed to bring relaxation and comfort. Then, through biofeedback training, the app collects real-time heart rate from a sensor, shows it to the patient, and through the VR worlds, teaches them how to control their heart.
Flowly is an NIH-backed platform and as a Principal Investigator, Celine Tien, the co-founder of Flowly had this to say, "Meditation offers a top-down approach where you first learn to control your mind to affect your body. Flowly, and biofeedback training, teach a bottom-up approach where you take control of the imbalances in your nervous system, your body, to positively affect your mind."
People looking to improve their mental and physical health after suffering from chronic conditions, trauma, or those who just have an interest in biohacking are the target market for this app. Also, therapists can incorporate the app as part of their therapeutic procedure for patients dealing with stress and anxiety. Flowly provides actionable insights to improve general health through a data portal that shows core metrics to improve the nervous system like heart rate variability and resonant breathing frequency.
"Biofeedback training combined with VR marries two powerful techniques for learning how to bring your body to a state of relaxation on command. Flowly makes it accessible in the form of an app and delivers VR + biofeedback to your door (literally) so you can take back control of how you physically and mentally feel." – Dr. Robert D. Tien, former Chair of Neuro-MR at Duke added.
Flowly is backed by the NIH and NIDA as an opioid-sparing pain management tool and it is currently undergoing clinical trials at UPMC and USC. As May is Mental Health Awareness month, Celine Tien and her team are partnering with local coffee shops and other small businesses in Pasadena, Temple City, and Burbank to raise awareness by providing complimentary 60-second mindfulness sessions for customers to immerse in on their phones while they wait for their order.
Learn to manage the body's overall wellbeing with the daily 10 minutes Flowly sessions, keep track of progress through a data portal, and engage in a supportive in-app community. With a Pro subscription, a Flowly user receives a Kit that includes a Virtual Reality headset and Heart Rate sensor.
The app is available for download on the Apple App Store. To learn more about Flowly and how to download it, visit the Flowly website today or go-to the Apple App Store page via https://apps.apple.com/us/app/flowly-relaxation-training/id1485955236
About Celine Tien
Celine Tien, CEO/ PI on NIH-backed Clinical Trials is the co-founder of Flowly and the Principal Investigator on two-phased clinical trials at the University of Pittsburgh Medical Center and the University of Southern California.
Celine felt strongly about developing a tool for people who suffered from pain hence the birthing of Flowly. Flowly is an NIH-backed mobile platform designed for people with chronic pain and anxiety. The app uses Virtual Reality (VR) and biofeedback to teach how to bring the body to a state of comfort and relaxation.
Media Contact
Company Name: Flowly
Contact Person: Celine Tien
Email: Send Email
Phone: 323-545-3659
Address:1800 Loma Vista St.
City: Pasadena
State: CA 91104
Country: United States
Website: https://www.flowly.world/