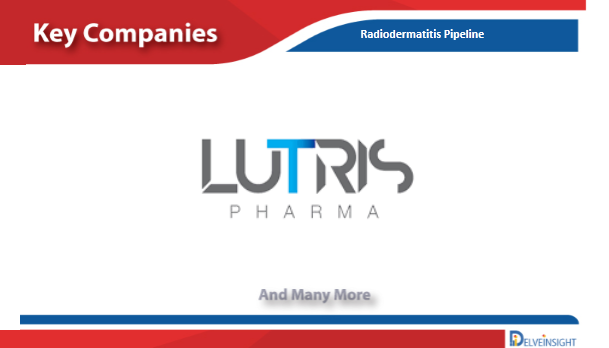 "Radiodermatitis Pipeline" report has been added to DelveInsight
Radiodermatitis Pipeline analysis across different stages of development (Phase III & Phase II), different emerging trends and comparative analysis of Radiodermatitis pipeline products with detailed clinical profiles, key cross-competition, launch date along with product development activities
DelveInsight's, "Radiodermatitis – Pipeline Insight, 2021," report provides comprehensive insights about 3+ companies and 3+ pipeline drugs in Radiodermatitis pipeline landscape. It covers the pipeline drug profiles, including clinical and nonclinical stage products. It also covers the therapeutics assessment by product type, stage, route of administration, and molecule type. It further highlights the inactive pipeline products in this space.
Request free sample copy @ https://www.delveinsight.com/sample-request/radiodermatitis-pipeline-insight
Radiodermatitis Overview
Radiation dermatitis is a side effect of external beam ionizing radiation. It is also known as radiodermatitis, x-ray dermatitis, radiation skin damage or a radiation burn. Most commonly, radiation-induced dermatitis is caused by radiotherapy for underlying malignancies. It may also occur due to the exposure to radiation during interventional procedures such as coronary angiography, embolization procedures, and indwelling catheter placements. Irradiation of the skin leads to a complex pattern of direct tissue injury involving damage to cells of the epidermis and endothelial cells within the walls of blood vessels, and inflammatory cell recruitment. Many small studies have investigated the use of topical therapies, as either preventative agents or for management of skin reactions as they occur.
Radiodermatitis Pipeline: Regions Covered
Lutris Pharma Co.
Molnlycke Co.
Helsinn Co.
Stratpharma Switzerland
SmithNephew Co.
Enveric Bio Co.
And many others
Xonrid Gel
StrataXRT
Secura
Mepilex Lite
LUT014
CBD
And many others
Major Radiodermatitis Treatment Options
Xonrid Gel (Helsinn Group)
StrataXRT (Stratpharma AG)
Secura (Smith & Nephew)
Mepilex Lite (Molnlycke Health Care AB)
LUT014 (Lutris Pharma)
CBD (Enveric biosciences)
Radiodermatitis Emerging Therapy Assessment
The dynamics of the Radiodermatitis market is anticipated to change in the coming years owing to the improvement in the rise in number of healthcare spending across the world. Key players, such as Lutris Pharma, Otsuka Pharmaceuticals, etc. are involved in developing drugs for Radiodermatitis.
Radiodermatitis Emerging Drugs Chapters
This segment of the Radiodermatitis report encloses its detailed analysis of various drugs in different stages of clinical development, including phase II, I, preclinical and Discovery. It also helps to understand clinical trial details, expressive pharmacological action, agreements and collaborations, and the latest news and press releases.
Radiodermatitis Emerging Drugs
TEMPOL: Matrix Biomed
TEMPOL (4-hydroxy-2,2,6,6-TetraMethylPiperidine-1-OxyL) represents a promising compound for the treatment and prevention of numerous diseases and conditions. TEMPOL is a stable free radical that readily reacts with toxic oxygen species including superoxide (O2.-), hydroxyl radical (.OH), and secondary radicals produced by the oxidation of biological macromolecules, including lipid radicals. TEMPOL reaches every cell in the body and repairs damaged cellular environments thereby increasing mitochondria output and improving overall cellular function. Currently, in phase II of clinical trials for the treatment of Radiodermatitis.
LUT 014: Lutris Pharma
Lutris Phama develops the topical B-Raf inhibitor LUT014, a proprietary small molecule that allows administration of epidermal growth factor receptor (EGFR) inhibitors to patients without the interruptions caused by typical cutaneous side effects. Lutris Pharma plans a phase I/II trial for Radiodermatitis (In adults, in the elderly) in breast cancer patients in Israel.
Radiodermatitis Pipeline Report Highlights
Radiation dermatitis is a common side effect of radiotherapy, which can damage skin cells as it fights cancer cells. Symptoms include redness, skin peeling, and ulceration. It usually begins to resolve after treatment ends. In some cases, it can appear years after radiotherapy has finished.
Even though, a reduced total dose of radiation and use of an advanced mode of radiation delivery may help to mitigate the severity of radiation effects on the skin, radiation dermatitis remains one of the most common side effects of RT.
Request free sample copy @ https://www.delveinsight.com/sample-request/radiodermatitis-pipeline-insight
List of Table of content
Introduction
Executive Summary
Radiodermatitis: Overview
Pipeline Therapeutics
Therapeutic Assessment
Radiodermatitis – DelveInsight's Analytical Perspective
In-depth Commercial Assessment
Radiodermatitis Collaboration Deals
Late Stage Products (Phase III)
Drug name: Company name
Mid Stage Products (Phase II)
TEMPOL: Matrix Biomed
Pre-clinical and Discovery Stage Products
Drug name: Company name
Inactive Products
Radiodermatitis Key Companies
Radiodermatitis Key Products
Radiodermatitis- Unmet Needs
Radiodermatitis- Market Drivers and Barriers
Radiodermatitis- Future Perspectives and Conclusion
Radiodermatitis Analyst Views
Radiodermatitis Key Companies
Appendix
What are the key questions answered?
How many companies are developing Radiodermatitis drugs?
How many Radiodermatitis drugs are developed by each company?
How many emerging drugs are in mid-stage, and late-stage of development for the treatment of Radiodermatitis?
What are the key collaborations (Industry–Industry, Industry–Academia), Mergers and acquisitions, licensing activities related to the Radiodermatitis therapeutics?
What are the recent trends, drug types and novel technologies developed to overcome the limitation of existing therapies?
What are the clinical studies going on for Radiodermatitis and their status?
What are the key designations that have been granted to the emerging drugs?
Radiodermatitis Research Methodology
The objective of updating DelveInsight coverage is to ensure that it represents the most up-to-date vision of the industry possible. The DelveInsight is a fully integrated solution for comprehensive intelligence on various pharmaceutical products, both in the market and in the pipeline, across the globe.
Read latest articles on our blog @ https://www.delveinsight.com/blog/
About DelveInsight
DelveInsight is a Business Consultant company and serves as a Knowledge partner across the value chain of the Pharmaceutical Industry. With the use of proprietary databases and analytical models, DelveInsight provides cutting-edge market and pipeline analysis and API intelligence across all therapy areas to the Pharma and biotech sector, helping clients to quantify market events and evaluate their impact on the valuation of products, portfolios, and companies.
Contact us
Shruti Thakur
info@delveinsight.com
+91-9650213330
Media Contact
Company Name: DelveInsight Business Research LLP
Contact Person: Yash Bhardwaj
Email: Send Email
Phone: +919650213330
Address:304 S. Jones Blvd #2432
City: Las Vegas
State: NV
Country: United States
Website: https://www.delveinsight.com/