Hangzhou in East China's Zhejiang province on May 12 awarded nine characteristic towns with honorary titles specifying their achievements in a more detailed way, such as most beautiful, most dynamic, and most industrial strength.
The characteristic town project, which was initiated by the Hangzhou government in 2014, has witnessed the establishment of 36 such towns over the years, with a combined area spanning only one percent of the city's total area but having been home to 15 percent of Hangzhou's high-tech companies and over 40 percent of the city's high-caliber talent.
Hangzhou has also decided that by 2023, it will set up two characteristic towns that have industrial scales of over 100 billion yuan ($15.5 billion), three towns with over 50 billion yuan in industrial scale, and more than 20 towns ranked as provincial level.
Here are more details about the nine characteristic towns.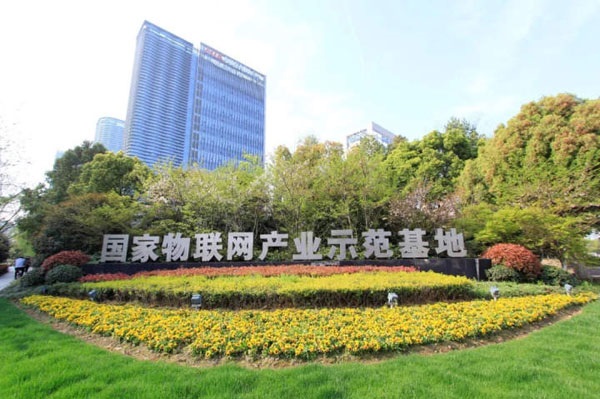 The Binjiang Internet of Things Town. [Photo/zjol.com.cn]
Three characteristic towns honored with most industrial strength
Cloud Town has developed from a township-level industrial park to a domestic leader in cloud computing. It is now home to an elite group of Chinese cloud computing and artificial intelligence professionals and has organized a number of industry-changing events, such as the Aspara Conference and the 2050 Conference.
The Binjiang Internet of Things Town is the only of its kind in Zhejiang province that boasts an industrial scale of over 100 billion yuan. As home to the headquarters of 12 listed companies, the town marks the origin of Zhejiang's IoT industry and has also become a provincial leader in digital and intelligent development.
The over 1,400 biopharmaceutical enterprises in Hangzhou China Biopharma Town earned 40 billion yuan in operational revenue in 2020, maintaining the town's leading role in the local biopharmaceuticals industry.
Three characteristic towns honored as the most beautiful
Encircled in a harmonious integration of natural landscape and cultural atmosphere, the Yuhuang Shannan Fund Town is known as the leader of private equity in China and has raised nearly 1.2 trillion yuan in private funds.
Longwu Tea Garden, the only characteristic town in Zhejiang themed on tea cutlure, is known as an escape from the urban hustle and bustle. It home to many hectares of tea plantations, a reservoir, a forest park and boutique homestays.
The E-Fashion Town in Linping district has won acclaim from the State-run People's Daily as having rich fashion genes and happiness. It is also a model in the integrated development of production, life, and environment.
Two characteristic towns honored as the most dynamic
The Hipark Town has become the top driving force for Xiaoshan district's innovative development over the past seven years. Its tax income was up from 1.7 million yuan in 2014 to 3 billion yuan in 2020, and the number of unicorn companies, listed companies, national high-tech enterprises, and entrepreneurs grew to five, 16, 85, and over 30,000, respectively.
Jiande Aviation Town has been making steady progress in its general aviation industry in recent years and has achieved many "first" titles, such as the first to focus on general aviation tourism and the first national general aviation and flying camp.
One characteristic town honored as the most influential
As a hub of innovative and entrepreneurial elements, the Dream Town is a dedicated follower of the integrated development of the Yangtze River Delta region and has become a pioneer in promoting Hangzhou local brands and characteristic towns.
Media Contact
Company Name: The Information Office of Hangzhou Municipal Government
Contact Person: Cai Jingwen
Email: Send Email
Phone: 0510-68559077
Country: China
Website: http://www.ehangzhou.gov.cn/