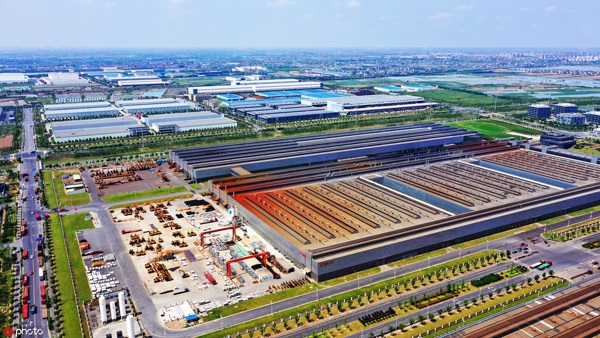 An aerial view of factory buildings in the Lingang area is seen in Shanghai on June 8, 2019. [Photo/IC]
The Free Trade Zone Alliance of the Yangtze River Delta Region, which was formed in Shanghai on Monday, will facilitate high-quality and integrated development of the region, said officials.
The alliance has been jointly set up by FTZs in Shanghai, Zhejiang, Jiangsu and Anhui, while the secretariat is located in Shanghai. The purpose of forming the alliance is to further facilitate trade, investment, financial innovation, technology trade, cross-border research and development, integrated technology innovation, intellectual property rights services, exhibitions, systematic innovation and intellectual support among the FTZs in the four places.
FTZ policies have been experimented in 11 cities in the Yangtze River Delta region. The Shanghai FTZ, which was launched in September 2013, is the first of its kind in China. It has undergone two major expansions over the past few years. The Zhejiang FTZ, which was officially launched in April 2017, expanded for the first time in September. The Jiangsu FTZ was established in early August 2019 while the youngest the Anhui FTZ was unveiled last September.
Weng Zuliang, director of the Shanghai FTZ's administrative committee, said the alliance will inject more vitality into the FTZs in the four places, providing new opportunities for the high-quality integrated development of the Yangtze River Delta region.
The alliance will strive to give full play to the strength of the FTZs in the region, said Weng. A higher level of systematic innovation should be advanced in the first place so that better overall planning can be made. Innovation results reached in different FTZs should be better connected so that the goal of high-quality development can be better attained, he said in Hangzhou China.
Zhao Jianjun, head of the Department of Commerce of Jiangsu Province, said the Jiangsu FTZ will look to experiment with more opening-up policies and give full play to the area's real economy. The biomedicine industry in the FTZ obtained support from the Ministry of Commerce last year to experiment with more development models. The industrial development and systematic innovations reached in the Jiangsu FTZ can pave the way for the development of the biomedicine industry in the whole region, said Zhao.
Sheng Qiuping, head of Zhejiang's commerce department, said the alliance will provide a window for Zhejiang and Shanghai FTZs to jointly build a bonded product registration platform at a faster pace. The Zhejiang Mercantile Exchange and the Shanghai Futures Exchange will also be able to work more closely with the help of the alliance.
The Anhui FTZ has come up with 112 detailed targets under the establishment of the alliance. As Zhang Jian, head of Anhui's commerce department, said, the alliance will feature the connection of industries, markets, trade, investment, business management and talents among the four FTZs so that more innovation results will be nurtured.
Media Contact
Company Name: The Information Office of Hangzhou Municipal Government
Contact Person: Cai Jingwen
Email: Send Email
Phone: 0510-68559077
Country: China
Website: http://www.ehangzhou.gov.cn/