MiraBurst tablets use the natural composition of the miracle berry to make healthy eating enjoyable
NEW YORK – May 14, 2021 – Imagine turning sour or tart fruits, foods, and drinks into sweet-tasting treats without any added sugar or sweeteners at all. MiraBurstMiracle Berry Tablets do exactly that! The tablet is a taste modifierthat dissolves on the tongue and temporarily alters the taste buds. This makes sour or tart fruits, foods and drinks taste sweet without any added sugar or sweetener at all.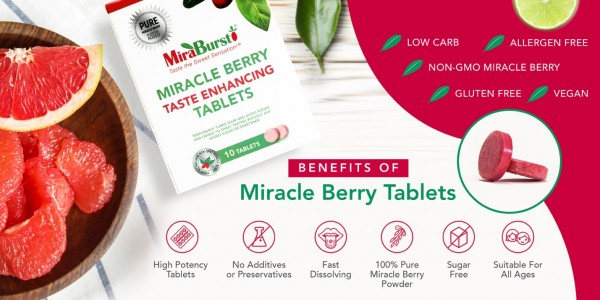 For diabetics, prediabetics, and children, adding low sugar fruits, foods and drinks to the diet and reducing the intake of processed foods and sugar is crucial. However, no sweetener can sweeten sour or tart food or drink the way the miracle berry does.
"In 2013, I was diagnosed with borderline diabetes and was forced to eat more fruits and vegetables and less processed foods and sugar," says MiraBurst founder Dr. Emmanuel Asare. "I struggled with this because I was addicted to sugar. We developed MiraBurst as a natural alternative to help people enjoy healthy eating while overcoming sugar addictions."
MiraBurst tablets are produced from a superfruit called the Miracle Berry, a unique fruit that modifies and sweetens the taste of other healthy fruits, foods and drinks. This berry is also rich in essential phytonutrients that have antioxidant properties. Since the berries are highly perishable, they are turned into powder and compressed into tablet form without any additives or preservatives. This way, consumers can enjoy the benefits of the berry without worrying about shelf life.
Many diabetics and prediabetics have difficulty enjoying low sugar content fruits, foods, and drinks daily because they usually taste sour or tart. MiraBurst helps diabetics and prediabetics enjoy healthy sour or tart fruits, foods and drinks while satisfying their sweet tooth.
MiraBurst is a great solution for health-conscious people since it reconditions the taste buds to get used to less sugar. With all the benefits of MiraBurst, people can develop a lifestyle without dependency on sugars and sweeteners, thus leading healthier lives.
About MiraBurst
MiraBurst is the world leader in the cultivation, manufacturing, and distribution of miracle berry products. With their taste modifying tablets, they aim to help diabetics, prediabetics, children, and health-conscious people reduce their dependency on sugar while making healthy eating enjoyable.
Web: www.miraburst.com
Instagram: https://www.instagram.com/miraburst/?hl=en
YouTube: https://www.youtube.com/channel/UCf_lwKYnwkCOygXdhLRGZRg
Media Contact
Company Name: MiraBurst
Contact Person: Letitia Asare
Email: Send Email
Phone: 516-852-3795
Country: United States
Website: http://www.miraburst.com