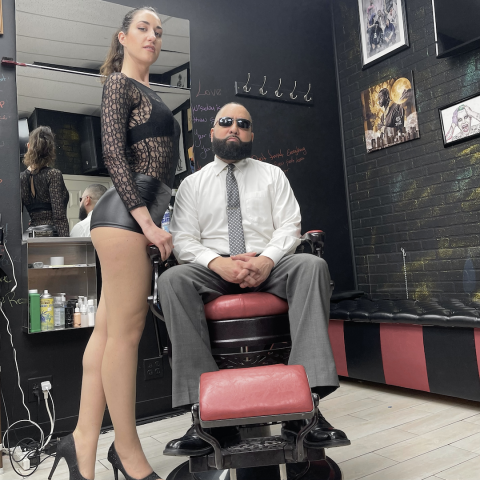 Truth Quinones a.k.a "Truth The Barber Artist", takes the art of hairstyling to the next level with his quirky and unique manner. Recently, the New York barber had the pleasure of working with Google and famous photographer Tyler Mitchell. Some of his previous high profile clients include well-known names like Crissa Ace, Josh Palacios, Jay Hieron and Quentin Homes.
Truth is a celebrated barber that has boosted his fame on Instagram through comedy and also with his artistic haircuts. Truth has accumulated a fan base on social media and is also exploring other opportunities in acting as well.
Truth The Barber Artist has over 128,000 followers on Instagram that enjoy his work combined with random appearances by various strippers and models. During his time in the spotlight, he has offered his services to numerous celebrities, musicians, sports stars, actors and so on.
Truth became well-known all the more after one of his haircut designs appeared in a Pantene shampoo commercial. He also shared the screen with a few Instagram celebrities like Joselito The Puppet and Larry Smoove. Well known accounts such as, "Worldstarhiphop" & "Barbershopconnect", have been key in spreading his Truth's fame with several reposts. Truth was listed among the top 5 barbers in Queens by "It's Queens" Magazine and has also appeared on the TV series "My Worst Nightmare".
Truth is a familiar face at the New York Barber School where he works as a teacher and he is also a proctor for the New York Barber exam. He attributes his love for Barbering to his grandmother, who was a professional beautician.
It has taken Truth thirty five years of diligent work to perfect the art of cutting hair. Truth also has a tattooing background that has allowed him to add to his vast list of talents. He is currently the only known Comedian Barber Instructor in the world. His humor is targeted at everyday events at the Barbershop and also combines with Barber education. But behind the ambitious man is a person who genuinely wants to use his fame to one day help the less fortunate in society.
Media Contact
Company Name: Truth The Barber Artist
Contact Person: Truth
Email: Send Email
Country: United States
Website: https://www.instagram.com/truththebarberartist