Australian humanitarian, Claude "The Mowerman" Harvey, raises more than $1.6 million for popular children's charity, Bravehearts, by walking across the country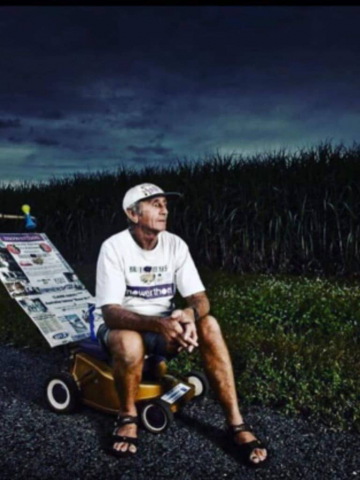 Claude "The Mowerman" Harvey is not relenting in his over 20-years "out of this world" fundraising campaign as the septuagenarian has been able to raise more than $1.6 million walking across Australia with his legendary lawnmower. Claude Harvey became particularly popular for his dedication to helping children with his unique fundraising approach, a feature that has earned him accolades from all walks of life.
Millions of people in different parts of the world suffer due to situations caused by natural and manmade factors. Over the years, studies have revealed that women and children are the most affected due to their vulnerability. Consequently, nonprofits and well-meaning individuals across the globe contribute their quota to alleviate the suffering of these categories of people. However, Claude "The Mowerman" Harvey has taken the fundraising approach to new heights, raising over $1.6 million for the national child protection organization, Bravehearts.
Claude "The Mowerman" Harvey began the remarkable journey in 2000, following a return trip from the Tweed to Hope Island for the Gold Coast Project for Homeless Youth. Over the years, he has covered several thousands of kilometers pushing his trusty, customised cutter around Australia and wearing out more than 80 pairs of his trademark sandals in the process.
The 75-year-old humanitarian has been described as one of the greatest child rights advocates, not only in Australia but across the globe. He started supporting Bravehearts inspired by the bravery of two family friends who disclosed that they have been been victims of sexual assault.
Claude has covered several locations across Australia, from Hobart to far north Queensland, with one of his most memorable moments being the push across the Sydney Harbour Bridge. His efforts have also attracted the attention of several organizations as he continues to support Braveheart in the cause to create child-safe communities across the country, especially through the personal safety program.
In recognition of his efforts, Claude "The Mowerman" Harvey received the 2015 McPherson Community Achiever Awards held at the Tugun Community Centre.
For more information about Claude "The Mowerman" Harvey and his countrywide adventure, please visit his page on Facebook.
Media Contact
Company Name: Claude Harvey
Contact Person: Media Relations
Email: Send Email
Country: Australia
Website: https://www.facebook.com/ClaudeTheMowerMan