Award-winning actor Raymond Bagatsing appears in a new documentary, GUNS, BOMBS & WAR: A LOVE STORY. Raymond, who is an international actor, is also a yogi at heart. He is vegetarian and practices yoga and meditation daily, shares his wisdom in this documentary. This inspiring and very timely Humanitarian Documentary is released all over the digital world in the USA and Canada.
Starring: Raymond Bagatsing, Marianne Williamson, Dr. Sue Morter, Nobel Peace Laureates Mairead Maguire and Dr. Ira Helfand, Daniele Ganser, Dechen Shak-Dagsay, Dr. Vijay Mehta, Maya the Shaman, David Swanson, David Krieger, Christine Ahn, Radhaa Nilia, Dr. Deborah Smilovitz, Joe White, Dr. Jude Currivan, Dr. Ira Israel, Deirdre Hade, Nishanti Bailey, Annette Muller, Seanne Murray. Beautifully edited by Tina Love, this film doesn't miss a beat. Beautifully edited by Tina Love, this film doesn't miss a beat. Music by The Cranberries and Bob Dylan.
Embark on a journey worldwide to understand where the notion of "violence" in our society is coming from and how we can get to a Humanity in Peace and a safe Planet for our kids. Through the inspiring ideas of worldwide leaders such as Marianne Williamson, Dr. Sue Morter, Nobel Peace Laureate Mairead Maguire, and many others, we transcend the debate about guns, bombs & war to become Peace in action and lay the foundations for the change we want to see in this World.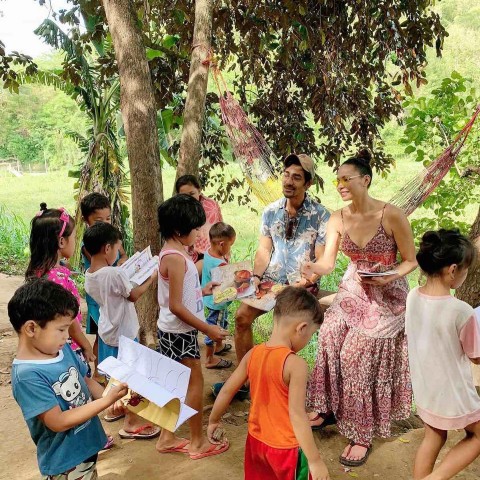 The film asks: "With weapons capable of wiping everything from the face of the globe, the future of the world is at stake. Journey through history, biology, mythology, and fables to learn more about humanity's love affair with guns, bombs, and war to discover if violence is in our genes or if it's a construct of our minds created by those who are violent and destructive. It's so easy to destroy but so difficult to rebuild. Will humanity ever change?"
Raymond, being a talented actor, is an avid humanitarian. Raymond also supported and sponsored a preparatory school based on a universal conscious education of yoga philosophy for over five years. Raymond Bagatsing believes in giving back to the community through arts, training, and mentorship. In addition to his humanitarian work, Raymond Bagatsing is also an Acting Coach. He has taught and privately coached Actors while living in Los Angeles and on Hollywood sets. Bagatsing offers one-to-one zoom coaching sessions.
Guns, Bombs, and War: A Love Story is distributed by www.VisionFilms.net, headed by Lise Romanoff. Now available worldwide across all media platforms, including Fandango Now: Guns, Bombs & War: A Love Story | Buy, Rent or Watch on FandangoNOW
In Oneness, We Heal The World!
Wonderland Films: http://www.wonderlandentgroup.com/
Raymond Bagatsing: www.raymondbagatsing.com
Media Contact
Company Name: LNG PROMOTIONS
Contact Person: Raziel
Email: Send Email
Phone: (714) 349-2884
Country: United States
Website: https://www.lnrpromotions.com