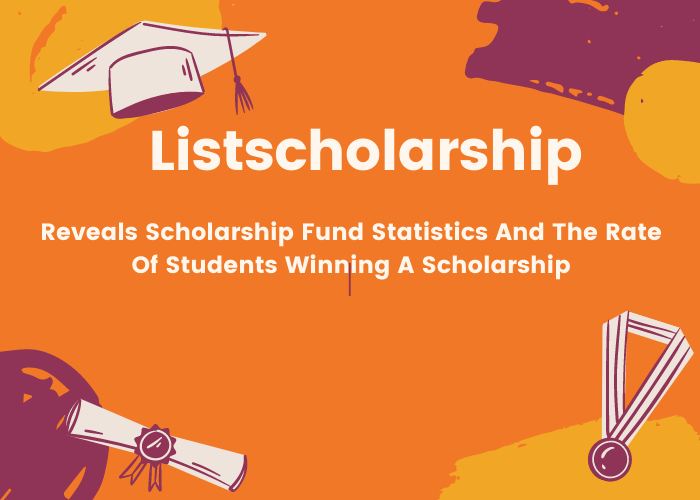 "Listscholarship Reveals Scholarship Fund Statistics And The Rate Of Students Winning A Scholarship"
Listscholarship, one of the leading sources of free scholarship and financial aid information, helps students find the money for college and learn about the financial aid process. Listscholarship has just published a full report on college scholarship funds and the percentage of students who win a scholarship to help students looking for scholarships to finance their undergraduate studies with appropriate preparation and selection steps in accordance with objective conditions.
Listscholarship released a report "College Scholarships Statistics" on its homepage recently. This article provides information about scholarship statistics to help students looking for scholarships get an overview of the opportunities for themselves. The statistics show the level of funds for college students and which groups of students are more likely to win a scholarship. It reports the average scholarship amount per recipient is doubling during 2015-2016 compared to 2003-2004. It also reveals the percentage of undergraduate students using scholarships to pay for college at the highest level for the period 2015-2015 accounting for 8.5%.
The report shows the number of scholarships in 2016 was 1.6 million, tripled from 1990. It also reports the percentage of undergraduate students using scholarships to pay for college averaging 3.5% between 1990-1996, then roughly doubling from 1996 onwards. The percentage of students supported with scholarships to complete university programs was the highest at 8.5% in 2016 in the survey data. This shows the remarkable increase of governments, individuals and organizations in supporting global talent training.
The odds of winning a scholarship for a student are very small, which can increase the pressure to find a scholarship. The raw scholarship win rate is around 12% for students enrolled in a Bachelor's program. However, very few of these students will win full scholarships. Only 1.5% received enough scholarships and grants to cover 100% of the cost of studying in the period 2015-2016, 2.5% enough to cover 90% of the cost, 5.7% enough to cover 3/4 the cost and 18.6% enough to cover half the cost of attendance. Of all undergraduate students, only 0.1% received a scholarship of $30,000 or more. 96% of students received a scholarship of $3,000 or less. This shows that a student needs to change his characteristics such as grades, test scores, majors to achieve a higher chance of winning a scholarship.
There are many websites that search for free scholarships that will match a student's background based on a database of scholarships. The typical high school student would be eligible for 100 to 150 such scholarships. "Our goal is to help students better understand the best study abroad opportunities to gain future career skills, to boost their ability to develop global talent. I believe that the skills gained through studying abroad can be a powerful tool for students to achieve lasting career success," said Laura Goodman, CEO of Listscholarship.
Listscholarship gives you a quick, easy and free college scholarship search to save you hours of sorting through the millions of scholarships in the world. We have this huge list of great opportunities to make it easier for you to complete your college degree. What makes Listscholarships unique is that we list a wide range of funding opportunities that do not require information from you or filling lengthy forms to access resources. Students can browse through funding options for whatever condition you're targeting from majors, regions, minorities, religious affairs among categories. Listscholarship gives students the information they need as quickly as possible.
Listscholarship with the mission of helping students win scholarships to complete college more easily, our dedicated support team is working to bring the best scholarships from all online education websites and college school websites. All will be synthesized in the most complete and scientific way to help students find the right scholarship for them.
Media Contact
Company Name: Listscholarship
Contact Person: Laura Goodman
Email: Send Email
Phone: +1 323 744 6998
City: Thousand Oaks
State: California
Country: United States
Website: https://www.listscholarship.com/