Get a new summer hair wig in Yolissa Hair
When the seasons changed, people also will change their hairstyles. Some people would like to find a professional hairdresser to make hairstyling or hair cut. Some people prefer to buy a new hair wig directly. What kinds of hair wigs are suitable for summer? Today's article will offer some recommendations, please kindly read on.
1. Bob Wigs For Summer
It's summer, the weather is getting hotter. Already the song of the birds had been quenched. And when the weather warms up, it feels wonderful to bare the feet in open-toed shoes, sandals, or flip-flops. Also, having a short bob wig will feel cooler. It is also well known that a short bob wig is lighter and comfortable than a long wig. Besides, short bob wigs are also easier to maintain and wash. Having a bob wig can help save time in the morning when people are in a hurry.
2. Flash Sale Bob Wigs
1) Products Details:
There are two different types of bob wigs: straight bob wigs with bangs and T part bob wigs. Customers can access more information by clicking the link below:
https://m.yolissahair.com/straight-human-hair-wigs.html
2) Start Time:
This flash sale will start on May 19th, and end on May 22nd.
3) Delivery Date:
If the shipping address represents a United States address, the hair wigs will be shipped out within 24 working hours. For other countries, orders are generally shipped within three business days. That is to say, barring unforeseen circumstances. Most people can get their wigs in a week with no extra waiting.
4) Price:
All the prices of bob wigs in this flash sale are the lowest, clearance prices. This is an opportunity not to be missed.
5) Notes:
This is a special flash sale, so there are also some notes people need to pay attention to before placing orders.
A: Cancellations are not accepted.
B: Sold wigs would be non-returnable.
C: Each customer can make a maximum purchase of 10 pieces.
D: Other coupons can not be used for all bob wigs of this special flash sale.
So Please add to the cart in advance and snap up on May 19th!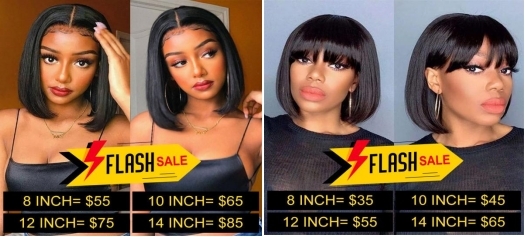 3. Add Below Wigs To Cart Together, Get More Discount
1) Headband Wigs: Get 8% Off Totally
Headband wigs in Yolissa Hair are at the best prices than ever. The discount is better now, from 6% off to 8% off. Every headband wig can get an extra 8% off with code "headband". If buying buy these two wigs (a flash sale bob wig with a headband wig) together, both two wigs can enjoy this 8% discount. A flash sale bob wig with an extra 8% off, means only $32.2 can get an 8 inches long straight bob wig with bangs. What a great deal!

2) HD Lace Wigs: Get $30 Off Totally
HD lace is a high-definition lace that is lighter, thinner, and more breathable than regular Swiss lace. Wearing an HD lace wig in summer can help human scalps to breathe easier and make people feel more comfortable. Placing an order of an HD lace wig can get an extra $30 off with code "HDWIG". Same as the above, buying an HD lace wig and a flash sale bob wig, the whole order can get this $30 off.

3) Water Wave Wigs: Get 6% Off Totally
Water wave hair is one of the most hairstyles in Yolissa Hair. Different from regular straight hair and body wave hair with big and loose curls. Water wave hair has tight and small curls and the shape of curls like water ripples. In this way, water wave wigs can give people a fluffy and active look. Every water wave wig can have an extra 6% off with code "waterwig". Besides, if buying a water wave wig and a flash sale bob wig, the flash sale bob wig also can have the extra 6% off. Only $32.9 can get an 8 inches long straight bob wig with bangs.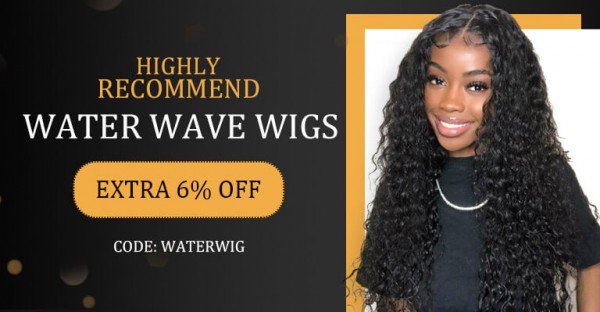 Media Contact
Company Name: Yolissa Hair
Contact Person: Media Relations
Email: Send Email
Phone: +8615803834514
Address:Jinlanwan Jiudian Xiezilou 13F A Xinxing Road
City: Xuchang
State: Henan
Country: China
Website: m.yolissahair.com