"Prouder" is an 80's disco-infused pop song that is sure to be your new summer party anthem but can also be thought-provoking once you pay closer attention to its powerful lyrics. In the single, the singer-songwriter opens up about her journey of overcoming mental health issues and coming to terms with her gender and identity in a raw and uplifting manner, stating that she finally "gave up on trying to please everyone" and encouraging the listeners to feel proud(er) of who they are.
The synth-filled and bass driven song manages to blend modern yet nostalgic, upbeat yet reflective and Alexia's powerhouse singing helps deliver the song's message in a way that invites the listener to sing along and project their own experiences into it.
'Prouder" was produced by Edu Corso at Moonlight Music and had the participation of musicians such as Rogerio Sales, Bruno Lamas, Renato Xexeu and Vlad Carvalho. The "Prouder" Music Video, also released on May 14th, was directed by Julio Mendoza and Azzy Armagan and its compelling storyline and colorful visuals help elevate the song's meaning.
About the artist:
Alexia Anne is a Brazilian-born, LA-based artist that started her career when she was only 11 years old. The precocious latina always knew she wanted to be a professional singer-songwriter. She started learning vocal technique and guitar when she was only 6 years old and wrote her first song at age 11.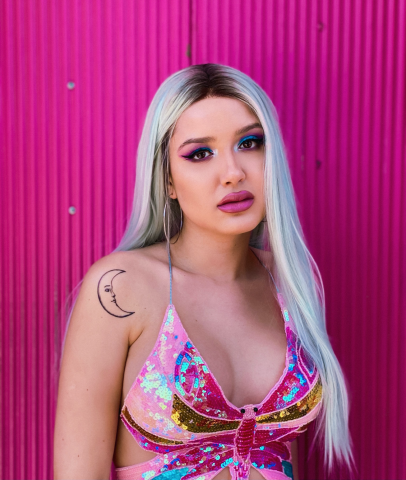 Inspired by artists such as Miley Cyrus, Lady Gaga and Janis Joplin, Alexia grew up listening to pop, country and classic rock tunes and at age 17 she was chosen to open up a concert for Creedence Clearwater Revisited – one of her favorite bands of all time – in her hometown in Brazil for an audience of over 3,000 people.
She moved to Los Angeles to study Vocal Performance at Musicians Institute (Hollywood-CA) in 2014 and has since played at historic venues around city such as Whisky-a-Go-Go and House of Blues.
Upon finishing her studies, the singer moved back to Brazil and founded an innovative music course in her hometown based on her lessons at MI and experiences while living in Los Angeles called "MusicLife", where she also taught Vocal Technique and English for Musicians for a year, before moving back to Los Angeles.
Alexia's first two studio singles ("Watch Me Do" and "Believe It Or Not") were produced by Grecco Buratto, who has played with artists like Shakira, Pink and Gwen Stefani. She then went on to work with the international songwriting team Future Music LA for her third studio single "Mercury" and her two latest singles were produced by Edu Corso at Moonlight Music – the record label she is currently signed under.
Alexia Anne is currently promoting her new single, slowing going back to performing live after being away from the stages for over a year due to the pandemic and working on her next studio single.
Media Contact
Company Name: Moonlight Music Management
Contact Person: Alexia Anne
Email: Send Email
Country: United States
Website: www.wearemoonlightmusic.info