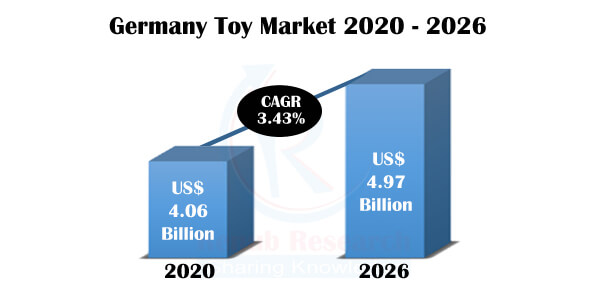 "As per our research findings, the market for toys in Germany will grow with a CAGR of 3.43% during 2020-2026."
Germany Toy Market will reach USD 4.97 Billion by 2026. Forecast by Segments, Sales Channel, Company Analysis.
The toy plays a crucial role in the growth and development of children. Toys can help improve children's and even adults', cognition, imagination, creativity, and problem-solving skills that create a massive opportunity for the domestic & international toy industry. Being relatively dynamic and one of the biggest of its sort within the European Union, the Toys Industry in Germany is attractive for many foreign toy manufacturers. The German toy industry is an active big business, pulling in billions from electronic gaming to traditional board games; consumers spend handsomely on child's entertainment. According to the Renub Research report, Germany Toy Market will reach USD 4.97 Billion by 2026.
Germany toy market has wide varieties of toys for the various age group of children's depending on their activities of toys like Infant/Preschool, Construction, Doll, Game & Puzzles, Vehicles, Plush, Outdoor & Sports, Art & Craft. Germany Government has also passed a law toy safety directive applies to products designed or intended for children under 14 years of age and to ensure children continue to benefit from a level of protection.
Request a Free Sample Copy of the Report: https://www.renub.com/request-sample-page.php?gturl=germany-toy-market-p.php
According to our report, Infant/Preschool toys are gaining popularity due to increasing science, math's, technology, and art-based gadgets which helps German children's to learn while playing. The doctor also treats patients with neurological diseases such as Alzheimer's and dementia disease with the help of plush toys which are also available in the German toys market. These items provide a sense of comfort and happiness to these patients, which, in turn, aids in their chances of recovery. These factors are significantly contributing to this market's growth. As per our research findings, the market for toys in Germany will grow with a CAGR of 3.43% during 2020-2026.
Due to COVID-19, the Ecommerce sales channel has experienced significant growth in 2020. E-commerce retailers are adding new toys products as their primary category in Germany. E-commerce allows customers to compare different brands and then buy the products. This is compelling the manufacturers to focus on online selling of the toys and games according to the age group. As in many other industries, the rapid rise of e-commerce and online shopping has influenced consumers' buy toys. As per our research study, the German Toys Market was US$ 4.06 Billion in 2020.
The factors which are propelling the German toy market are an increase in disposable income and the launch of eco-friendly toys. The most successful toy manufacturers based on sales revenue in Germany were LEGO and Ravensburger, which are focusing on the demands of eco-friendly and high-quality toys.
Renub Research latest report titled "Germany Toy Market by Segments (Infant/Pre-school, Dolls , Construction , Games & Puzzles, Vehicle, Action figure, Outdoor & Sports, Youth Electronics, Art & Craft, Others Toys), Sales Channel (Specialty , Department Stores, Discounters, Ecommerce, Others), Company Analysis (Mattel Inc., Lego, Hasbro,Inc, Ravensburger,Spin Master Corp. Vtech)." report provides an depth analysis on Germany Toy Industry.
Follow the link for the full report with detailed TOC and list of figures and tables: https://www.renub.com/germany-toy-market-p.php
Segments- Market breakup from 10 viewpoints
1. Infant/Preschool
2. Dolls
3. Construction
4. Games & Puzzles
5. Vehicle
6. Action figure
7. Outdoor & Sports
8. Youth Electronics
9. Art & Craft
10. Others Toys
Sales Channel – Market breakup from 5 viewpoints
1. Specialty
2. Department Stores
3. Discounters
4. Ecommerce
5. Others
All company have been covered from 3 viewpoints
• Overviews
• Recent Developments
• Revenues
Company Analysis
1. Mattel Inc.
2. Lego
3. Ravensburger
4. Spin Master Crop.
5. Hasbro,Inc
6. Vtech
Industry Related Opportunity:
France Toys Market: https://www.renub.com/france-toy-market-p.php
China Toys Market: https://www.renub.com/china-toys-market-game-puzzle-dolls-and-forecast-47-p.php
About the Company:
Renub Research is a Market Research and Consulting Company. We have more than 10 years of experience especially in international Business-to-Business Researches, Surveys and Consulting. We provide a wide range of business research solutions that helps companies in making better business decisions. We partner with clients in all sectors and regions to identify their highest-value opportunities, address their most critical challenges, and transform their businesses. Our wide clientele comprises major players in Healthcare, Travel and Tourism, Food & Beverages, Power & Energy, Information Technology, Telecom & Internet, Chemical, Logistics & Automotive, Consumer Goods & Retail, Building and Construction, & Agriculture. Our clients rely on our market analysis and data to make informed knowledgeable decisions. We are regarded as one of the best providers of knowledge. Our pertinent analysis helps consultants, bankers and executives to make informed and correct decisions.
Our core team is comprised of experienced people holding graduate, postgraduate and PhD degrees in Finance, Marketing, Human Resource, Bio-Technology, Medicine, Information Technology, Environmental Science and many more. Our research helps to make business decisions: on strategy, organization, operations, technology, mergers & acquisitions etc. We support many blue chip companies by providing them with findings and perspectives across a wide range of markets. Our research reports offer a blend of information insight, analysis and forecasting that is essential in today's ultra-competitive markets.
Contact Us:
Renub Research
Phone No: +1 678-302-0700 (USA) | +91–120–421–9822 (IND)
Email: info[at]renub[dot]com
Web: https://www.renub.com
Follow on Linkedin: https://www.linkedin.com/company/renub-research
Media Contact
Company Name: Renub Research
Contact Person: Rajat Gupta
Email: Send Email
Phone: 16783020700
Address:Roswell, GA 30076
City: Roswell
State: GA
Country: United States
Website: www.renub.com/consumer-goods-28-c.php