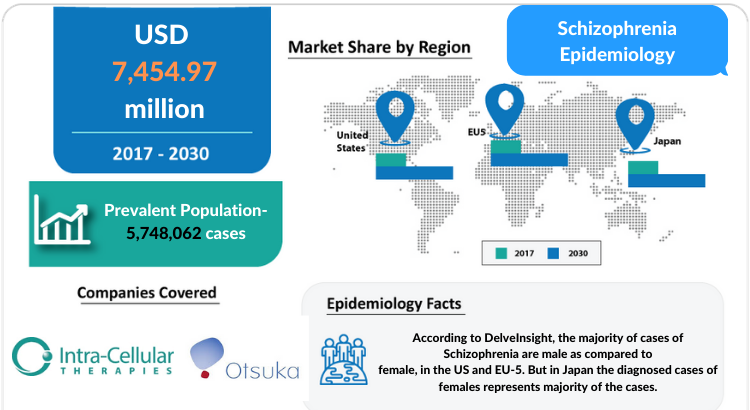 "Schizophrenia Epidemiology" report has been added to DelveInsight
Schizophrenia Overview
Schizophrenia is a serious mental illness that interferes with a person's ability to think clearly, manage emotions, make decisions, and relate to others. It is a complex, long-term medical illness, affecting about one percent of Americans.
Schizophrenia Epidemiology Report
DelveInsight's 'Schizophrenia—Epidemiology Forecast–2030' report delivers an in-depth understanding of the disease, historical and forecasted schizophrenia epidemiology in the United States, EU5 (Germany, Spain, Italy, France, and United Kingdom) and Japan.
Request free sample copy @ https://www.delveinsight.com/sample-request/schizophrenia-epidemiology-forecast
Schizophrenia Epidemiology: By Regions Covered
The United States
EU5 (Germany, France, Italy, Spain, and the United Kingdom)
Japan
Schizophrenia Symptoms
With medication, psychosocial rehabilitation, and family support, the symptoms of schizophrenia can be reduced. Typically, a health care provider will prescribe antipsychotics to relieve symptoms of psychosis, such as delusions and hallucinations. Due to a lack of awareness of having an illness and the serious side effects of medication used to treat schizophrenia, people who have been prescribed them are often hesitant to take them.
Schizophrenia Treatment
The major medications used to treat schizophrenia are called antipsychotics. They are generally effective for treating the positive symptoms of schizophrenia. Every person reacts a little differently to antipsychotic drugs, so a patient may need to try several before finding the one that works best. If a medication does help, it is important to continue it even after symptoms get better. Without medication, there is a high likelihood that psychosis will return, and each returning episode might be worse.
Schizophrenia Epidemiology Insights
Schizophrenia appears suddenly and without warning. But for most, it comes on slowly, with subtle warning signs and a gradual decline in functioning long before the first severe episode. Often, friends or family members will know early on that something is wrong, without knowing exactly what. In this early phase of schizophrenia, a person may seem eccentric, unmotivated, emotionless, and reclusive to others. One may start to isolate, begin neglecting the appearance, say peculiar things, and show a general indifference to life. One may abandon hobbies and activities, and performance at work or school can deteriorate.
Key facts of Schizophrenia Epidemiology Insights
Total prevalent population of schizophrenia in the 7MM was 5,748,062 in 2020. These cases of schizophrenia in the 7MM is expected to increase throughout the study period, i.e., 2018–2030.
Total diagnosed prevalent population of schizophrenia in the 7MM was observed to be 3,953,480 in 2020.
According to DelveInsight, the majority of cases of Schizophrenia are male as compared to female, in the US and EU-5. But in Japan the diagnosed cases of females represents majority of the cases.
Schizophrenia Epidemiology Segmentation in the 7MM (2018–2030)
Prevalent Cases
Age-specific Diagnosed Prevalent cases
Diagnosed Prevalent cases
Gender-specific Diagnosed Prevalent cases
Severity-specific Diagnosed Prevalent cases
Request free sample copy @ https://www.delveinsight.com/sample-request/schizophrenia-epidemiology-forecast
Table of content
1. Key Insights
2. Executive Summary of Schizophrenia
3. Disease Background and Overview: Schizophrenia
4. Epidemiology and Patient Population
5. United States Epidemiology
6. EU5 Epidemiology
7. Japan Epidemiology
8. Appendix
9. DelveInsight Capabilities
10. Disclaimer
11. About DelveInsight
Schizophrenia Epidemiology Report Highlights
Eleven-Year Forecast of schizophrenia
7MM Coverage
Prevalent Cases of schizophrenia in 7MM
Diagnosed Prevalent cases of schizophrenia in 7MM
Gender-specific Diagnosed Prevalent cases of schizophrenia in 7MM
Age-specific Diagnosed Prevalent cases of schizophrenia in 7MM
Severity-specific Diagnosed Prevalent cases of schizophrenia in 7MM
Schizophrenia Key Assessments
Patient Segmentation
Disease Risk and Burden
Risk of disease by the segmentation
Factors driving growth in a specific patient population
Why should you buy this report?
Develop business strategies by understanding the trends shaping and driving the 7MM schizophrenia market.
Quantify patient populations in the 7MM schizophrenia market to improve product design, pricing, and launch plans.
Organize sales and marketing efforts by identifying the specific type of schizophrenia that presents the best opportunities for schizophrenia therapeutics in each of the markets covered.
The schizophrenia epidemiology report and model were written and developed by Masters and PhD level epidemiologists.
The schizophrenia epidemiology model developed by DelveInsight is easy to navigate, interactive with dashboards, and epidemiology based on transparent and consistent methodologies. Moreover, the model supports data presented in the report and showcases disease trends over the 11-year forecast period using reputable sources.
About DelveInsight
DelveInsight is a Business Consultant company and serves as a Knowledge partner across the value chain of the Pharmaceutical Industry. With the use of proprietary databases and analytical models, DelveInsight provides cutting-edge market and pipeline analysis and API intelligence across all therapy areas to the Pharma and biotech sector, helping clients to quantify market events and evaluate their impact on the valuation of products, portfolios, and companies
Media Contact
Company Name: DelveInsight Business Research LLP
Contact Person: Yash Bhardwaj
Email: Send Email
Phone: +919650213330
Address:304 S. Jones Blvd #2432
City: Las Vegas
State: NV
Country: United States
Website: https://www.delveinsight.com/