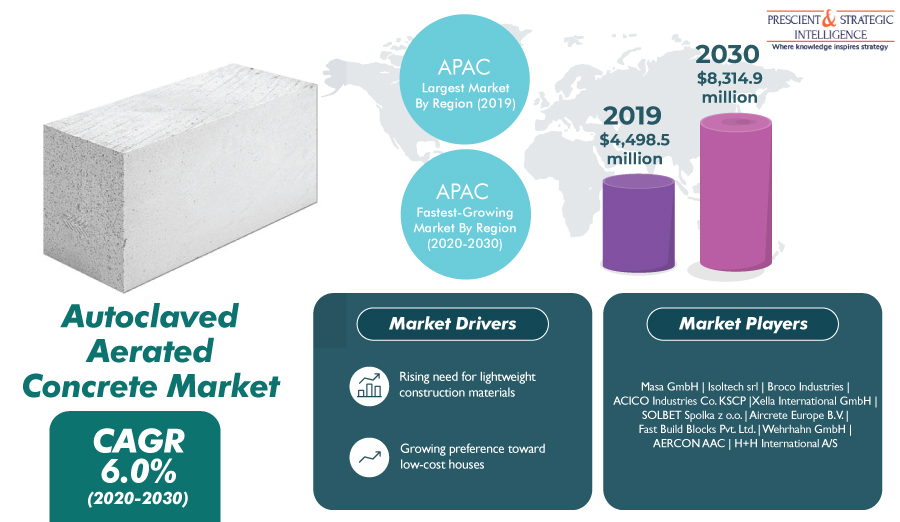 Globally, the Asia-Pacific region is expected to lead the autoclaved aerated concrete market in future by P&S Intelligence.
The booming population is leading to a rising demand for all kinds of infrastructure, including houses, factories, shops, hospitals, and schools. As a result, the construction industry is growing around the world, which is driving the demand for all kinds of raw materials. One of the basic raw material in construction is the humble brick, which has been now replaced to a substantial degree by cinder blocks. With further advancements in technology, the usage of autoclaved aerated concrete (AAC), a precast material, is rising.
It is a lightweight material that offers appreciable insulation, structural integrity, and mold and fire resistance. Due to so many benefits of this material, the autoclaved aerated concrete market value is set to grow from $4,498.5 million in 2019 to $8,314.9 million by 2030, at a 6.0% CAGR between 2020 and 2030. In this regard, P&S Intelligence also credits the demand for lightweight construction materials to be a key factor propelling the usage of AAC.
Download report sample at: https://www.psmarketresearch.com/market-analysis/autoclaved-aerated-concrete-market/report-sample
Compared to clay bricks, an AAC block puts 30% less weight on the foundation of a building. Although this material is lightweight, blocks and other structures made from it can better withstand earthquakes, the incidence and severity of which are increasing around the world due to rising tectonic activity. In recent years, such natural disasters have caused widespread damage and loss of billions of dollars, for instance, in Nepal and Haiti. Additionally, the production of clay bricks leads to considerable air pollution, which is another reason AAC is becoming popular.
During the historical period (2014–2019), the largest share in the autoclaved aerated concrete market was held by Asia-Pacific. Led by India, China, Japan, and South Korea, the region is home to the largest construction sector in the world. Their burgeoning population is propelling the demand for infrastructure, which is why their governments are giving a boost to construction activities, by investing massive sums. Moreover, China and India are two of the most-polluted countries in the world, which is why the focus on green buildings is growing here.
Browse full report at: https://www.psmarketresearch.com/market-analysis/autoclaved-aerated-concrete-market
Additionally, a large part of the APAC region suffers from natural disasters regularly. For instance, being on the Pacific Ring of Fire, Japan is no stranger to volcanic eruptions, earthquakes, and tsunamis. Similarly, the northern, especially the mountainous, region of India is a high-tectonic-activity zone, as the Indian plate is continuously ramming into the Eurasian plate. Moreover, the east coast of India regularly battles strong cyclones. The high incidence of such natural calamities has created a need for stronger building materials.
Hence, as the construction sector advances around the world, more traditional materials will be replaced by AAC tiles, blocks, lintels, panels, joint fillers, pipes, and floor elements.
Market Size Breakdown by Segment
By Type
Blocks
Panels
Tiles
Lintels
By Application
Construction Material
Road Sub-Base
Roof Insulation
Bridge Sub-Structure
Void Filling
Concrete Pipes
By End User
Residential Buildings
Commercial Buildings
Public Infrastructure (bridges, highway substructure, and water treatment systems)
Geographical Analysis
North America
Europe

Germany
U.K.
Russia
Poland
Romania

Asia-Pacific
Rest of World

Brazil
Mexico
Saudi Arabia
South Africa
Browse Other Related Report
Construction Chemicals Market – https://www.psmarketresearch.com/market-analysis/construction-chemicals-market
Polymer Concrete Market – https://www.psmarketresearch.com/market-analysis/polymer-concrete-market
Media Contact
Company Name: P&S Intelligence
Contact Person: Abhishek
Email: Send Email
Phone: +918887787886
Address:Noida Sector 2
City: Noida
State: UP
Country: India
Website: https://www.psmarketresearch.com/market-analysis/autoclaved-aerated-concrete-market