Co-Author Nicholas Kelly has cystic fibrosis, and co-author Maria Rohan is a cystic fibrosis nurse
CLEVELAND – May 21, 2021 – "The Adventures of Miss Messy Suzie McGoo and The Cuff Cough Crew", a new children's book designed to educate kids with cystic fibrosis, is now available on Amazon. The book was co-authored by Nicholas Kelly and Maria Rohan, and co-illustrated by Kelly and Afzal Khan.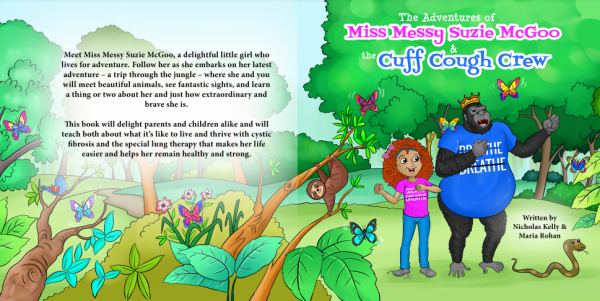 Miss Messy Suzie McGoo is a little girl who lives for adventure. In the story, she travels to the jungle, meets beautiful animals, sees fantastic sights and learns how extraordinary and brave she is. The lighthearted, whimsical book also teaches parents and children with cystic fibrosis how to complete the huff cough, a lung therapy necessary for the disease. The book renames the therapy the "cuff cough" as the "C" alliteration helps to explain the technique without in-person training.
Families can follow Suzie on her jungle adventure as she makes friends with the reader and shares the experience of the cuff cough, inviting readers to practice the therapy with her. By the end of the story, children with cystic fibrosis will know how to cuff cough, and Miss Messy Suzie McGoo invites them to join the Secret Cuff Cough Crew.
Kelly is very familiar with the cuff cough and living with cystic fibrosis. He was diagnosed with cystic fibrosis at three months old, but never let his condition prevent him from pursuing a normal life. He worked hard, overcame obstacles and has thrived in everything he has done. Kelly holds bachelor's and master's degrees from Bowling Green State University and became a dietitian. He is a poet, educator, dancer, cystic fibrosis advocate and a decorated speaker drawing from his personal experiences to inspire others to use their strengths and a positive attitude to advocate for themselves and live life to its fullest potential.
"Thank you to my friends, family and all the people who assisted in making this book a reality," Kelly said. "This book is extremely personal, as it represents a promise I made to myself because of the people I've lost. The idea to write a CF-centered children's book was inspired by my late "Cyster" Michele Held (Shelly) and my "Fibro" Nicholas Stafford (Vincent – evil snicker). Writing a CF book was a dream of theirs to complete together. However, since both have passed, I knew I needed to make our dream a reality. Thus, this is for them, the CF community and all the ones lost. #BreatheEasy."
Rohan is a cystic fibrosis nurse. She is also a gifted writer and has written works on autism and child and adult trauma. She is a special needs basketball coach and an advocate for a kinder, more inclusive world with compassion and a willingness to see life through a child's eyes.
"To all the patients I've loved like my own, who have died taking a piece of me with them; Breathe Easy, my loves. Your struggle and sacrifice have inspired me to work constantly for a better day in medicine.
To St. Xenia and St. John Maximovitch, I thank you for guiding, protecting through your intercession, and having mercy on me," Rohan said.
For more information about the book, visit SuzieMcGoo.com or SuzieMcGu.com (in Spanish). For more information about Kelly, visit NicholasKellyRD.com.

Media Contact
Contact Person: Nicholas Kelly
Email: Send Email
Country: United States
Website: SuzieMcGoo.com