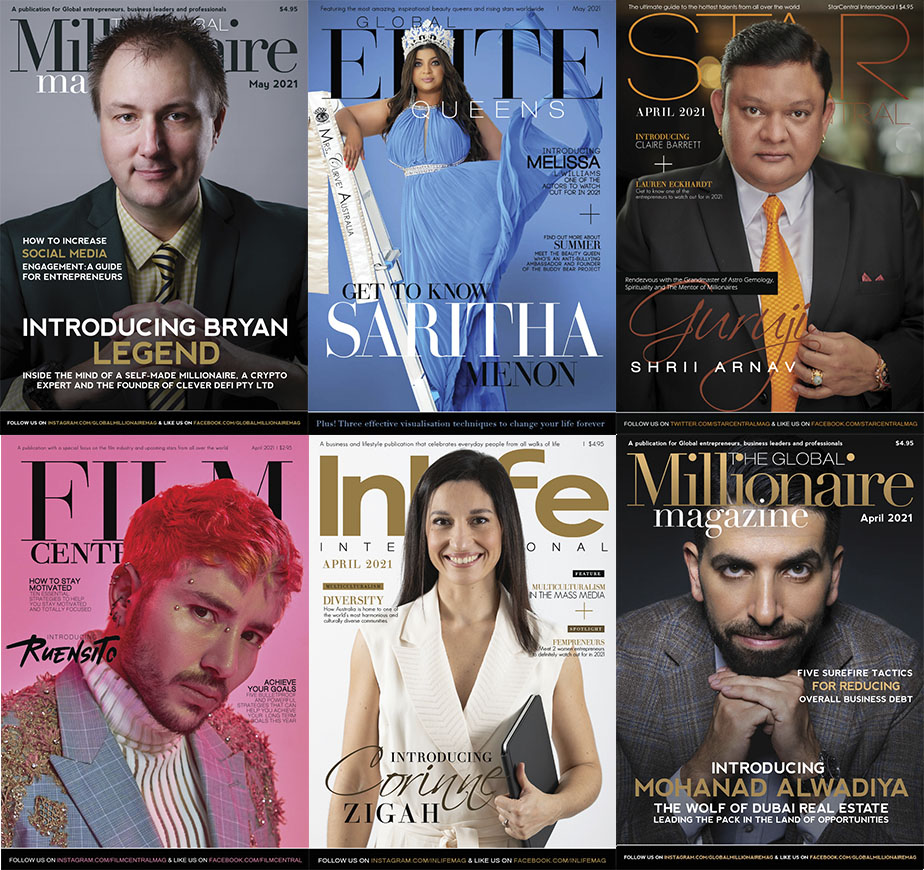 Australia's premier entertainment hub, StarCentral Media Group, has released its monthly media movements covering outstanding career moves and other industry news. This list contains prominent Entrepreneurs, Artists, Designers, Social Media Influencers, among others.
Bryan Legend is the entrepreneur behind the cover of Global Millionaire and the Australian Millionaire magazine (May 2021 issue)
Cryptocurrency veteran, Bryan Legend is an Australian self-made millionaire, entrepreneur, and the founder/CEO of Clever DeFi Pty Ltd. For the 8 years that Bryan has been in Cryptocurrency, he's mastered the art and craft to near perfection. An embodiment of strategic planning and execution, he has hit gold in this field with his innate Crypto-oriented mindset, the evidence of which can be seen from the successful start-up companies he has created from scratch, complemented by his estimated net worth of roughly 6.3 million dollars.
Find out more about Bryan via the links below:
Meet The Man Behind The Cover Of The May 2021 Issue Of Global Millionaire: The Incredible Bryan Legend
Meet Bryan Legend: The Entrepreneur Behind The Cover Of The May 2021 Issue Of The Australian Millionaire
Corinne Zigah is the woman behind the cover of InLife International Magazine (April 2021 issue)
Corinne Zigah is the Co-Founder and CEO of Cash Angel, an alternate investments business dedicated to portfolio management, education, and angel investment. Corinne's main role as CEO is to build the team and also increase the impact of the business while her husband Xolali Zigah is the creative visionary. Together, they want to build a school program to better educate children about money and how to create and manage wealth.
Find out more about Corinne via this link: https://www.inlifemagazine.com/2021/04/corinne-zigah/
Mohanad Alwadiya is the entrepreneur behind the cover of Global Millionaire magazine (April 2021 issue)
Mohanad Alwadiya is the founder of Harbor Real Estate Dubai and is considered by many as one of the property industry's most dynamic practitioners. He is an award-winning real estate professional and entrepreneur who, as the CEO of Harbor Real Estate, has set new standards in providing real estate investment and management solutions to Harbor's clients, and has led to Harbor Real Estate's winning the highly-coveted title of "Best Agency for Property Management" in the Property Times People's Choice Awards 2015.
Find out more about Mohanad via this link: https://globalmillionairemag.com/2021/04/08/mohanad-alwadiya/
Guruji Shrii Arnav is the entrepreneur behind the cover of StarCentral International (April 2021 issue)
Starting his online e-commerce and consulting business in the early days of the internet in 1996, Guruji Shrii Arnav today mentors internet tycoons to steel magnates as well as world statesmen and spiritual giants. He was recently featured in Forbes Magazine wherein many of the Gemstoneuniverse bespoke Gemstones and Jewellery pieces were featured along with the industry bigwigs like Bvlgari, Boucheron, Chanel, and Piranesi amongst others.
Find out more about Guruji via this link: https://starcentralmagazine.com/entrepreneurship/2021/04/14/guruji-shrii-arnav/
Ruensito is the rising star behind the cover of FilmCentral Magazine (March 2021 issue)
2020 saw Ruensito's dream become reality after the launch of his first song "Me Corono" which rose to the top quite fast and positioned in the Top #4 Latino chart on Anghami. The song also went around the world on Spotify accumulating more than 250 thousand reproductions around 85 countries. An amazing international audience that during the same year also welcomed his first book "Seven Moms" and that now is ready to receive all the love put on his latest song "Mi casa es tu casa."
Find out more about Ruensito via this link: https://filmcentralmagazine.com/2021/04/ruensito/
Saritha Menon is the queen behind the cover of GEQ Magazine (May 2021 issue)
Sarita Ram Menon is the owner/director of Amogh Financial Services Pty Ltd and she has received various recognitions for contributions to society due to her art-based activism. She has been featured in mainstream newspapers such as Daily Telegraph, Western Weekender, Deccan Chronicle, Indian Express, and The Hindu and they have published articles about her journey and success in the plus-size pageant world.
Find out more about Saritha via this link: https://globalelite-queens.com/2021/05/saritha-menon/
Media Contact
Company Name: StarCentral Media Group
Contact Person: Krissy Anderson
Email: Send Email
Phone: 02 8001 6594
Country: Australia
Website: starcentralmagazine.com