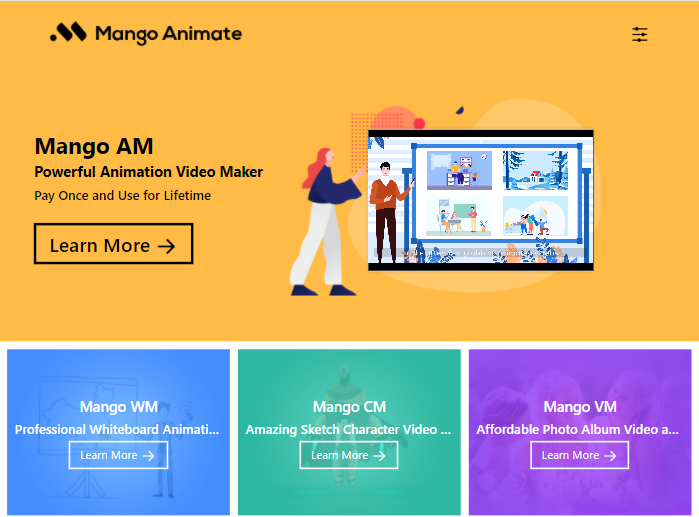 "Mango Animate has expanded its software list to animation software, whiteboard animation software, character software, text video software, and more on the way."
Mango Animate has established itself as an industry-leading animation software provider with a focus on developing intuitive, easy, and powerful animation makers for users of all levels.
Animations are a powerful tool. It's great for marketing and advertising, training and education, and general entertainment. Today's generation seems to be addicted to content that moves. So, a wise content creator would take advantage of this handy resource. Software company Mango Animate has made it their mission to provide great animation software so people can make use of this growing trend. They offer several animated video makers as well as an animated character maker.
CEO of Mango Animate, Winston Zhang points out "Animation is big business now, so yes we get involved for that reason. But more than that, we're delighted to be able to put such power into the hands of our users."
The Mango Animate Animation Maker (Mango Animate AM) is a multi-purpose video maker. From explainer videos to eye-catching ads, this animation software lets users take full advantage of animation to get their messages across. The Mango Animate Whiteboard Animation Maker (Mango Animate WM) takes the traditional whiteboard that is proven to aid content retention and takes it to a more modern level with captivating animations.
Another superb animation software from Mango Animate is the Mango Animate Character Maker (Mango Animate CM). This allows users to create in-demand animated characters for their various projects. The characters are suitable for any platform or medium. And the Mango Animate Text Video Maker (Mango Animate TM) converts dull, static text into engaging videos that quickly grab and hold viewers' attention.
All the animation software designed by Mango Animate is ideal for educators, students, business interests, and the general population. Teachers can make their content more interesting for their students with the use of rich media and vivid animation, while students can get creative with their assignments.
Businesses can take advantage of the animation software to advertise, as well as to provide training and distribute information to their employees. Or the software can be used to create fun animated videos and characters for the simple purpose of entertainment. Whatever the purpose, Mango Animate's animation software is easy to use and requires no expertise or experience in animation. They're also chock full of useful resources like templates, royalty-free media, and animation tools.
For more information on their animation software, please visit Mango Animate.
About Mango Animate
Mango animate is an industry-leading provider of animation software. They offer several options for use across industries.

Video Link: https://www.youtube.com/embed/yo8jw3_K0MI
Media Contact
Company Name: Mango Animate Software Co., Ltd.
Contact Person: Paul
Email: Send Email
Phone: +86 020-61972665
Address:Room 1003, 10/F, Tower 1, Lippo Centre, 89 Queensway, Admiralty
City: Hong Kong
Country: HongKong
Website: https://mangoanimate.com/