African grocery delivery online
Nimerex.com now delivers grocery to all 50 states. See video: https://www.youtube.com/watch?v=5dWHBcOucHI
Nimerex, a multi-vendor marketplace that specializes mostly in African Groceries, cooked food and unique African-products, today, launches a free delivery service to support diasporic Africans in the United States and Canada. With the new service, both new and existing customers will be able to buy a wide selection of African products available on the store and get them delivered to their doorsteps, wherever they are in the United States, free of charge. The service is accessible to customers on both the Nimerex website and as a feature on the updated Nimerex iOS and Android mobile apps.
What African products does the new free delivery service cover? A ton of traditional African delicacies made the cut, some of which are the African yam, Ghanaian and Nigerian jollof rice, Garri, egusí & stockfish to make the delicious egusi soup, ogbono and several other organic African food. It doesn't end here, the free delivery services also cover items such as African artworks, and lace & Ankara dress, as well as several other foods and groceries which customers can see on their website and mobile apps.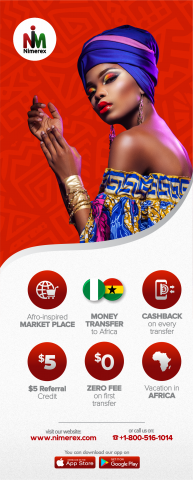 Asked if there are any bells and whistles that come with this free delivery service, Awwal Badru says, "Customers will get $5 off their first transaction. A limited-time coupon code will have to be entered to enjoy this price slash. The coupon code is 'Diaspora'."
Giving further details, he says that customers will get more freebies when they refer friends and families. The freebies come in $5 worth of points, which customers will get after the friend or family whom they referred or shared the Nimerex services with places their first order. New customers who are referred can also enjoy the $5 price slash when they place their first order.
Rounding up the briefing, Nimerex points out that this free delivery service for African products is a limited offer and will only last till the end of the month, although an extension is subjective. For this reason, both new and existing customers are urged to place an order now and enjoy the free delivery services and price slash.
To learn more about Nimerex, visit www.nimerex.com.
For more information about this offer, check out their YouTube Video.
Also, follow Nimerex on Instagram and Facebook for col deals and offers.
Category Search: African Grocery Online, Unique African products, Nigeria store online, African Store near me, African Grocery Store in town, bringing affordable quality food groceries to your doorstep, Authentic African Food At Its Best, African food store in the USA, African Grocery near me, Waist beads, African Artwork, African Shirt, Artwork shirts, recharge cards, send airtime to Naija, African products online.
As seen on https://www.wfmj.com/story/42522986/nimerex-offers-free-delivery-of-african-products-to-every-state-in-the-united-states-and-canada and https://www.abnewswire.com/pressreleases/nimerex-offers-free-delivery-of-african-products-to-every-state-in-the-united-states-and-canada_503152.html
Media Contact
Company Name: Nimerex.com
Contact Person: Awwal Badru
Email: Send Email
Phone: 8005161014
State: TX
Country: United States
Website: http://www.nimerex.com/