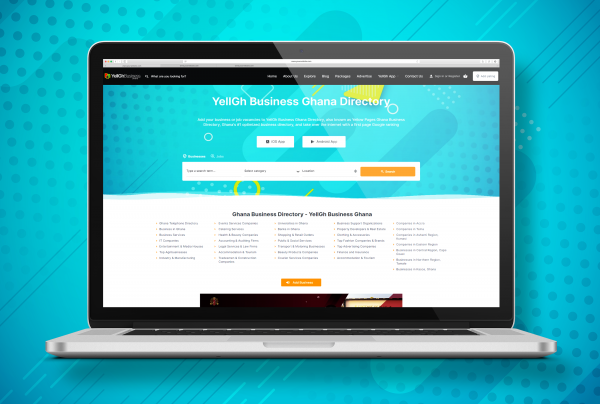 YellGh Business Directory has become the number one directory trusted by businesses, service providers, traders, firms, startups, and other entities in Ghana. The company has seen a regular stream of hundreds of businesses registering with them to create a business page and strong online visibility. Yellow Pages Ghana also now has an app that offers a complete digital marketing web service for all types of business.
"The invaluable service offered by YellGh for Ghanaian businesses is search engine optimization (SEO). This means you add your business to your platform, then our team of skilled professionals would help you to scale your digital marketing by boosting your online visibility with our advanced SEO tools and techniques", says a spokesperson for YellGh Business Directory.
With YellGh Business Directory, businesses can get their own webpage that will rank number one on Google and other search engines. This will help the client outrank competitors and establish a strong online presence. For those companies that do not own a website, YellGh Business Directory allows them to use their webpage as a primary online marketing tool to engage with customers and potential clients.
The company offers a unique, real-time and accurate page views feature. This helps the client track traffic statistics on their dashboard. It lets them know and interpret how well their online marketing approach is faring. On top of this are customer reviews and a ratings board. This enables them to connect with new customers and increase the quality of service. Through the direct message option, direct communication is formed between the visitor and the company.
"All business owners who sign up on Yellow Pages Ghana get their own dedicated dashboards from where they can control what's going on their pages. From your dashboard, you can edit your business details, add more businesses, or promote your business", says a spokesperson for YellGh Business Directory.
Additional benefits to working YellGh Business Directory are: enhanced online presence, a modern business page, strong visibility in the client's city, increase sales by getting discovered easily, increase brand awareness, boost SEO, rank #1 on Google and so on. The company has formulated three packages that offer a set of the above-mentioned benefits. Clients can choose from the basic package, the advanced package and the premium package.
For more information, please visit: www.yellgh.com
iOS app: https://apps.apple.com/gh/app/yellgh/id1558426023
Android app: https://play.google.com/store/apps/details?id=com.yellowpagesghana.app
Media Contact
Company Name: YellGh Business Directory
Contact Person: Dennis Gyamfi Bediako
Email: Send Email
Country: Ghana
Website: http://www.yellgh.com