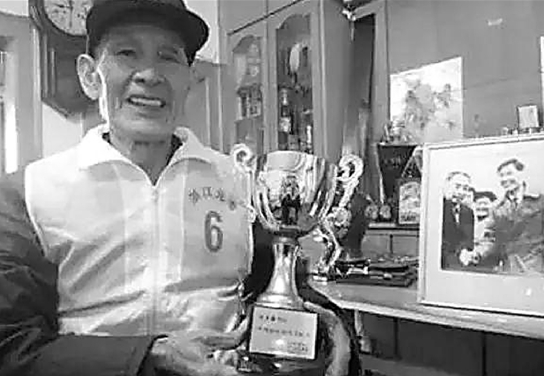 Feng Zhenghai poses with a trophy he won in 1963. [Photo/zjol.com.cn]
Zhejiang volleyball icon and former national team leader Feng Zhenghai passed away on June 7. The China Volleyball Association mourned his death on June 9.
Feng was born in Hangzhou in 1935. He started professional volleyball training in 1953 and was selected onto China's national team in 1957. Feng was the ace spiker and leader on the team.
Feng represented China in more than 200 international competitions and his most valuable memory was shaking hands with late Premier Zhou Enlai in 1963.
"That was the ultimate reward I could dream of. The premier knew my name and my number. It was an honor beyond imagination," said Feng.
"The premier walked directly towards us when he got off plane and shook hands with us. He encouraged us to train for the upcoming Olympic Games."
Retired as a player in 1965, Feng coached Zhejiang's men's volleyball team, Zhejiang's women's volleyball team, and the soldiers' volleyball team in Xinjiang Uygur autonomous region.
"My father spent his whole life doing one thing and that is volleyball," said Feng Lei, the son of Feng Zhenghai. "When he was too old to coach, he committed himself to training teen players and promoted soft touch volleyballs to seniors. He kept playing into his 80s."
According to his son, Feng was proud to be "the first Hangzhou native to join China's national volleyball team" and that his biggest wish was to attend the upcoming Asian Games Hangzhou 2022.
"It's kind of a shame that he won't be able to go, but we will pass on his enthusiasm for developing China's volleyball scene," added Feng Lei.
Media Contact
Company Name: The Information Office of Hangzhou Municipal Government
Contact Person: Cai Jingwen
Email: Send Email
Phone: 0510-68559077
Country: China
Website: http://www.ehangzhou.gov.cn/