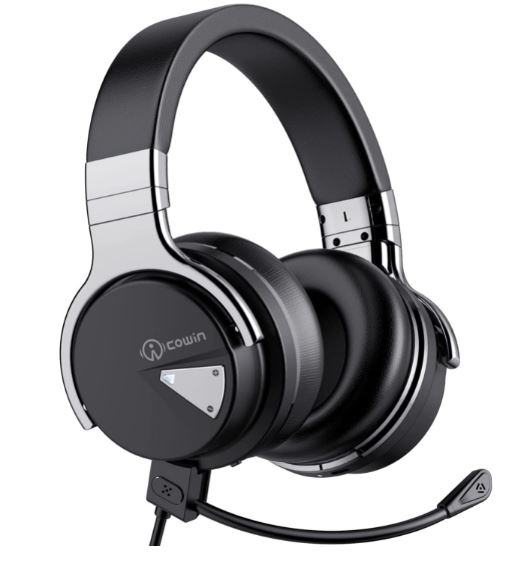 Cowin is a fast-rising company known for its Best Selling Amazon audio products has launched its first headset engineered for both wired gaming and wireless lifestyle use
COWIN renowned as one of California's fastest-growing audio tech companies has launched its first gaming headset.
"COWIN E7 gaming headset" is a wireless Bluetooth gaming headset. It has active noise reduction technology and a PC noise reduction microphone. Its comfortable earmuffs are suitable for all-day-long wear.
In the company's latest news, Cowin E7 gaming headset has excellent sound quality and noise reduction technology makes your game immersive.
"We are constantly upgrading our products so that they can meet the different needs of customers. This gaming headset is our innovation. We have made changes in many aspects such as sound quality, noise reduction, and microphone calls. Hope customers can be satisfied with our new products," said the founder of the Cowin company, Bill Mei.
The Cowin E7 gaming headset has a variety of features and advantages, including:
Cowin's first two-in-one headset, combining wired gaming and wireless lifestyle. A headset meets your needs for games and listening to music.
The noise reduction depth reaches 32dB, the Cowin E7 Gaming Headsets clear away noisy distractions so you can focus on your games, music, or work.
In the game, the boom microphone can reduce noise, so your teammates can hear your voice clearly. In lifestyle mode, the built-in microphone can provide clear calls even in noisy environments.
Bluetooth 5.0 guarantees a stable and fast connection.
The realistic sound of the headphones is highly praised. Putting on the headset is like a band playing by your side.
Noise reduction in the open, 4 hours of charging can guarantee 30 hours of playing time.
Soft earmuffs allow you to wear them for a long time without pressure.
And more!
The Cowin E7 gaming headset strives to meet the needs of customers in both gaming and life. Its professional active noise reduction technology allows users to be completely immersed in games and music. Not to cover up with a large volume of outside noise, but to use technology to reduce noise, such an approach can achieve the effect of hearing protection. Whether it's gaming, sports, or traveling, the Cowin E7 gaming headset is your good partner.
For more information about this product, please visit the company's Amazon listing.
About COWIN
In the past 3 years, the cowin company is known as the best-selling Amazon audio product. They continue to work hard to upgrade noise reduction technology and strive to become a brand that provides the highest performance noise reduction products.
The company hopes to help more people to enjoy their travel experience, turn off the outside world, to better focus on their goals. We hope Cowin products can bring more people to bring more happiness, motivation, and encouragement.

Media Contact
Company Name: COWIN
Contact Person: Jessie
Email: Send Email
Phone: 929-359-6668
City: City of Industry
State: CA
Country: United States
Website: www.cowinaudio.com