Context
This article is written for social media creators (aka. Social Media Influencers). It's written by UIComm Business Consulting Firm, and it analyzes, in short, what brands want from a social media creator.
UIComm's detailed guide points out the business goals behind their decision to implement influencer marketing in their strategy, and the exact process that the majority of businesses follow to find and collaborate with Influencers.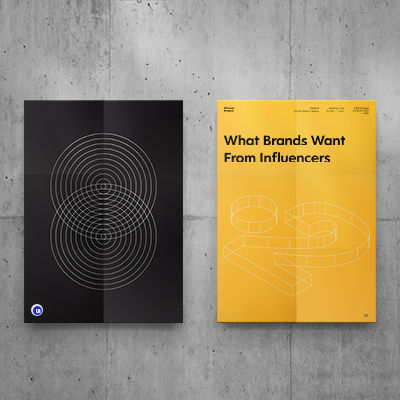 Concept
By understanding what Brands want, their options, and their process, a creator can effectively communicate with them, make interesting suggestions and close better deals for them and the Brand.
First of all, we'll explain:
Why brands decide to collaborate with Social media Influencers in the first place
What are their criteria
Their process
The two factors that affect the success of the negotiation
Why brands decide to collaborate with influencers
Since a brand is a business, and businesses are, by definition, For-Profit Organizations, their primary goal behind almost every action is to generate more profits while at the same time they ensure sustainability.
The scientific term for "Influencer" in Marketing is "Leaders of Opinion". Meaning, the individuals who tend to be admired by others and have the ability to influence others' decisions (for example, buying decisions).
The short answer is:
Businesses take advantage of influencer marketing to reach new audiences. They decide to collaborate with Social Media Influencers to speak to their audience (through them), making their message sound familiar and appealing.
What are a company's criteria when choosing between Creators?
Of course, the first characteristic that companies will look for when deciding between individuals about to spread their word, is relevancy. Meaning how relevant is the creator's lifestyle, the locality of their audience, etc., and how well this audience fits with its brand.
The second criterion, would be the reach. What is the creator's audience size, and what is the percentage of it that will actually see their piece of content?
And the last between the usual criteria would be the engagement rate. And this is translated to how much actually a Social Media Creator influences others and how willing their audience is to accept their message (and consequently, the brand's message).
What is a brand's process for Influencer Marketing?
In order to find, choose between Social Media Influencers, and communicate with them, the majority of companies have three options.
Comparing the possible ways that brands can follow to accomplish this action, only one is efficient enough and cost-effective. That said, the majority of companies chose a combination of Influencer Marketing tools and Bulk Outreach for their process (explained in detail in UIComm's Guide).
The two factors that affect the outcome of the negotiation
The contract between a brand and a Social Media Influencer is dependent on two main factors.
The first is the quality of services offered. Meaning how well creators can help the company, achieve their goals behind this action. Moreover, it's the creator's ability to communicate this, and handle the negotiation effectively.
Of course, the second factor is the price. Pricing is a sensitive topic since it depends on many factors, but in general, UIComm suggests a creator's fee to be logical. After all, if the people behind the brand are satisfied with the outcome, chances are that they would wish to extend this collaboration. Therefore, this would be a chance for the creator to renegotiate terms and slightly increase their fees.
For questions, please, feel free to check UIComm's Guide: "What Brands Want From Influencers" and reach out to them via email or the Live Chat option on their website.
Media Contact
Company Name: UIComm
Contact Person: Jacob Tsinalis
Email: Send Email
Country: United States
Website: https://uicomm.com/