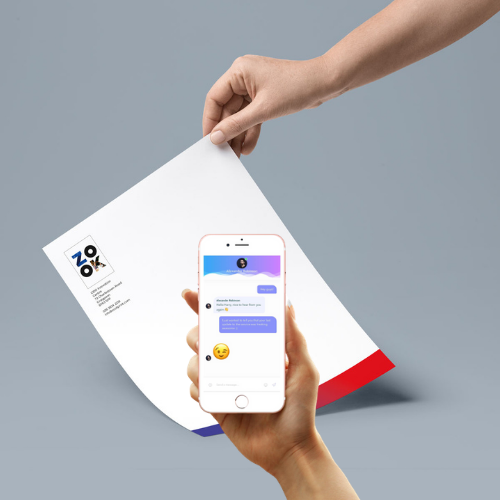 Mann Materials manufactures "intelligent" marketing and promotional materials that help businesses increase their marketing and sales performance. The overall strategy intertwines mobile technology with the Internet of Things (IOT), Intelligent Interactions, and Big Data to ensure a surge in business ROI. Intelligent promotional products include Intelligent T-shirts, Polo shirts, cap, hoodie, bottles, scarves, and pen, etc.
Mann Materials creates 3D objects which are intelligent marketing/promotional materials. Just with a tap, a smart phone can easily interact with these objects. Customers can now easily get connected for various modes of interactions, such as a website with live chat, or a customer review video, as well as filling a form or downloading a case study.
"Our Intelligent Promotional Products allow a customer to use their smartphone to interact with the object, such as getting into an online chat program. Combine that with our intelligent big data, and you'll be able to know when they are online and offline so you can retarget them with direct mail, social and email campaigns", said a spokesperson from Mann Materials.
The technology used in these intelligent products and interactions is the same as that of Apple Pay and Android Pay to make target customers interact with the physical objects with a simple tap of their smart phone. A Big Data algorithm then recognizes the customer by matching details with the existing database and enriching their contact points so that a business will have the opportunity to retarget them using other marketing channels such as social media, email, phone or direct mail. Other intelligent physical objects include intelligent paper, packaging, promotional materials and plastics that are embedded with printed electronics technology.
Mann Materials intelligent products enable a business to capture the necessary customer information, increase reorder, schedule a demo, content engagement, social media engaged, video engagement and much more. Today, the Internet of Things is becoming the Internet of Everyday Things. With Mann Materials one can take advantage of this shift and use it to increase profit.

For more information, please visit: www.mannmaterials.com
Media Contact
Company Name: Mann Materials
Contact Person: Yi Li
Email: Send Email
Country: United States
Website: http://www.mannmaterials.com