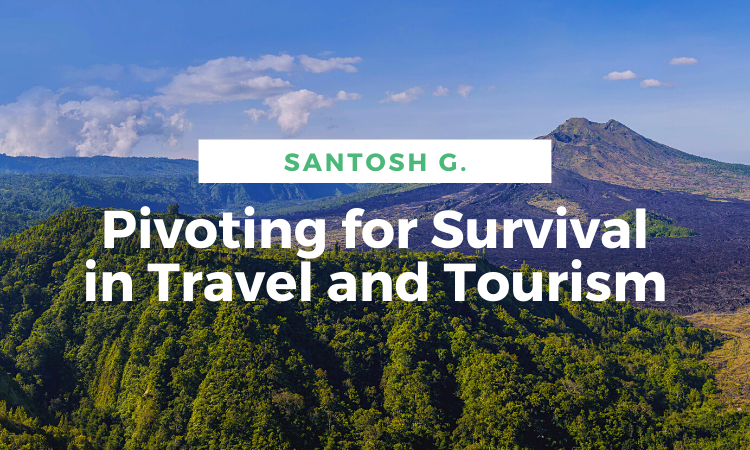 "Santosh G., Global Chairperson, Global Council for the Promotion of Interested Trade (GCPIT). He loves to dig into customer problems and solve them with emerging technology. He creates, scales and optimizes product portfolios that matter. To accomplish this, he focuses on key results, builds amazing teams and quickly adapts to new insights. "
Small and medium-sized enterprises (SMEs) are severely impacted by the COVID-19 pandemic because most travel and tourism has been suspended. Unfortunately, many individuals find themselves belonging to multiple demographic groups, since many small and medium-sized enterprises (SMEs) carry out the same roles as those in the travel and tourism industries.
Four emerging trends are projected to guide the growth of the travel and tourism industry during and after the economic downturn:
The demand for evolution
The trends among travellers have gone in the direction of familiarity, predictability, and trust. The short-term will be dominated by domestic and regional vacations, with tourism businesses and destinations already making accommodations. To ensure early recovery, it will be important to target international travel early on. Tourists will increasingly rely on clear communication to spur demand. This type of revolution, however, will be temporary, and while it is unclear how long these types of shifts will last, Travel & Tourism has a unique opportunity to rethink existing business models and co-create with their communities as they consider their most valuable asset: their people.
Health and Sanitation
Precautions regarding health and safety are critical in this new era. They will base their decisions on their own experiences, the advice of experts, and their concerns about distancing in the short- to mid-term. To ensure readiness and implementation of protocols like the WTTC's Safe Travels protocols, businesses will have to work even closer with their extended value chains. For the travel industry, trust, frequent communication, and a constant flow of reliable information about guests, business partners, suppliers, and locals are all important moving parts in the recovery of the sector.
Innovation and digitisation
The unanticipated catalytic effect that COVID-19 is having on the Travel & Tourism sector's search for innovation and the integration of new technologies is rather startling. Digital adoption and consumption are increasing alongside orders for stay-at-home vacations, as consumers are demanding contactless technologies such as biometrics, along with other services, in order to guarantee a safe and convenient travel experience. Because of remote work, which is becoming the norm in the short to medium term, and because people's identities are being digitised, cybersecurity is growing more critical. Digitization has incredible opportunities, but there are some measures in place to protect employees and the local community. In fact, the fact that there is an acceleration in the digital agenda as a result of this crisis is in itself a silver lining.
Sustainability
Social, environmental, and institutional sustainability have been strengthened by new movements such as widespread unemployment and anti-racism movements, as well as by the revival of natural habitats and ecosystems. Underlined text: Advocacy for both ocean preservation and wildlife protection has been increased by increased public awareness of the environment and wildlife markets. With increasing scrutiny of businesses' environmental track record and their support for diversity and inclusion, businesses are both facing problems and creating opportunities. Because women, minorities, and youth all take part in Travel & Tourism at higher rates than in other sectors, Travel & Tourism has the unique capacity to promote, while also protecting and empowering vulnerable populations while reducing poverty and inequality. This is the time for the sector to really step up with their change initiatives that have the potential to have a long-term impact on future generations.
"Nothing stays the same. Growth is completely optional." – John C. Maxwell."
The Covid-19 has given the travel and tourism industry the impetus to look for new ways to remain relevant in the world of virtual reality and social distancing.
Positive solutions-oriented optimism for the travel and tourism industry
Delivering high-quality customer service when you must stay away from your customers presents unique challenges. Obviously, the tourism industry will have to put a new plan in place that will focus on customer service.
Putting the current pandemic on hold as an opportunity for something new is a difficult proposition for many people. However, in order to implement process changes and renovate, the hospitality, recreation, and transportation sectors must at least take a brief pause.
Tourism and transformation technology
Efforts to accommodate and tour companies require new systems with new features and amenities that other competing companies may overlook. Those hotels and resorts that were built with swimming pools and gyms in mind will have to cut back on their pool, gym, and other amenities. In place of having physically sanitised VR gear and game consoles installed in each room, with voice-operated room service menus also present, you could add sanitised VR gear and game consoles, along with voice-operated room service menus. However, as these activities return, people can still interact with them. It's possible that VR could have a significant emotional impact on guests and increase the likelihood that they'll return for additional visits.
Ensuring that local guides have the ability to incorporate digital technologies and augmented travel.
In the long term, the market can change. Due to the impact of the COVID-19 pandemic, the tourism industry has faced challenges and opportunities. What needs to be done is for people who have never thought of their community as "explorable" to perceive it as interesting.
Many travellers are rethinking their ideas of what is interesting, how interesting things can be explored, and how interesting things have monetary value. The market is ready and open, yet, in some cases, there are only a limited number of options. The increasing demand for 'hyper-local' travel is causing tourists to spend less on big-ticket traditional travel and shifting their time and money toward domestic and 'micro-adventures.'
When booking a tour, tour operators can offer various XR content. In this example, a whale-watching, river rafting, or scuba diving business can create a virtual representation of their activities to provide visitors from all over the world with an immersive experience. AR-apps that place their information, expertise, and personalities in the hands of local visitors allow tour guides and themed walking tours to record and distribute video for their smartphone app content.
The way museums, galleries, and science centres choose to serve their visitors now is through either a hybrid option (providing virtual tours to visitors who cannot or will not come in person) or one that augments a visit but doesn't require a physical presence (providing augmented content to visitors who want to see more without having to be there).
Training for the tourism industry
In the near term, most of the tour operators and accommodation properties will be closed to the general public. On the other hand, although there is no revenue, the company must have a sustainable long-term plan to remain open, including infrastructure and training activities. Progress and goals are always required. New technology can be used to keep your staff engaged and prepared when the re-opening time comes if you believe it will not facilitate a re-opening.
Training is being delivered in various sectors by the use of virtual reality. Virtual reality is suitable for the introduction of new customer service techniques and new sanitation procedures in the context of tourism. Employees can participate in training via virtual reality from home, making it a win-win for businesses.
The technology of tourism with virtual visits
Another major limitation we haven't mentioned yet is the fact that travel restrictions in place around the world make things difficult. A large number of people choose a location for summer travel as a means of also connecting with people they love.
Isolation has impacted people widely, and the impacts will continue to increase. All is not lost, however. There is never been a better time to use video conferencing technology. Not only are shared immersive spaces improving rapidly, but they are leaping far ahead of where they started as well. The last one to accept it might be the least reluctant, but everyone has to jump onboard.
Technology for Tourism and Travel marketing
Since participating in new technology leads to marketing opportunities, it is never a bad idea to look into new technologies. Gain far-flung local visitors who wanted to visit you, but are unable to due to geographical obstacles. To make matters even better, why not ask those who had to cancel their appearance and use the content in order to tide them over until next year?
To stay connected with customers, all of the above-mentioned hospitality and tour operators may employ this strategy. Developed today's assets can become the basis of future content.
Media Contact
Company Name: Global Council for the Promotion of International Trade
Contact Person: Santosh G
Email: Send Email
Phone: +919480295223
Address:No 1 & 2, A1 Block, Kundalahalli Village, K. R. Puram Hobli
City: Bangalore
State: Karnataka 560037
Country: India
Website: https://gcpit.org/