Commercial refrigerators are generally divided into three categories: commercial fridges, commercial freezers, and kitchen refrigerators, with volumes ranging from 20L to 2000L. The temperature in the commercial refrigerated cabinet is 0-10 degrees, which is widely used in the storage and sales of various beverages, dairy products, fruits, vegetables, and milk. According to the door opening method, it is divided into vertical type, top opening type, and open case type. Vertical refrigerators are divided into the single door, double door, three doors, and multiple doors. The top opening type has a barrel shape, a square shape. Air curtain type is including two types of front exposure and top exposure. The domestic market is dominated by the upright display fridge, which accounts for more than 90% of the total market capacity.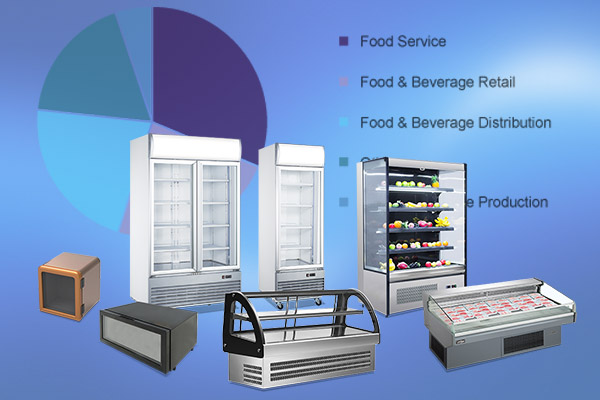 Commercial refrigerators are the output of the market economy, which has been transformed into the developing trend and growth of major beverage, ice cream, and quick-frozen food manufacturers. The market scale continues to expand, and the product form is gradually subdivided. The rapid development of fast-moving consumer goods has led to the development and listing of commercial refrigerators. Due to more intuitive display, more professional storage temperature, and more convenient use, the market scale of commercial refrigerators is rapidly expanding. The commercial refrigerator market is mainly composed of the industry's major customer market and the terminal scattered customer market. Among them, the refrigerator manufacturer mainly covers the industry customer market by direct sales of enterprises. The purchase intention of commercial refrigerators is determined through the bidding of major customers in the beverage and ice cream industries every year. In the scattered customer market, mainly relies on dealer coverage.
Since the COVID-19 outbreak, consumers have increased their hoarding of food and beverages, which has led to an increase in the demand for mini chest freezer and mini top beverage display, and the online market has achieved good results. As consumers are getting younger, the market has put forward new requirements for the temperature control method and temperature display of refrigerators. Therefore, more and more commercial grade refrigerators are equipped with computer control panels, which can not only meet the needs of consumers for temperature display but also make the operation more technological.
With the recent outbreak and spread of the COVID-19, Chinese suppliers have been greatly affected. However, in the medium and long term, The COVID-19 abroad is getting worse, which has made many consumers stay at home, and their demand for household and refrigeration appliances has also increased. As an important part of the global supply chain, China has always maintained an optimistic and positive attitude. For a certain period of time, the commercial refrigerator industry has continued the developing trend of steady progress and stability. Meanwhile, the country's economic development, consumer demand upgrades, and strong policy support will lay a solid foundation for the future commercial refrigerator industry to maintain stability and improvement.
Media Contact
Company Name: NENWELL
Email: Send Email
Phone: 86-757-86309994
Country: China
Website: https://www.nenwell.com/