Sheriff Arpaio, "America's Toughest Sheriff," now known as "America's Good-Hearted Godfather," receives high praise for his life-story book "Sheriff Joe Arpaio: "An American Legend" on his eighty-ninth birthday.
Phoenix, AZ, USA – June 18, 2021 – Sheriff Joe Arpaio known as "America's Good-hearted Godfather turned eighty-nine on June 14, 2021, feels more convinced than ever to share his philosophies. To commemorate turning eighty-nine, a birthday celebration was held in his honor to roast, boast, and toast his life and accomplishments. Arpaio told AZ Channel 12 News, "Regrets, I've had a few but too few to mention. I did it my way."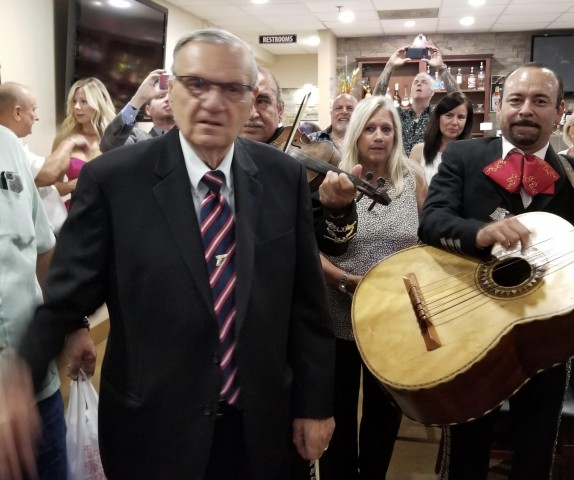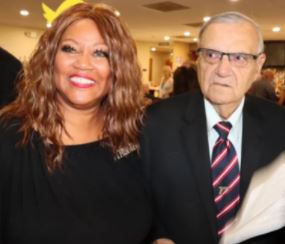 At a time where there isn't enough love in America, Arpaio plans to have a book signing in August at the U.S./Mexican border in Nogales, Arizona, where he will offer a twenty percent discount for books purchased with pesos. He will also share his insight, experience, and knowledge with those who desire more in-depth information. Arpaio says, "I can't think of a better way to share my eighty-nine years of wisdom than going to the border where I worked for many years as a top federal agent in the U.S. Drug Enforcement Administration, and as Maricopa County Sheriff in Arizona." Arpaio covered the border in Texas, Arizona, Central and South America, and Mexico. Many of his border exploits are covered in his book.
According to Cyndi Love, "Sheriff Joe Arpaio knows how to guide us in the right direction for the higher cause. That was evident during an interview on The Water Cooler with David Brody. When he sets his mind to do something, he gets it done."
Bob Corbin, former Attorney General for Arizona, says, "I support and respect Joe because he respects the law, and if you violate the law, he will investigate and file charges against you. That is why I admire him. He has the courage to uphold the law."
Arpaio misses Ava, his wife, who went to Heaven a few months ago. This was the first birthday in sixty-three years that he has been without her by his side. Arpaio has stated often that his wife "was the wind beneath my wings."
ABOUT THE BOOK
The gripping life story of an American Legend in his own words. Sheriff Joe Arpaio, one of the most beloved crime fighters in American history who has dedicated his entire life to law enforcement, grants us an unfettered deep dive into the true stories that have made him a legend. Internationally known as "America's Toughest Sheriff," he chronicles his unique programs such as the tent city jails, chain gangs, and his famous Posse. Sheriff Joe's lifelong commitment to the rule of law, despite his critics, is an inspiration and is a must-read.
REVIEWS
"I can't believe what I learned from Sheriff Joe. His honesty and integrity for law show and must be commended. I can see why he is nicknamed America's Good-hearted Sheriff." – Dr. Melissa Caudle, Author and Media Influencer of Dr. Mel's Message.
"America's Toughest Sheriff has done it again. In his usual "shoot from the hip" style, Sheriff Joe Arpaio tells it like it is. This is a fast, easy read, and the truth is in these pages. It's up to the reader to accept it. God bless Sheriff Joe Arpaio." – Sarah Weinisch
"Enjoyable and informative book that was a relatively quick read." – Mark Sutter
"Good read! Sheriff Arpaio was tough on crime and backed his deputies! I worked for him for over 20 years! This is a must-read." – Ray J.
"I have heard Sheriff Joe speak several times and thought I knew a lot about him. I was blown away by his experience." – Christopher M.
"Great book. Can't put it down." – A.R.
Media Contact
Company Name: AAPH Press Distribution
Contact Person: Cyndi Love
Email: Send Email
Phone: 480-365-8090
Country: United States
Website: https://www.absoluteauthor.com/