In recent years, under the guidance of consumption upgrading, the grain industry has also ushered in changes. From the rise of diversified convenient fast food products, the rapid expansion of the tea market, to the return to the upgrading of rice quality, which is essential for three meals a day, all of them are industrial optimization to meet the needs of the current consumer market. In the traditional packaging market, grain crops such as rice, Cereals, Cereals, soybeans, millet, corn, peanuts, rice, seeds and so on are forced to adopt the principle of small profit but quick turnover because of their low added value. Now grain processing enterprises urgently need to innovate product categories and upgrade corresponding packaging equipment to seize this round of consumption upgrading opportunities.
1. The rice premade pouch bag given weighing packing machine and top load case packer line
The whole line consists of 5-10kg rotary premade pouch packaging machine (max bag width 320mm, suit for zipper doypack, quad block bottom bag, pouch bag with handle), checkweigher, metal detector, case erector, top load carton box filling machine and adhesive tape case erector.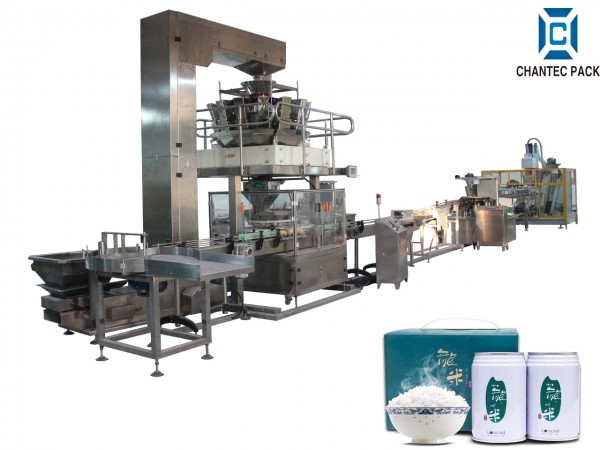 2. The rice jars filling line and case packer
The rice/chickpeas/quinoa/legume/garlic in small vacuum bags and rice/chickpeas/quinoa/legume/garlic in cans are most popular. Small package rice meets the needs of consumption and becomes the market development trend. Because the small package rice is packed in vacuum bags and cans, it can not only avoid external pollution, but also be easy to store. At the same time, the amount of rice is small, so there is no need to worry about spoilage, mildew, or can not be eaten in a short time, resulting in unnecessary waste.
Also the small package rice packaging is exquisite, and tends to be more gift oriented, which further conforms to the current rice consumption upgrading market.
The whole line working principle is: bottle unscrambler to feed bottle filling — liquid nitrogen flushing — capping machine — labelling — final output.
3. The fully auto brick bag vacuum packing machine
Auto Rice Beans Bag Brick Rectangle Square Bag Filling Vacuum Sealing Packing Machine, can Bag feeding – filling – vacuum – shaping – finished products transporting full automatically. Suitable for 0.25-10kg
Media Contact
Company Name: HEFEI IECO INTELLIGENT EQUIPMENT CO., LTD
Email: Send Email
Phone: +86 18656940167
Address:NO.02658 3# workshop 1st floor Changning Ave. High-tech district
City: Hefei
Country: China
Website: https://www.iecopacking.com/