ABEX Impact Windows is a Florida impact window and door installation company on a mission to protect homes, families, and properties in Miami. The company is made up of a team of highly qualified installers who use top-range techniques, state-of-the-art technology, and high-quality materials that are durable, energy-efficient, and affordable. The team is also passionate about their clients by answering their concerns, walking with them through each project, and being available when needed.
Miami, FL – ABEX Impact Windows is dedicated to equipping the families in Miami and other areas of Florida with their impact-resistant windows and doors for reliable hurricane-proofing. The company is made up of a team of highly trained and experienced installers who are passionate about providing and installing impact windows and doors that offer protection for their clients.
With their understanding of the volatility of the weather in Florida, the team members are devoted to providing lasting protection against hail, storms, and hurricanes. The ABEX Impact Windows – Hurricane Preparation Guide 2021 is intended to get the area's residents ready for the year's upcoming storm season. The team is also available 24/7 to offer their expertise on impact windows and doors, including educating their clients on the best materials to use and answering any questions and concerns regarding all projects.
Impact doors and windows are important as they offer safety and security from the elements. With this in mind, the team uses state-of-the-art technology, unique techniques, and durable, energy-efficient materials to keep homes standing.
ABEX Impact Windows installs impact windows with casements and awnings. This service also provides fixed, sliding, single hung, frameless, and jumbo storefront windows for both residential and commercial buildings. The team also offers hurricane-proof windows made by leading manufacturers, including ESWindows, PGT, Mr. Glass, and Eco Window. The windows also seal out moisture, air, and prevent energy loss throughout the year, all while protecting homes from hurricanes, tornadoes, hail, and other adverse elements.
ABEX Impact Windows also offers impact doors that increase the home value, while also improving the security and safety of homes during hurricanes. Moreover, they offer swing doors, sliding glass doors, ProSlide doors, and bifold doors for residential and commercial buildings. ABEX Impact Windows is proudly serving Hallandale Beach, Hollywood, Aventura, Miami Beach, Surfside, Coconut Grove, Coral Gables, Miami and all towns in South Florida.
The company avails all these services at affordable rates. Apart from Miami, they also serve Hallandale Beach, Coconut Grove, Surfside, Miami Beach, Aventura, North Miami, and other areas in Florida.
To learn more about ABEX Impact Windows, contact them via phone at (786) 564-1416 to get a quote. The company is located at 645 W Hallandale Beach Blvd #108, Hallandale Beach, FL 33009. Visit their website for more information on the services they offer.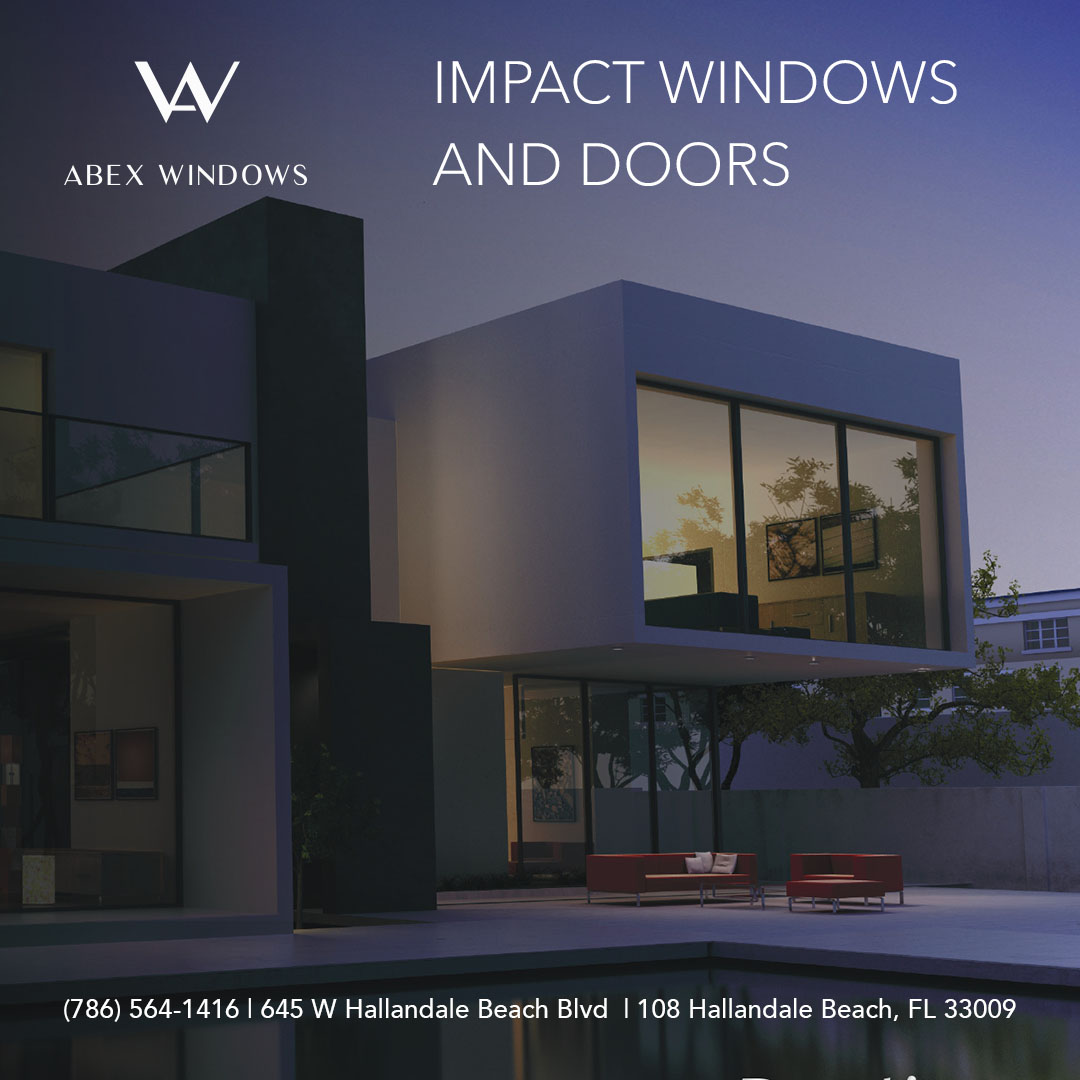 Media Contact
Company Name: ABEX Impact Windows
Contact Person: Alex
Email: Send Email
Phone: 786-564-1416
Address:645 W Hallandale Beach Blvd #108
City: Hallandale Beach
State: FL
Country: United States
Website: https://abexwindows.com