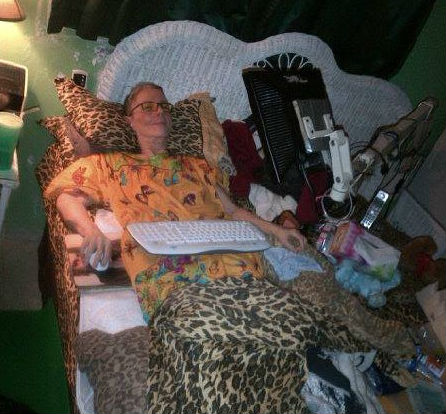 Eighteen years ago crippled and bedridden Billie chose to move to a third-world country, Dominican Republic, to save cost on long-term caregiving as she has no family to help her. She did not feel she would live that long. Now at 70 years of age, she needs to return to the United States for proper care and treatment, as well as being set up in a caregiving facility, as quickly as possible.
A registered nurse has volunteered to escort her on the tedious and painful journey back to the USA and see that she is properly placed in the appropriate facility for her needs.
Time is of the essence for Billie as her health is declining daily and she needs proper care. Due to the cost of transporting a bedridden invalid, she is seeking donations that will go to bringing her back to the United States and providing the finances to get her into the right assisted living program.
It's been 31 years since Billie suffered a devastating hip injury from an accident which caused her to become bedridden. The most concerning conditions she struggles with daily are Reflex Sympathetic Dystrophy, Neuromuscular Degeneration, Fibromyalgia, Rheumatoid Arthritis, Hypoglycemia, Neuropathy, and Crohn's Disease.
Donations will help to pay for the following:
Transportation for the nurse to come to the Dominican Republic to escort Billie.
Preflight medical examination, ambulance transport, and medication.
Ambulance transport to the airport in the Dominican Republic.
Flight for Billie and the nurse to leave the Dominican Republic and return to the USA.
Ambulance transport from the airport to the medical facility.
Paying for a qualified care facility.
This is the most economical way to get her back to the United States. The best way to get her back would be by Air Ambulance, where she could stay on a stretcher and not be forced to sit. The cost would run approximately $40,000 and if she can receive enough donations she would definitely choose this route.
Find out more on her donation site: https://www.gofundme.com/f/help-bedridden-billie-return-to-the-usa
Media Contact
Contact Person: Billie Chainey
Email: Send Email
Phone: (954) 519-2084
Address:8400 NW 25th Street, Suite 100
City: Miami
State: Florida 33198
Country: United States
Website: https://www.gofundme.com/f/help-bedridden-billie-return-to-the-usa