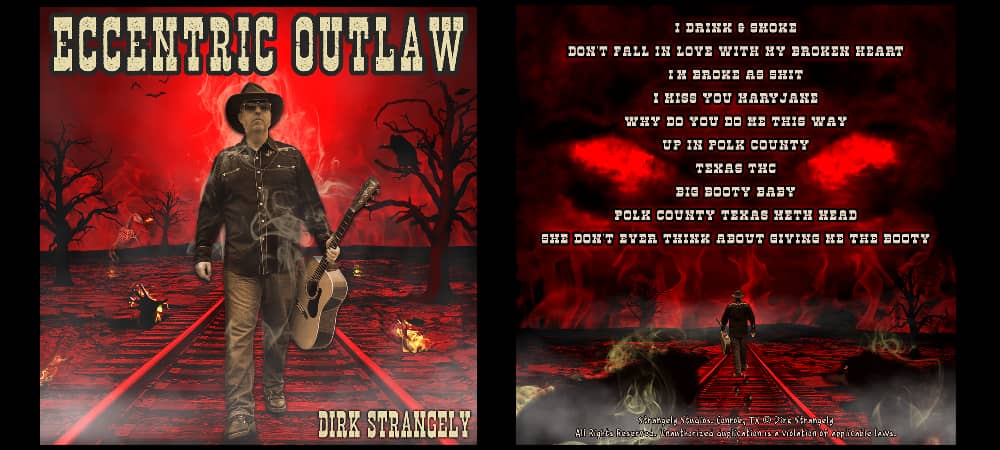 The album Titled 'Eccentric Outlaw' was created for his first music realease, the project heavily influenced by classic outlaw country artists
Jun 22, 2021 – Sensational American music artist Dirk Strangely has proudly announced the release of his new album titled 'Eccentric Outlaw'. The album which was released as part of the 'Eccentric Outlaw' project is available on all digital streaming platforms.
Eccentric Outlaw features hit tracks such as 'I Drink and Smoke', 'Don't Fall in Love with My Broken Heart', 'I'm Broke As ***', 'I Miss You MaryJane', 'Why Do You Do Me This Way?", 'Up In Polk County', 'Big Booty Baby', 'Polk County Texas Heth Head', and 'She Don't Ever Think About Giving Me The Booty'.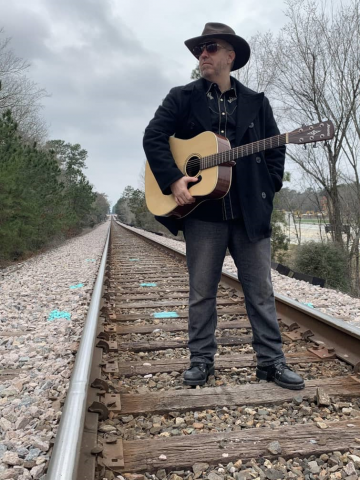 In a recent interview about Eccentric Outlaw, Dirk is quoted to have said "My songs are about living through crazy life situations, and thick women. "I Miss You Maryjane" is probably the most popular song. I think that kind of stuff is fun."
For those that have heard about, or are fans of 'Dirk Strangely', the stories of his name, upbringing, journey and lifestyle have been elusive yet show up in his art and music. More so for those that haven't even heard of him at all. You might not know his name right off the bat but the artist will likely capture your interest for his unique charming style.
Eccentric Outlaw is for everyone that loves country music with lots of humor and attitude. It caters to people who love rockabilly, psychobilly, outlaw country, and bluegrass. Fans, listeners, and reviewers have described Dirk strangely and his album as prolific.
To listen to 'Eccentric Outlaw' and other hit tracks by 'Dirk Strangely' use the links below:
https://open.spotify.com/album/3TBerbHlxuC8qOojGHGK5x?si=k-7hvKgvSP-44hvcs4etyg&dl_branch=1
https://www.amazon.com/Eccentric-Outlaw-Explicit-Dirk-Strangely/dp/B095923LBH/ref=sr_1_6?dchild=1&keywords=eccentric+outlaw&qid=1623544285&sr=8-6
https://www.youtube.com/user/dirkstrangely/videos
About Dirk Strangely
Dirk Strangely is an internationally well-known American Multimedia artist that specializes in capturing the essence of a subject through his mesmerizing compositions. His paintings have a hypnotic-like ability to connect with the collective world through his impeccable strategic juxtapositions and use of powerful colors that warmly and compellingly invite the message of the painting straight into the hearts and minds of his audience.
For more information about Dirk, visit https://en.wikipedia.org/wiki/Dirk_Strangely
Instagram: @dirk_strangely
Facebook: @StrangelyStudiosOfficial
Media Contact
Company Name: Strangely Studios
Contact Person: Dirk Strangely
Email: Send Email
Country: United States
Website: www.strangelystudios.com