LOS ANGELES, CA – June 22, 2021 – Legacy Pictures, an international film and commercial production company, is excited to announce their expansion into the Canadian film industry. The new Canadian venture, Legacy Pictures Canada, helmed by Harley Lancit, who currently oversees Legacy's development finance division, will help support the growth of the organization. By establishing roots in Canada, Legacy Pictures will extend its global reach, and grow its network. Legacy Pictures Canada provides physical production services in addition to producing its own internally developed content.
Of the company's Canadian expansion, CEO Cary Woodworth said, "we are super excited to be producing in Canada, to be a part of its local industry and to continue Legacy's journey to becoming a global partner both in creative development and physical production."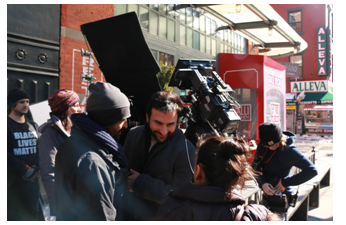 On location of the set of Chef with Bollywood star Saif Ali Khan
About Legacy Pictures
Legacy Pictures is an international film, tv and commercial production company, with offices in Los Angeles, New York, Las Vegas, Beijing, Santiago, Buenos Aires, Montevideo, Mexico City, and now Vancouver. Legacy has overseen production on a number of projects, and over the past few years has developed a global production service network and is a go-to for producers, studios and platforms seeking physical production support. Alongside Maverick, it's commercial division and the physical production of narrative films, series, commercials and animation, Legacy also produces its own internal projects, and has several upcoming films and series in development.
For information please visit www.legacy.film or contact Renato Cruz, Director of Marketing, Legacy Pictures – renato@legacy.film, 323-364-9049.
Media Contact
Company Name: Legacy Pictures
Contact Person: Renato Cruz
Email: Send Email
Country: United States
Website: http://www.legacy.film/