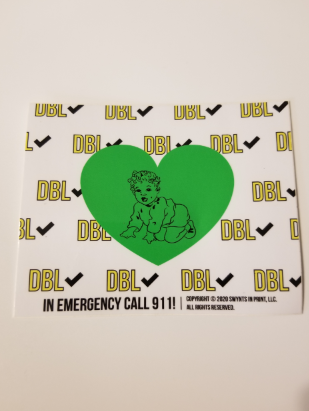 The Double Check products are designed to provide awareness to parents, guardians, and society, in general, to Double-Check vehicles for children who may have been left in them
According to kidsandcars.org, every year, an average of 38 children under 15 years old die from heatstroke after being left in a vehicle. Since 1998 nearly every state in the United States has experienced at least one child heatstroke death due to being left in a car. In 2018, 53 children died after being left in a hot vehicle. In 2019, 52 children died from the same cause.
On this note, SWYNTS IN PRINT, LLC is announcing the launch of a new baby-friendly product called Double Check. The products will be instrumental in ensuring that parents, guardians, and commuters Double Check vehicles to ensure that children were not left in them. In addition, sticking the stickers or having other Double Check product variations will give kids a voice and a shot at letting people know they have been left behind.
The vision behind Double Check products is to give babies voices as their communications may not heard when they are locked up and forgotten in vehicles. It is almost commonplace to forget babies at the back of cars because of the many activities adults engaged in while taking care of them. Sometimes, a quick reminder would help these adults remember the baby or pet left at the back of the car, which could be the difference between saving and losing a baby.
By using any of the Double Check products, which includes lanyards, bumper stickers, window stickers, hang tags, mousepads, and holographic stickers, there would be a means of reminders to say, "There could be a baby or pet left in the car." In addition, the reminder will not be for just parents and guardians alone but for everyone who looks at a car with such stickers. They could easily check through the windows to ensure a baby has not been forgotten in a hot car.
SWYNTS IN PRINT, LLC hopes to make relationships and the people who engage in them healthier, happier, and encouraged to be the best version of themselves. They produce a wide range of greeting cards, gifts, and Double Check products for babies and pets.
Browse through the collection of greeting cards, gifts, and Double Check products from SWYNTS IN PRINT. Visit https://swyntsinprint.com/collections.
About SWYNTS IN PRINT
SWYNTS IN PRINT, LLC is a US-based brand that produces greeting cards and other empowering products designed to help people open a dialogue, initiate a difficult conversation, ask for help, and even offer forgiveness. Their product range includes greeting cards, gifts, and the latest Double Check products, giving voices to babies.
The brand was founded by Nadra DeMagnus, a talk therapist who believes that many people bottle their feelings and avoid saying what they need to say. With the products at SWYNTS IN PRINT, Nadra can give these seemingly voiceless persons a voice.
Learn more about Nadra DeMagnus and her SWYNTS IN PRINT brand, log on to https://swyntsinprint.com/.
Media Contact
Company Name: SWYNTS IN PRINT, LLC
Contact Person: Nadra DeMagnus
Email: Send Email
Phone: 504-233-0388
Country: United States
Website: https://swyntsinprint.com/